Motorola Droid Ebook Reader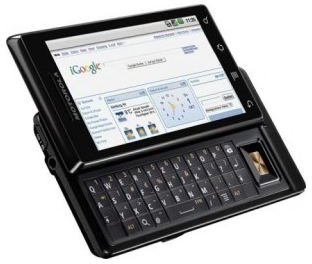 Use Motorola Droid as an Ebook Reader
I am a fan of convergence! If you're wondering what that means, it's basically using a single device to do the job of multiple other devices. So ebooks are all the rage these days, iPad, Kindle, Nook and the list of devices that are capable and tailor made for this purpose definitely will outrun the great wall. If you've already got a good smartphone, by which I mean a readable screen and an easy way of getting books to the device, why not use it as your ebook reader device? Case in point, the Motorola Droid. Did you know that a Motorola Droid ebook reader is a practical possibility?
Ebook Reading ease on the Motorola Droid
The Motorola Droid offers a 480 by 854 resolution display, better than 480 by 320 display on the iPhone3GS and definitely a decent resolution for reading on a smartphone. There is no visible strain on the battery life using the Droid as a reader and the screen brightness can be adjusted to suit your eyes and lighting conditions. There are also some good apps for the purpose - now that's enough reasons to start reading ebooks on the Motorola Droid.
I agree that the reading real estate on the Motorola Droid is not as great as the iPad (love that big screen for reading) or the Kindle (instant download of books anywhere!). Looking at the amount of money that one has to spend on additional devices for ebook reading its a smart move to use the Motorola Droid as an ebook reader (especially when you're not crunching through several books a month) for casual reading.
So here's the step by step process that I'll take you through to get started with ebooks on the Motorola Droid:
Get Droid ebook reader apps.
Get ebooks to read - free or paid downloads.
Import your own collection of existing ebooks or PDFs for reading.
Getting Motorola Droid ebook reader apps
It's a pity that Motorola did not decide to bundle in a Droid ebook reader app which could serve as an standard ereader, nothing to fret over though because there are some good Motorola Droid apps out there. You can get all the apps listed below from the Android Market or download them over the air direct from their websites.
Aldiko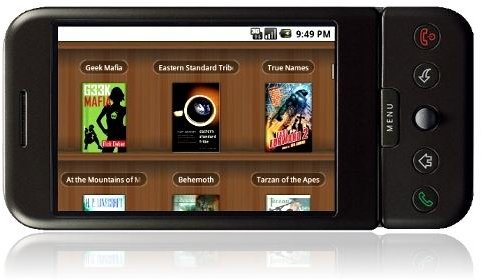 One of the most popular ebook apps on the Android platform is Aldiko. A beautiful interface and set of useful features make Aldiko a wonderful experience on the Motorola Droid. The stylish wooden bookshelf, ability to browse your library by author, subject, title etc., and the fully customizable reading interface make it a solid ebook app. Check out our full Aldiko review for more.
FBReader
An open source alternative to Aldiko, FB Reader is an ebook app that's popular for its simplicity and functionality. A clean interface that allows customizability of the reading interface, a simple library for organizing your ebook collection and support for several ebook formats all make FB Reader a valid second choice to Aldiko.
eReader
eReader.com is one of the well known and long time markets for ebooks on the Internet. They have been supplying ebooks since handhelds first appeared. eReader now has an Android app out that will allow you to purchase ebooks as well as read your existing eReader books on your Motorola Droid.
There are several more Motorola Droid ebook reader apps like ones from wordplayer, Kobobooks, iSilo etc., but you now know the apps that you need for reading ebooks.
Ebooks for your Droid
The Motorola Droid ebook reader apps help you, not only read ebooks, but also serve as portals to sources of ebooks. Most Motorola Droid ebook reader apps like Aldiko and FBReader provide a whole catalog of books in-app so you can just browse and download. Aldiko seems to have books from O'Reilly which you can buy again in-app and enjoy. If you are looking for wider selections and bigger catalogs eReader app will let you buy from their huge collection at eReader.com, fictionwise and more. If you try out the Kobobooks app it allows you access to its whole online library of books and allows the user to buy and access books anywhere he or she wants. As always you can download free ebooks from the Project Gutenburg site which is one of the most fabulous collections of classic literature ever.
Importing ebooks & Reading PDFs
There are times when you don't want to buy more books, because you've got enough of them! So maybe you've got a library of ebooks you've already bought or downloaded. Almost all of the above mentioned Droid ebook reader apps allow you to import your own ebooks into their library. Depending on the app that you are using and the file format that you are trying to import there might be some incompatabilities. Nothing to worry about, the fabulous Calibre is a desktop application that will do a great job converting your exisiting ebooks to compatible formats that the apps support and then you can import them. PDFs are a widely used ebook format, using the Adobe PDF Reader app for Android you can read PDF files on your Motorola Droid. The Adobe PDF reader Android app is available from the Android Market. To import your files copy them via USB to your Motorola Droid's memory card, next go to the import menu of your app and browse to the file you want to import and you're done! It's as simple as that.