Motorola Droid use with iTunes?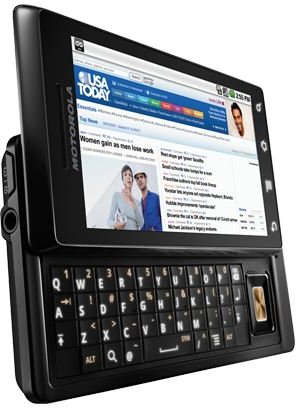 iTunes media on the Motorola Droid
The Motorola Droid is not directly compatible with iTunes, in fact none of the mobile phones or mp3 players other than iPhones & iPods are compatible with iTunes! So is there no way you can use iTunes to manage media on your computer and still have it transfer and sync with your Motorola Droid? Well, there are actually ways in which you can sync your iTunes content to any other mobile phone using additional software that acts as an interface between the iTunes app and your device. We will take a look at Doubletwist and Salling Sync, both paid apps that will allow you to sync your Motorola Droid with iTunes.
Syncing Motorola Droid with iTunes & Doubletwist
Depending on how you've configured Doubletwist, it should launch automatically with an interface very similar to iTunes with the your Motorola Droid listed under "devices".
Connect your Motorola Droid to your Mac or PC and select the "Mount" from the USB Connected screen.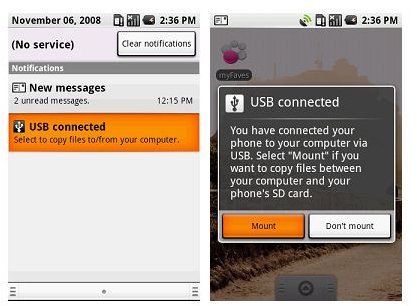 Remember that Doubletwist and Motorla Droid use with iTunes syncing works only with DRM free tracks, so if you have tracks that have Apple DRM it is advisable to omit them from the playlist as Doubletwist becomes unresponsive if it finds a DRMed track while syncing.
Now clicking on the Motorola Droid name under the "devices" section should bring up a device sync screen (similar to iTunes iPod sync screen) just select the playlists that you want synced and hit the sync button.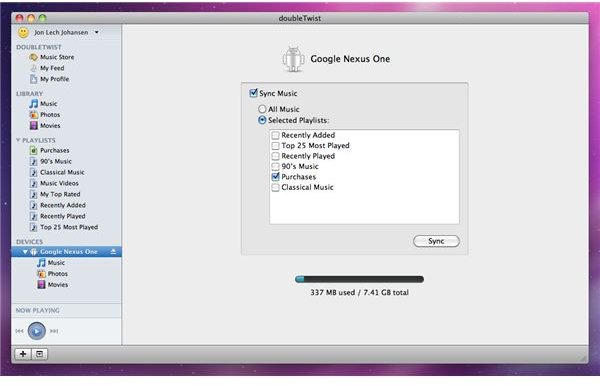 Your tracks are now copied to your Motorola Droid and you are ready to rock out to some tunes. For a more comprehensive tutorial on how to sync not only music, but also videos, photos, contacts etc. I suggest you take a look at this article from Maclife.
Salling Media Sync - Bring your iTunes content to the Motorola Droid
Salling Software provides an elegant solution for bringing iTunes content onto your Motorola Droid. Installing the Salling Media Sync application application is a breeze both on Windows and Macs. Once installed the application will have access to your iTunes content automatically. You can choose the device that you want to sync from the devices list in the application, or just connect the Motorola Droid via USB to your computer and mount the device from the notifications screen as shown above.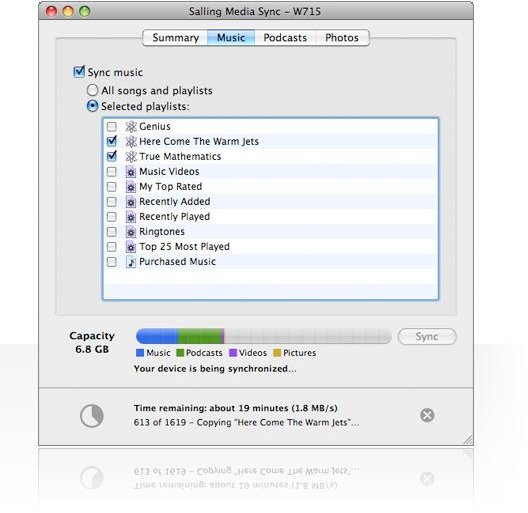 Now from the Salling Media Sync application you can select Music, Photos & Podcasts that you want to sync. In the Music sync tab, as shown, you can choose to completely sync all your music or make playlists and have selective playlists synced to your phone. Motorola Droid use with iTunes could not be any easier, the Salling Media app is available from Salling Software for $22 and of course you can download and try the application before you buy. You can use the free download version without any limitations, except that it is not not capable of performing an "intelligent update" meaning syncing only changed content and saving you time during the sync process. Here is a quick video of the application in use! Remember that Motorola Droid use with iTunes is restricted to non DRM content only, meaning that old tracks that you've bought from the iTunes store with Apple DRM will not sync and cannot be played on any device except the iPod or iPhone!