Superb Mobile Desk Stand For Android Mobile Phones
Give Your Android a Desktop Home
Looking for a desk stand for your mobile, but unimpressed by the choice of docking stations and chargers? Using a basic mobile phone that doesn't even generally need a docking cradle, but want one anyway?
The Desk Genie desktop stand could very well be the answer to both requirements. Suitable as a universal desktop home for almost any mobile phone, it dispenses with the requirement to position a USB connector to recharge your mobile, while simultaneously making itself the most useful desktop mobile accessory.
How does it do this? By cleverly matching some basic physics with some useful USB interface options…
Non-Slip Mobile Desk Stand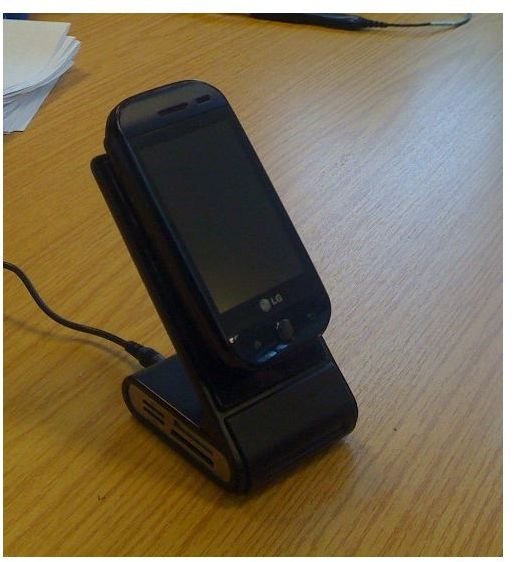 Produced by Dash, the Desk Genie non-slip, mobile desk stand is basically a card reader, USB hub and phone charger built into an extremely clever way to position your mobile device on a desktop.
As you can see from the accompanying image, the phone sits comfortably on a slanted surface. This is covered with a high tech rubber material – not a magnet as I first thought which would of course be pretty damaging to most mobile phones! Even more impressive is that you can breathe life back into the rubber coating when it starts to lose its "stick" by simply wiping it down with a damp cloth!
Whether you use a traditional, non-smartphone handset, an Apple iPhone, a BlackBerry or one of the myriad of HTC superphones, the Desk Genie is capable of providing a home for any of these – and allows them to be positioned at any angle. Fancy watching a movie on your mobile? Simply position it in landscape mode and place on the Desk Genie!
Other Features
The Desk Genie is equipped with a two port USB hub, from which you can charge your mobile, although you might prefer to do this directly from the mains. Either way, having additional USB ports built into a device so effortlessly makes you wonder why custom-designed docking stations and cradles don't feature such expansion options.
As for the card reader – well it seems so obvious, doesn't it? With an 8 in 1 memory card reader, the Desk Genie presents an immediate way to check the contents of SD cards before inserting them in a mobile device to provide extra storage.
Currently, the Desk Genie seems only to be available in the UK – however such is the simple genius of this mobile desk stand, it cannot be long before it becomes available in the USA and farther afield.
Build Quality and Usage (5 out of 5)
I'm satisfied that the Desk Genie is a sturdy and reliable piece of kit. Available for £14.99 in the UK (I got mine from www.mobilefun.co.uk), it is something I already carry with me when I'm out and about. So far I've used it on a train and can see myself using it when I'm working remotely. Most importantly, of course, it provides a home for my Android phone on my desktop, working wonders in keeping my work area just that little bit tidier!
There is also no reason to only use the Desk Genie as a home for mobile phones – as you've seen, it can be used with an iPhone, so there is no reason not to use it to provide a desktop home for an iPod Touch or other MP3 player, or even a Sony PSP!