Review of AirCurve Play for iPhone 4
Griffin AirCurve Play for iPhone 4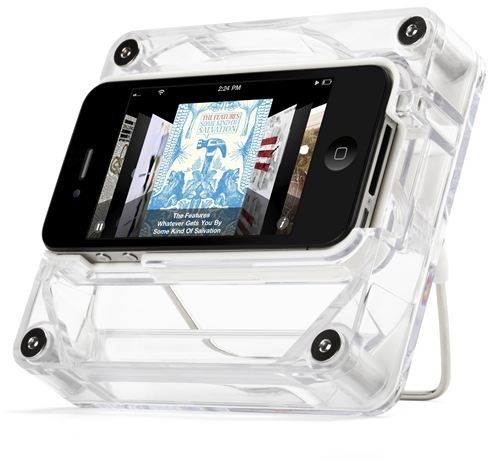 Griffin's AirCurve Play for iPhone 4 is a sound amplification system that advertises its ability to increase the sound from your iPhone's speaker by ten decibels. While that may not sound impressive, it does so without using any cords or a power source. Simply inserting your phone into the acoustically designed dock will amplify the sound from your speaker. The dock also serves as a stand, containing an adjustable bar that allows portrait and landscape mode.
Buy AirCurve Play for $19.99.
Image Credit: Griffin Technology, www.griffintechnology.com
Design (4 out of 5)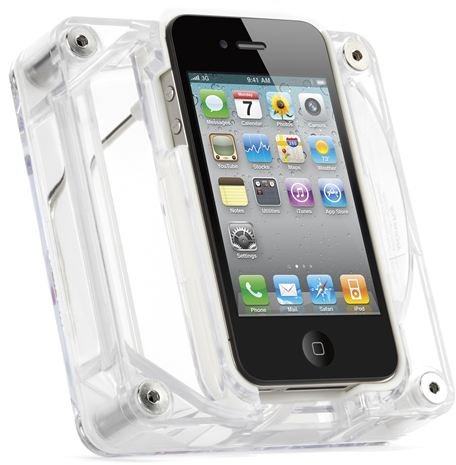 The AirCurve Play dock is made of a clear polycarbonate body, a rubber bumper where the phone is inserted, a metal bar that serves as a stand and a few screws to hold everything together. Seems simple, but a second look shows the intricate designing that went into the making of this sound-amplifying dock. There is a small, enclosed hole at the location of the phone's speaker that funnels the sound through a carefully designed "coiled wave-guide" inside the dock. Griffin compares the way that their dock amplifies sound to magic. I think that's a bit of an overstatement. Although I'm no sound expert, it would seem that some pretty basic acoustic principles were used when designing this iPhone accessory. I'm not saying that I'm not impressed with the design or functionality, just that I wouldn't be as bold as to compare it to whimsical magic that cannot be explained.
Overall, the design for the iPhone 4 AirCurve Play is good. The dock is a little bit on the bulky side, but not so much that it makes the dock impractical. Visually the dock is a bit plain, but the lack of color also helps it easily match with any decor. The simple design also maintains focus on your device when viewing videos or playing games instead of distracting you with bright colors.
Image Credit: Griffin Technology, www.griffintechnology.com
Features & Functionality (5 out of 5)
Let's get down to how well this iPhone sound system works. Griffin claims that the sound is amplified by ten decibels. I don't know about you, but the technical sound measurement doesn't mean anything to me. It did not help me understand how much louder the sound is projected. In simpler terms, for those of us who don't think of volume in decibels, it instantly makes your sound almost twice as loud. It was enough of a change that I walked around my house excitedly demonstrating the difference to everyone that would pay attention. Impressive is the word I would use to describe the sound amplification, especially considering that no additional power is used and no cords or plug-ins are necessary.
In addition to the sound amplification, the AirCurve Play was designed to serve as a dock for your iPhone 4. Propping your phone up to watch videos or play games is a convenient feature of the innovative dock. The amplifier can be used for FaceTime, conference calls, music, videos or even your alarm clock. Placing your iPhone in the dock doesn't block any functionality. You are still able to charge the phone and access all the external buttons of your phone.
Overall (4 out of 5)
The bottom line? If you need something to amplify sound from your iPhone, I would definitely recommend AirCurve Play to you. Why go to the hassle of plugging in speakers and dealing with extra cords when you could just use AirCurve Play instead? I love that it makes your phone sound louder without using any extra iPhone battery life (we all know how quickly that can be drained). I also appreciate the stand that props the phone up; having the option between portrait and landscape is very convenient. The bulkiness of the sound amplifying dock can be overlooked because of the striking features offered.
Do you have AirCurve Play or are you thinking about buying one? Comment and let us know what you think.
Resources
Griffin Technology, www.griffintechnology.com