Best Bluetooth Speaker: Jawbone Jambox
More about the Jawbone Jambox

The Jawbone Jambox is brought to you by Aliph, a company which is already famous for their collection of Jawbone Bluetooth headsets such as the Aliph Jawbone Prime. So far, the Jawbone Jambox Bluetooth Speaker has been seen in multiple colours including, black, grey, blue and red and each different coloured Jambox has its own unique pattern. Its size and performance is one of the reasons it's so unique because it only measures in at 1.6 inches tall and 6 inches wide, you can actually fit it into a deep pocket. It's not heavy either as it weighs approximately 1 1/2 pounds.
The Jambox has surpassed its predecessor (The FoxL V2) in that it provides an even more clear and crisp sound, but has also improved on some design issues. It is common knowledge that speakers vibrate and if they do not have a material to grip the surface, they will slowly but surely vibrate their way off your desk or table, especially when playing heavy base audio. The FoxL was distributed with its own anchor down rubber mat, so it wasn't really a problem, but the Jawbone Jambox has taken it a bit further with a built in rubber bottom to keep it in place.
Using the Jawbone Jambox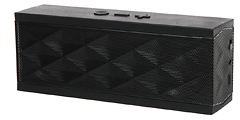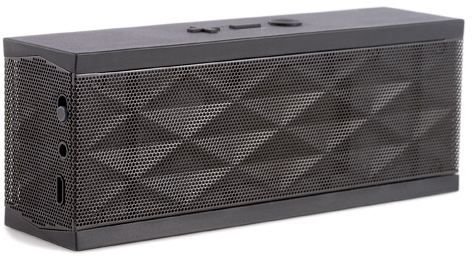 The Jawbone Jambox is not hard to use, you just need to keep in mind that it is an extension of your Bluetooth headset. In the beginning when you turn on the device, it will be immediately ready for pairing with another Bluetooth enabled device. Once the pairing is done, you are ready to go. So design is elegant yet simple and there are not a lot of fancy buttons to figure out. You will have your standard volume buttons and the talk button for when you want to use the speaker for your phone conversations. The talk button can also be used to let you know how much charge is left in the device in terms of hours. The power switch is on the side along with the micro USB port that is used to charge the device. You don't have to worry about charging the Jawbone Jambox on your computer because it includes an AC adapter so that you can just plug it in when you need to.
Conclusion
The great thing about this device is that it supports apps that can be used to interact with your emails, SMS and social networks. It has been paired successfully with the iPhone 4, the iPad and other mobile devices. Some people will say that the Jawbone Jambox is pricey, but the features are worth it if you can afford it. You can get it at Best Buy for $199.00