HTC Media Link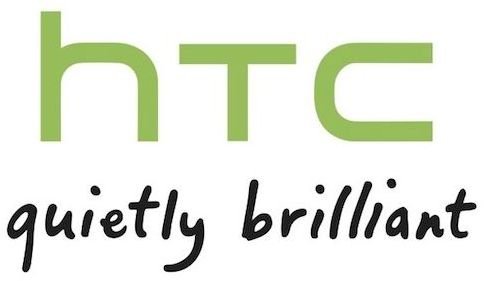 HTC has recently introduced two new smartphones - The HTC Desire Z and the Desire HD - that are DLNA-compatible devices. DLNA, or the Digital Living Network Alliance, has been around since 2003, and the first DLNA devices were on the market in 2004. Since then, it's become something that's supported by nearly 250 companies, including some of the big names in the electronics world. In fact, almost all of the biggest names you might be able to think of are involved in it in some way, except for Apple, who, in true form, have their own proprietary wireless streaming technology, called AirPlay. Still, it's a wildly underused technology that many consumers aren't even aware exists.
The idea behind DLNA is to standardize media across the wide (and ever widening) world of electronics, a movement that any techie should be happy to get behind, because a world where all our devices would play nicely, and we wouldn't have to spend hours looking for work-arounds to make file A work on device B, is a beautiful world.
It seems HTC has agreed that this sounds like a pretty great idea, and so in addition to their two new DLNA-enabled smartphones, they've released a DLNA-enabled media streamer, the HTC Media Link. Read on to find out how well it performs.
Device Interface and Ease of Use (4 out of 5)
This is where the HTC Media Link shines. It will take you longer to get the device out of the box than it will to set it up. Plug it in, turn it on, and go. The first time you turn it on, it'll let you change the default password and configure to connect to local Wi-Fi or act as a stand-alone hotspot, a setting that you can always switch back and forth between later. Once that's done, you're ready to start streaming. It takes less than five minutes to set up and get started using it for what you want to do, which is always a plus in my book.
It's even an uncomplicated device on the outside. It sports an HDMI port and a USB port on one side, and a power button on the other side, with an LED indicator to tell you the device is on and functioning. Unfortunately, this also comes along with my next complaint. The device completely lacks a 3.5 mm audio jack. For owners of HTC phones, this is nothing new, and there are plenty of mini-USB adaptors, even some made directly by HTC, on the market for exactly this, but it continues to be an irritating thing for HTC to leave out.
Functionality (3 out of 5)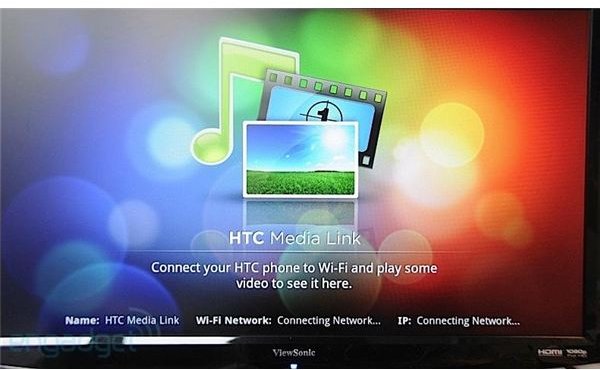 The HTC Media Link can be used to connect to a local Wi-Fi network, or even as a stand-alone Wi-Fi hotspot. Once you've decided which suits the needs of your situation better, you can connect it to your HTC phone to stream files, or to any DLNA device. The whole idea behind DLNA, after all, is to allow standardization, so anything DLNA enabled should theoretically work together. If that sounds too good to be true, that's because it is. No standard is perfect, and no two DLNA devices are built alike. None of them are going to get along with all of their siblings, but the HTC Media Link communicates properly with almost all DLNA devices, or certainly almost all of the major ones that most people will have access to.
With that out of the way, you can start streaming files, assuming the file is supported. And when the HTC Media Link works, it works incredibly well. Videos and images stream consistently and without any stuttering. There is no ability to fast forward or rewind streaming videos, which always strikes me as an odd omission in any device, but they play like they should.
Overall, once you've got the device working, it works like it should. It's unfortunate that DLNA isn't the perfect standard it would like to be, but that's not really the Media Link's fault. Its DLNA support is as good, if not better, than most DLNA-enabled devices, it maintains a strong Wi-Fi connection and it streams perfectly.
Codec Support (2 out of 5)
To get media to stream properly, of course, you need to get it to stream at all. I would have loved to give the device a higher score on codec support, and if I was scoring it based solely on the list of codecs on the spec sheet, I would have. The HTC Media Link theoretically supports 3GP, WMV, MPEG4, H263, H264 and xVid video files; AAC, AAC+, eAAC+, AMR-WB, MP3 and WMA audio files and GIF, JPEG and BMP photos. However, anyone with much experience in file formats will know that codecs can be troublesome; they are rarely such a simple matter, and not every file with the same codec is going to be recognized. Some devices do a better job of actually supporting the codecs they're supposed to, but it's not uncommon for the occasional file to slip through the cracks.
Unfortunately, HTC's Media Link lets far too many of them slip through, and depending on some of the other factors at play such as resolution formats, supposedly supported codecs will often fail. It will nicely stream pretty much any file you capture on your phone, which is going to be one of the main uses for most people, but if you want to use it as a media centerpiece in your living room to serve as a primary DLNA device to stream files off your PC or of DLNA-enabled servers, you're going to run into a lot more problems than you really should.
Convenience (4 out of 5)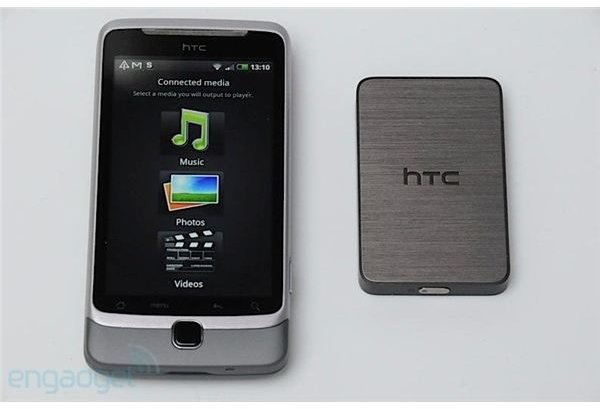 The HTC Media Link may not have the codec support of some of the other DLNA devices on the market, but with measurements of 71.5 x 45 x 8 mm, it's certainly easy to carry around. Also, with the ability to swap between local networks and a stand-alone Wi-Fi device, that portability comes justified. Sure, you can take it to a friend's house and stream your vacation slides using their local Wi-Fi network, but you can also take it anywhere that you might not have access to a local network and still stream from it, using it as a Wi-Fi hotspot.
It would be a great thing to have in hotel rooms for people who travel often, and this could easily be a device that could be used to act as the centerpiece of a corporate meeting room, just as long as you've got an HDMI-enabled projector screen to display all those pie charts. Unfortunately, many of the more portable places that this would be great to use are going to be places where the display itself may not have very good speakers, once again highlighting the inability to connect a good set of portable speakers.
Overall (3 out of 5)
The device functions beautifully and is incredibly simple to use when it works properly. As well, with Apple's AirPlay getting bigger and offering some real competition to the DLNA market, it's nice to see some more companies such as HTC dipping their feet in the water. It's an extremely portable device, and the option to switch between a Wi-Fi hotspot and a local network is fantastic.
However, with a price tag of €119.99 / £99.99 (or about $155 US dollars), the HTC Media Link should be able to be a media centerpiece in all situations, and it isn't. It will stream files some files perfectly, but it doesn't offer a high enough range of codec support, and even though adaptors are easy to come by, the lack of a 3.5 mm audio jack is a continued disappointment in HTC devices, especially a device such as the Media Link that is, unlike their phones, designed exclusively for media playback.
Overall, it's a solid device. I think its portability is probably its strength, so if you travel a lot, I'm happy to recommend it, but otherwise, wait for a price drop or take a look around at some of the other DLNA wireless streamers on the market.
HTC Logo courtesy HTC's official website, all other images courtesy of Engadget.