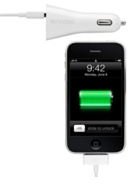 Incase Car Charger for iPhone
The Incase Car Charger for iPhone is available from Apple for $34.95. Its compact and lightweight design is perfect for hassle free travelling. The high speed USB ports allow you to charge two devices at the same time. How convenient to be able to charge your iPhone and your iPad when you are on the road. The Incase Car Charger fits any standard 12V car accessory power outlet. The convenient LED indicator light illuminates when the charger is in use. A perfect gift giving idea for those that are constantly on the road.
Griffin Power Jolt Car Charger for iPhone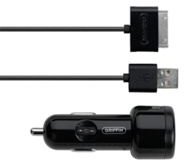 The Griffin Power Jolt Car Charger for iPhone is available from the Apple Store for $24.95. This cigarette lighter adapter features a 2 Amp charging circuit that allows your iPhone to charge up safely and quickly. The USB dock cable on the Griffiin Power Jolt also works works with both iPads and iPods. With a built-in self-resetting circuit breaker, your iPhone is protected while it charges. An LED light indicates when your PowerJolt is properly connected. Small and discreet, you can keep your iPhone car charger neatly tucked away in your glove box. Perfect for easy access, and you never have to worry about not having your charger handy when you need it. With a price point of only $24.95, the Griffin Power Jolt is the perfect addition to your iPhone.
AT&T Car Charger for iPhone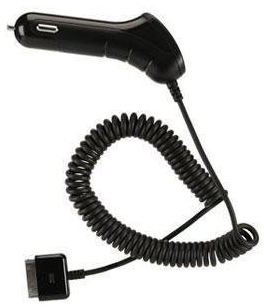 The AT&T Car Charger is available on Amazon for only $16.99. This convenient iPhone car charger allows for a rapid charge to your iPhone or iPod, thus providing tons of talk time or endless play of your favorite tunes. With an integrated USB port, you can charge an MP3 player while you are chatting on your iPhone. Perfect for making business calls on a long road trip. With a convenient swivel cap, you can conceal the USB port when it is not in use. Plugging securely into any 12V cigarette lighter, the AT&T Car Charger features enhanced internal circuitry and an integrated electrical fuse to prevent unexpected damage your iPhone. Compatible with Apple iPhone, iPhone 3G and iPhone 3GS.
iSeries Car Charger for iPhone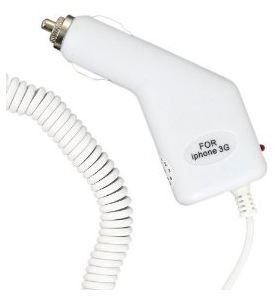 Also available from Amazon is the iSeries Car Charger for only $7.99. A perfect accessory for any person on the go, simply just plug it into your vehicle's cigarette lighter and you are ready to recharge your iPhone. Put the "mobile" in mobile phone with this easy charging travel accessory. Never again will you find yourself running low on talk-time due to forgetting to charge up before leaving home. The iSeries iPhone car charger comes complete with a durable coil cord for extendable reach and use.
Cellet Rubberized Retractable Car Charger for iPhone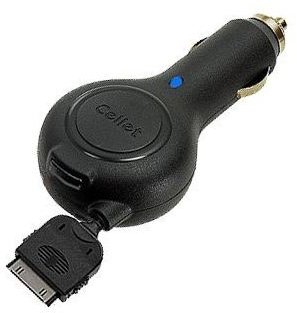 This rubberized retractable car charger from Cellet can be found on Amazon for as low as $3.80. With a rapid retract button on top of this iPhone car charger and a lightweight ergonomic design, this pint size power accessory is a must have for smart and savvy road warriors. Just press down on the button, and you can easily retract the full 3 foot length of the cable. Works great with your Apple iPhone 4. With a Smart IC Chip, it recognizes when your battery is fully charged and then automatically switches over to saver mode. A convenient LED lets you monitor power status.
Regardless of which iPhone car charger you choose, you'll never regret the investment. Never again will you have to search for a pay phone because your iPhone has run out of power. iPhone car chargers are a small investment for big time convenience. You may also be interested in iPhone car cradles.
Sources: