Top 5 Options for Custom iPhone Cases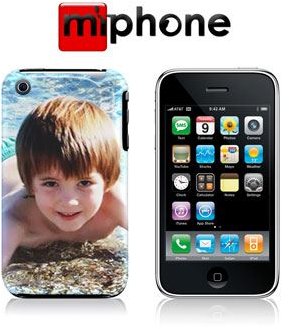 Red Snapper - Digital Photo on an iPhone 3GS Cover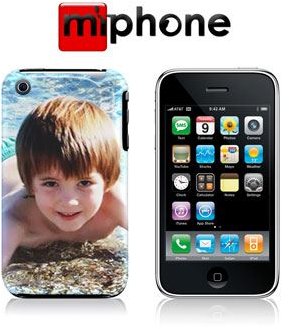 The Red Snapper website offers custom iPhone cases, that you can add a picture to. This site has been chose specifically over other sites that offer a similar service, as the results are stunning, and are highly rated by users.
Not only can you upload an image, you can also add a personalised message, opt for a black & white photo option, or add a pop art effect. Once you have uploaded your image and chosen all your other options, an email proof will be sent to you. In my opinion this is by far a better way to do it than wait for a preview image to be displayed on screen, as I've visited a lot of sites during my research and most of them take too long, or just get stuck, which is highly frustrating. Once you receive your email proof, you can decide whether to go ahead with the order - all of which only costs £19.99.
The only downside is that as yet, Red Snapper only offer options for iPhone 3/3GS users.
Image: Red Snapper
DS Styles - Custom Swarovski Crystal iPhone Case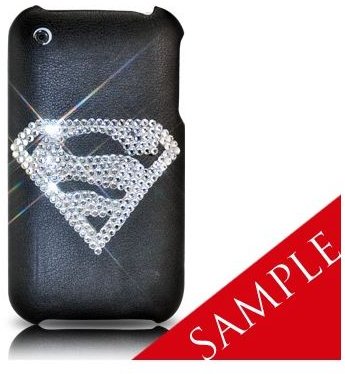 Strictly for designer divas with a passion for all things sparkly, DS Styles provides a first class service for customizing iPhone covers using Swarovski crystals, in various different price packages from 40-156 GBP.
You can either note your requirements for design when you checkout, and leave it to the designers at DS Styles to come up with a unique design for you, or you can email them a particular design. Either way, you will be emailed a proof of the image before the case is made, so you can make changes if necessary. Each case is hand made to order, and is usually dispatched within 7 days.
The only downside about a DS Styles case is that once you have put your phone into the case, it is not recommended that you then remove it, as the crystals are likely to come off. For the price they are charging you may feel this is a bit restrictive, especially if you are used to using a compact iPhone speaker dock, or charger dock. However if this doesn't apply you, and you want a case with some unique style, then bling it on.
DS Styles cover various popular phone models, including iPhone 4 and 3/3GS.
Image: DSStyles.com
Coveroo - Custom Designs on Your iPhone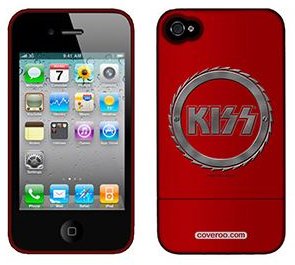 If you want choice, then coveroo is definitely the best place to go for choosing from thousands of images and themes, to creating your own. They also have different style covers to choose from, such as snap-on, slider, and shell cases, in a multitude of colors.
Themes cover music, sport, TV & Film, celebrities, tattoo designs, gaming, and even toys. Of course there are loads of customizable options too such as your name in Chinese symbols or Greek letters, your company logo, or you can upload your own artwork. Prices vary, but are around $24.99, with an additional $5 for adding a personalised message.
The process is simple, and preview images are generated really quickly. I can vouch for the quality too.
Shinnorie Customized Leather iPhone Cases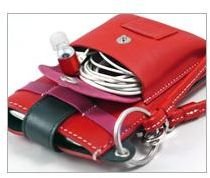 Shinnorie offer various different types of custom iPhone leather cases, to make uniquely yours, ranging from 30-40 USD, including flip, pouch, and purse versions, in different designs.
Not only can you choose from a huge range of colors, you can add a secondary, and even an accent color; there are also options to change stitch colors. Adding your own text or graphic costs $10 extra, and you can either add an image to your order when you check out, or email them afterward. The team will then get back to you in 1-2 days, to see if your request is possible. Not only can you personalize the case with text or a graphic, you can even add accessories to your customized leather case, by adding things like a pouch for earphones, a slot for a credit card, or a keyring attachment etc.
Infectious Custom iPhone Skins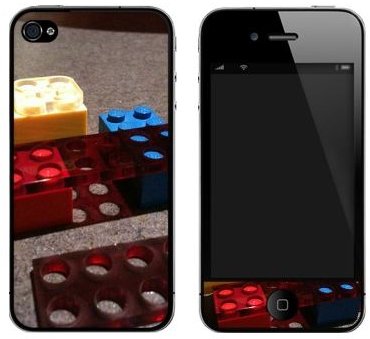 If you can't choose from some of the already superb and quirky designs that infectious.com have to offer, then they also offer a custom-made service. The procedure was much simpler than for any other website looked at here, in easy to follow steps. Step 1, you choose your iPhone cover or skin you want to customize; Step 2, you upload an image from your computer, and the preview image is displayed very quickly; Step 3 offers options to change the dimensions of your design, you can flip and center it too, to make sure you are happy before you continue.
The skin itself is made from high grade 3M vinyl, and you also get a coordinating customized sticker for the front of your iPhone, that fits around the home button. Prices are also very reasonable, at 15 USD and you can select either iPhone 4 covers to customize, or 3/3GS.
The only downside I found, when using this site, was that it often got "stuck" if you tried to upload a larger image - something like a family photo didn't work well. For basic and small images infectious.com works fine, but for photo cases, you are better opting for Red Snapper (above).
Personalizing your iPhone with cases, covers and skins, is a great way of making the iPhone look uniquely yours. Whether you just want to add a personal pic, or opt for stylish custom iPhone leather cases, there's an option to suit you.
Image: Lego blocks by Andrew Plumb