Best iPhone Crystal Cases - Animal Print Swarovski Crystal iPhone Cases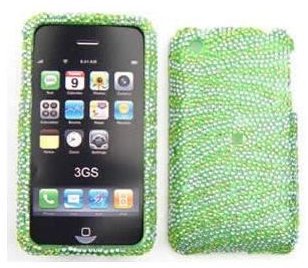 iPhone Crystal Case - Green Zebra
This iPhone crystal case combines the animal print trend with a fun and flirty flash of color in luscious lime green. The sparkling crystals add glitter and glam while enveloping your iPhone in stunning style. You still have full access to your touchscreen, yet the crystal cover makes sure your mobile phone stays protected. Regularly priced at $31.99, available for as low as $15.99. Simply snap onto your iPhone, and your phone has a brand new look.
iPhone Swarovski Crystal Case - Classic Zebra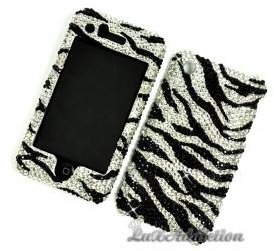 If you like to be daring, and want to own an authentic Swarovski crystal case, then this classic black and white zebra stunner might be just perfect for your iPhone. It is daring and bold, yet still maintains clean lines with its timeless zebra coloring. Available from LuxAddiction for $79.95, this stylish case is sure to draw you rave reviews. You are able to personalize your phone, and keep it protected at the same time. iPhone crystal cases allow you to show the world just how daring you can be, yet remain practical at the same time.
Swarovski Crystal Case - A Tiger Temptress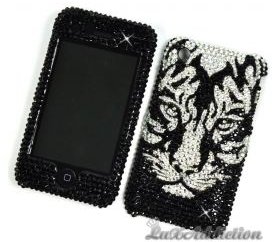 For a gorgeous twist on the typical tiger print, LuxAddiction has created this absolutely breathtaking Tiger temptress case. Made from a mix of 100% Authentic Swarovski crystals combined with high quality Bling brand crystals, this beautiful case wraps your iPhone in stunning style. Priced at $79.95, this case is perfect for gift giving. Be prepared for the daily compliments that you will have to deal with, once you show off your iPhone in its gorgeous Tiger Swarovski crystal case.
iPhone Crystal Case - Purple Cheetah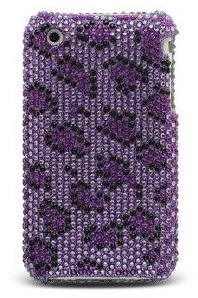 Animal print isn't limited to just zebra patterns. This stunning purple cheetah print is wild yet whimsical by using purple crystals for feminine flair. Purple is everywhere in fashion, including fashionable phone cases. You can protect your iPhone and still let your perky personality show. Regularly priced at $29.95, now available for only $16.49. Protecting your iPhone from dings and scratches has never been so easy, yet so much fun.
iPhone Crystal Case - Pink Cheetah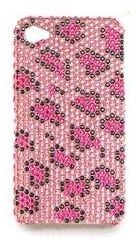 Another colorful choice in trendy animal print crystals is this luscious pink cheetah patterned case. Totally girly with its feminine pink crystals, this case is a perfect fit for your iPhone. This stunning case usually sells for $29.95, but is currently available for only $15.85. No need to worry about damaging your iPhone when it is securely wrapped in this beautifully blinged out case. Scratches are a thing of the past when your phone is protected in fashionable style.
iPhone Crystal Case - Sandy Safari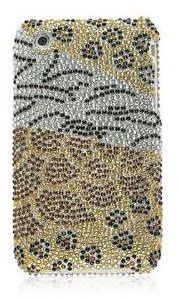 If you can't decide between a zebra or a cheetah pattern, then why not choose this gorgeous sandy colored safari print? Featuring a black and white zebra pattern surrounded by a tan and chocolate cheetah print, this stunner gives you the best of both worlds. Available for as little as $5.95, this mixed animal print is the perfect combination of style and durability.
Regardless of which of these patterns you choose, you can't possibly go wrong by combining animal print and stunning crystals. Sparkle and shine are always in style, and fashion forecasters are predicting animal print to be a popular trend for quite some time. You are able to protect your iPhone, show off your own personal style, and definitely be the envy of fashionistas everywhere. Blingolicious crystal iphone cases are a stylish must have trend that is here to stay.
Photos courtesy of: