Top 5 Motorola Droid Pro Cases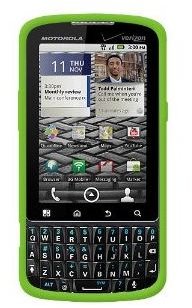 Amzer Silicone Skin Jelly Case for Motorola DROID PRO XT610
The Amzer Silicone Skin Case for the Motorola Droid Pro is perfect if you want a huge choice of colors, and a case that won't add too much bulk to your phone. The silicone skin fits perfectly over the curves of the Droid Pro, giving it protection in almost all areas. The only area that remains visible is the screen, so you might want to add a screen protector, but all in all the protection this second skin offers your phone is high quality. All functions remain accessible, due to the precise cut-outs of the Amzer case, and the durable silicone body means it's not only lightweight, it's easy to grip your phone too. A great buy from Amazon at less than 10 dollars.
Motorola A957 Droid Pro Crystal Clear Hard Case
To keep the beauty of your phone on show at all times, whilst still keeping it protected all round, the Motorola A957 Droid Pro Crystal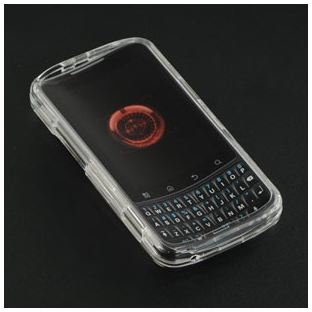 Clear Hard Case is a hard choice to dismiss. The case has been made specifically for the Motorola Droid Pro, meaning its custom contoured shape will fit your Droid Pro perfectly. It has also been designed so your phone is protected, while at the same time making sure your phone is still easy to use, even though it is encased in the stylish clear hard case. The cut-out touchscreen section does mean though, that the screen is open to attack from scratches, so when you pick up the case from handhelditems.com, you may want to purchase a screen protector too. The recommended price is 15.99 but if you act quickly you can get 10 dollars off that price.
Skinomi TechSkin for Motorola Droid Pro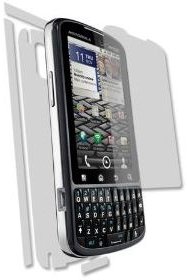 While it would be unfair to class the Skinomi TechSkin as a perfect Motorola Droid Pro case, it would also be unfair to dismiss it. Although it protects your phone superbly, it couldn't really be classed as a case. The Skinomi TechSkin uses the same material that has been used in NASA space shuttles, and military aircraft, so is obviously made of pretty tough stuff. This skin has been designed with the Droid Pro in mind, to fit your phone like a second skin. The separate pieces to fit to each area of your phone are precision engineered, and are easy to apply. The film is virtually indestructible, and even offers protection against drops and dents too. However, it is in the field of scratches etc., that the TechSkin is king. The Skinomi TechSkin is usually available from amazon.com for less than 20 dollars.
Reiko Leather Pouch Protective Case for Droid Pro
For a more traditional case at a reasonable price, then Reiko is usually the company that comes up time and again. The Reiko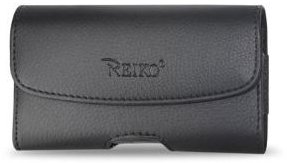 Leather Protective Case for the Motorola Droid Pro is a simple, stylish, traditional black case made from durable leather. The inside of the case is lined with a soft velveteen fabric, meaning that your screen is protected from scratches too. Both the advantage and disadvantage of using this case is that your phone is entirely protected from any bumps, drops and scratches, but also means that because your phone is entirely encased, it is not accessible at the same time, and answering your phone in time, may be tricky. There is also a belt clip attachment, should you require one, and at 5USD from amazon.com you get a fair deal for your money.
DryCase Waterproof Droid Case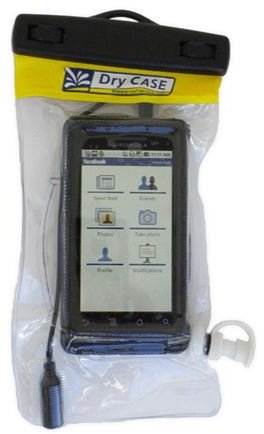 The DryCase for the Droid Pro is the most expensive in our top five at 40USD, but it also offers something the others don't have - it makes your phone completely waterproof. In tests the DryCase has kept phones dry even when submerged in water, so it is an ideal option for those keen on watersports, fishing, even snow-based sports. Not only this, but the superb styling also means that your touchscreen is still usable with the DryCase on, and the crystal clear section means taking pictures with your phone camera is still a possibility too. It even comes complete with a buoyant armband, for keeping active and keeping in touch at the same time. Available from drycase.com direct.
When compiling this top 5 list for Motorola Droid Pro cases, consideration has been given to a variety of styles to suit different needs, as well as looking at the best performing, or highly rated cases, which should mean there is something here for everybody.