What is the Best Wireless iPhone Charger?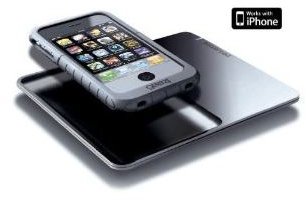 Gear 4 PowerPad iPhone Charger (UK) / iPhone Wireless Induction Charger (US)
The same wireless iPhone charger goes under two names: Gear 4 Powerpad iPhone charger is one of the best ways to charge your iPhone wirelessly for UK and European users; but in the USA this product goes under the name of iPhone Wireless Induction Charger.
One look at this product, will tell you that you are buying a quality charger. A fault of a lot of wireless chargers for iPhones is that they take so long to actually charge your unit, but the Powerpad charges just as quickly as a standard charger. The unit consists of two sections - the pad, and the case. The iPhone on its own does not have the technology to support wireless charging, which is why the case is needed. Slip the case onto your iPhone, and then place it on the mat for simple wireless charging.
Available from the US for $50, or from Amazon.co.uk for £28.99.
Air Volt Wireless iPhone Charger
The Air Volt Wireless iPhone Charger is one of the more reasonable purchases on our list, at 30 dollars, but still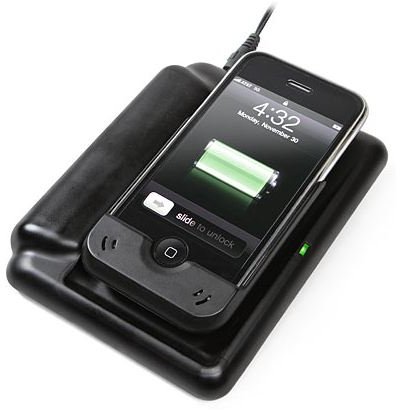 packs a punch when it comes to performance. Slide your phone into the receiver, and then place onto the charging unit to charge at the same speed as a standard charger. This device will also stop charging when it's done, using an automatic power-off feature. Although this goes against the wireless theme, there is also an extra USB port on the side of the unit so you can charge other devices such as an iPod at the same time. Available exclusively from thinkgeek.com.
Portable iPhone Wireless Charging Power Mat with Leather Case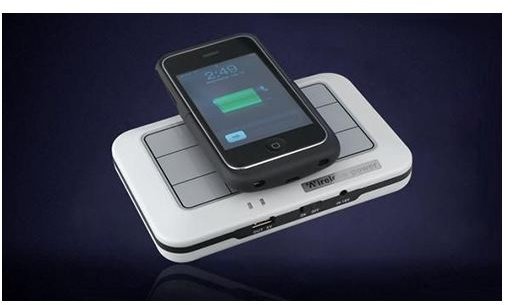 Before I tell you what is great about this product, I will be upfront and tell you that it retails at £75 - shock over, I will now tell you why this price could be justified. The way most wireless chargers for iPhones work is with the use of two units, one is a case, the other is the charging pad. Now most cases are just there to do a job, namely conduct the power from the charger to your iPhone. One of the major plus points of this model though, is that the case for iPhone is so stylish you can use it as just that as well - so you are really getting two products in one. The charging performance is second to none, there is also an extra USB port to charge other devices, and unlike many other chargers this one can charge any model of iPhone whether it be iPhone 4 or earlier. Available from digizo.co.uk.
Wildcharge Universal Wireless Charger iPhone
Another pricey option at 50 GBP but the Wildcharge Universal Wireless Charger could be a perfect option for wirelessly charging two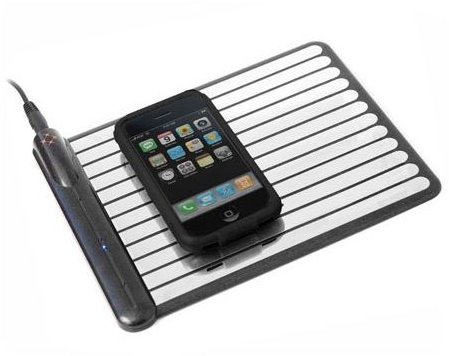 , or more, products at the same time. The "skin" provided (that you need to slide your phone into so it will charge on the pad), is for the iPhone 3/ 3GS, but more skins are due to be released, and the charging mat itself is big enough to hold at least two devices. The Wildcharge will charge at the same rate as a standard charger, and will not interfere with any other electrical equipment. It is also a superb option for accident prone users, as it is safe to spill liquids and place keys on - the unit will only work if a compatible device is detected. Available from mobilefun.co.uk.
For more information on this product, please read our full length WildCharger Review.
Powersurface Wireless Charger for iPhone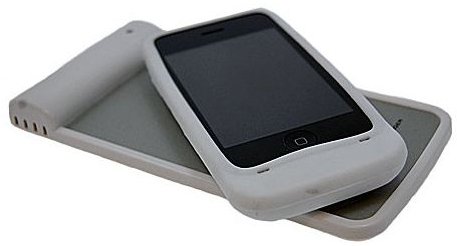 The white silicone case provided with this neat little unit, is so tactile you could be forgiven for wanting to use it as your regular iPhone case - this is a highly viable option as it offers all round protection as well as keeping all functions accessible. Not only does the charging unit take up less space than most, in both width and depth, it is also complete with "green technology" meaning that the charger will only draw power to your iPhone up to the level that is needed, after that it will power off. A superb buy at 25 GBP from mobilefun.co.uk.
With the top five wireless chargers offering plenty of difference in style, performance and price, there should be a wireless iPhone charger to suit you - if not then maybe you'd like to check our list of the best iPhone solar chargers, for wireless charging on the go.