Best BlackBerry Storm 2 Cases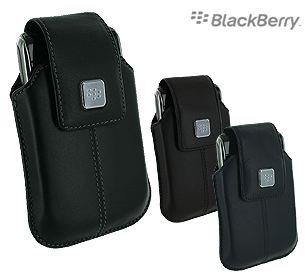 There are a lot of things to worry about in life, but protecting your investment in the new BlackBerry Storm 2 shouldn't have to be one of them. Your device is in constant danger from nicks, scratches, drops and spills, and while no case can give you 100 percent protection, they will all reduce your chances of destroying your BlackBerry. You can choose from a number of different cases, from a number of different manufacturers, to find one that will give you exactly the amount of protection that you need. Here we have rounded up five, well technically six, of the best BlackBerry Storm 2 cases. This list gives you a wide variety of styles, from ultrathin skins to hard plastic sheets, so you are sure to find something that is right for you.
Honorable Mention: BlackBerry Leather Holster
There were just too many quality options to narrow this list down to five, so the BlackBerry branded leather holster makes the extended list. This holster features premium lambskin leather and has indentations on the inside of the case so that it doesn't press against your trackball. The holster also has a proximity sensor that will shut down your screen whenever the device is placed inside, and this also allows you to create custom notification settings for when your device is in the case. There is a swivel clip on the back of the case, which allows you to adjust the holster for better comfort when you sit down.
5. Body Glove Snap-On Case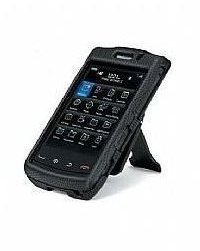 The Body Glove Snap-On case tries to combine the protection of a sturdy snap-on case with the low profile of a rubber skin, and while it excels in neither area, it finds a middle ground that works nicely. The case consists of a hard shell that snaps onto your BlackBerry Storm 2 and a clip on the back that can extend out and become a kickstand. Not only can the clip be removed, but the knob on the back of the case where the clip attaches can be removed as well, leaving just the shell on the device. The shell also has a texture to it, to help keep your Storm 9550 in your hands while you are using it.
4. BlackBerry Skin Cases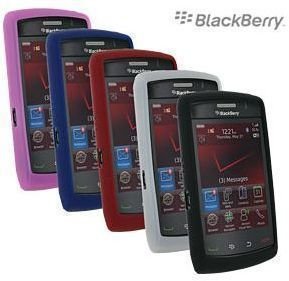 The BlackBerry-branded skin cases provide superior protection from nicks and scratches without causing the device to become too bulky or unwieldy. The skins have a rubber exterior that helps keep the Storm 9550 in your hand or on your dashboard, and is thick enough to prevent most minor dings and scratches from damaging your device. The skin cases have custom designed openings to allow you access to all of your buttons and ports, so the only time you have to remove the case is when you need access to the battery. These BlackBerry Storm 2 cases are available in a variety of colors.
3. OtterBox Commuter Case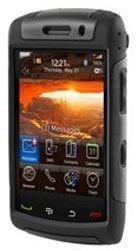 When you don't mind adding a little bit of bulk, in return for superior protection, the OtterBox Commuter case may be perfect for you. OtterBox cases offer the best protection out of all of the BlackBerry Storm 2 cases, since they encase your device in a custom molded piece of polycarbonate plastic. The Commuter series also offers two additional layers of protection: a protective film for the screen and a silicone mid-layer designed to keep out dust and debris. The outside of the case has perfectly-placed buttons to give you access to all of the Storm 2's features, and it also has silicone plugs so you can access the headset jack and charging port without exposing the device to the elements.
2. BlackBerry Leather Horizontal Pouch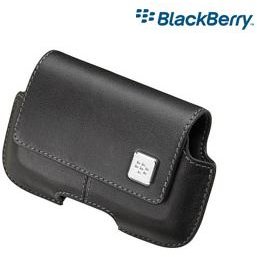 Complicated doesn't always equal quality and that is never more evident than in the second best BlackBerry Storm 2 case on this list. The BlackBerry-branded Leather Horizontal Pouch is made from full grain Napa Leather and sewn together with white stitching. The case has a magnet clasp that will turn off your screen when the smartphone is placed into the pouch and a swivel clasp on the back side so you can adjust the case however you want. Outside of the three available colors, blue brown and black, there are no bells and whistles here, just a quality case that makes it easy to carry your Storm 2 around and protect it from damage.
1. Incipio Ultra Light Feather Case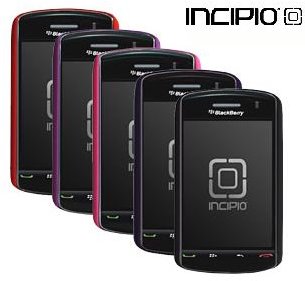 When you need to protect your Storm 2, but don't want the BlackBerry to turn into an eyesore, there is the Incipio Ultra Light Feather case. This case is made from an ultra-light polymer that measures only 1 mm thick. The case can barely be seen on the device but still provides protection from dings and scratches, and is so thin that you can use your smartphone in many docks and holsters without removing the case. While it doesn't add any weight, the Incipio case does have a slightly textured finish to help keep the phone in your hands. The Incipio case is available in five different colors including Black, Blue and Red.
You may also be interested in Must Have BlackBerry Storm 2 Apps.
References and Images