Save Space, Time and Energy with the Powermat Cell Phone Charger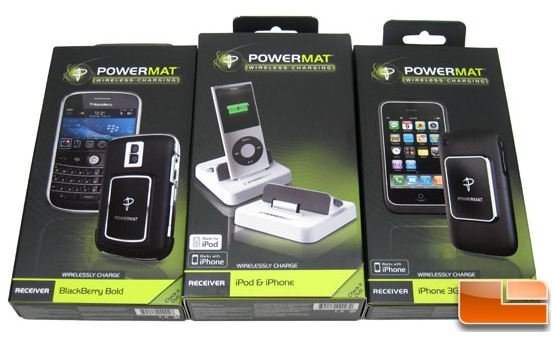 Powermat Cell Phone Charger
This new technology has revolutionized the way in which devices can be charged. The Powermat Cell Phone Charger is designed for portability and efficiency and many users will be happy not to have to tote around a bag full of wall chargers for their devices. It is one of the best smartphone charging solutions on the market, let's take a look at why.
The Device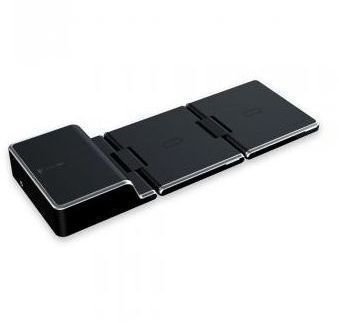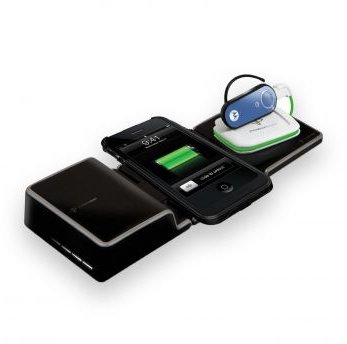 The Powermat Cell Phone Charger is a thin device which spans 12.25 inches wide, the size of a standard ruler. This charger also adds a level of portability due to its fold up frame and wireless capabilities. The back of the powermat is where a single cord plugs into the device and into a wall outlet. The back of the device also controls the light and sound functions. The sounds on the Powermat Cell Phone Charger tell the user when a device has been connected to it and three indication lights correspond to the platform that is being currently used. The Powermat also features a USB cord which enables users to charge a 4th device.
The Powermat Cell Phone Charger consists of two main components: the Powermat wireless charging mat and a case of several connectors also called receivers. Other custom receivers are sold separately enabling users the ability to charge any other type of device. The Powermat Cell Phone Charger comes available with a Powercube which holds some of the charging tips required to connect devices to the mat successfully. Additional receivers may range in cost from $30 to $40.
How it Works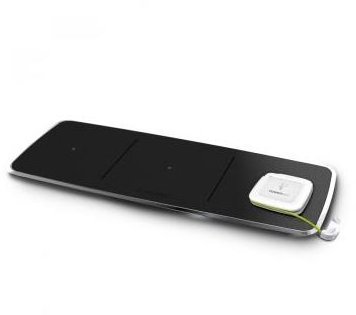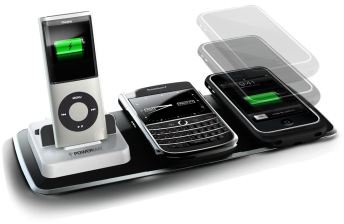 The Powermat Cell Phone Charger works on Electro Magnetic Induction technology. The same technology used by electric transformers in small home appliances. When it is connected to an electrical source the Powermat Cell Phone Charger gives off an electromagnetic field which the receiver picks up and uses to charge a device.
Essentially, all you have to do is connect a device to a receiver and place it on the specified spot on the Powermat. The device will commence charging. Some users have also stated that the powermat charges their devices faster than their default wall chargers.
Advantages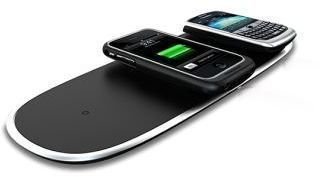 The Powermat Cell Phone Charger is definitely a stylish and efficient device enabling users to charge their mobile phones and other similar devices at one time by just placing them on a small black mat. The Powermat Cell Phone Charger makes redundant the many different chargers and mounts devices come with and no longer will people need to search for or carry around more than one charger at a time.
Disadvantages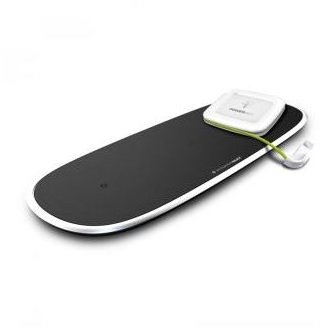 The Powermat Cell Phone Charger has several connections and features that do not come as standard when the initial purchase is made. Each receiver and extra feature will add to the price of the Powermat Cell Phone Charger drastically. Each device needs its own personal receiver so if you own an iPod, iPhone, BlackBerry and Nintendo DS, each additional receiver will cost up to $40 more.
Conclusion
The Powermat Cell Phone Charger has been a break from the norm in terms of charging mobile devices but it does come at a hefty price. It is an attractive device which folds up and becomes portable. People will be able to travel with one, small charging mat instead of 5 or 6 independent wall chargers. The Powermat Cell Phone Charger is available in three main designs: The Home and Office Mat ($79.99), Powermat 2X Portable Mat ($129.99) and the Powermat 3X Mat ($99.99). Each can be purchased at www.powermat.com.