Top 5 iPhone Solar Chargers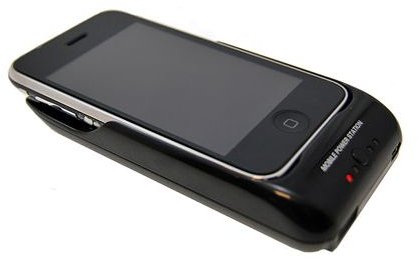 Solar Power Sleeve
An extremely stylish model that was designed especially with the iPhone in mind, the Solar Power Sleeve is the charger to beat all other iPhone solar chargers. Not only does the sleek design look good, it becomes part of the phone, meaning you can charge and use your phone at the same time - all buttons are still accessible. It can be storing up charge while you aren't using it too, just transfer the charge to the iPhone when you're ready, with the touch of a button. Users report anywhere from 1-3 full charges to the iPhone from 1 solar charged unit. Although the power sleeve will charge more quickly using natural sunlight, it will also charge from any other light source - even a computer monitor.
The single downside with this model is that it is still only available for the iPhone 3GS - we await an iPhone 4 version with some anticipation. The £40 price tag from mobilefun.co.uk isn't a bargain at first glance, but it will save on your electricity bills and pay for itself in no time.
Juicebar Pocket Solar Charger
Most certainly not the most ergonomic or stylish of the iPhone solar chargers in our top five, but it is certainly a very good purchase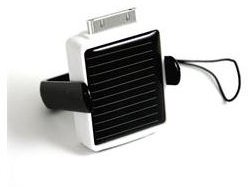 price, and does exactly what it is supposed to do. Of course it will be of more benefit to you if you live in a sunnier climate, but the 500mAh output is more impressive than a lot of models, and should be enough to charge your iPhone when you can't get to a power supply, in all but the dullest weather.
There are a few downsides though, besides its slightly clunky appearance. It really needs to be charged as a separate unit, before you plug it into your iPhone, to then start charging your iPhone from there. It is able to still charge itself and your iPhone at the same time, but only if it already has enough juice to start it off. Oh yes, and did I also mention that it can take 12-15 hours of sunlight to charge it up? A great priced model, but only useful if you live in a sun-filled environment and aren't in any rush.
You can purchase the Juicebar Pocket Solar charger for iPhone from stuff4blokes.com for about 16GBP.
For more information, please read our full length review of the Juicebar Pocket Solar Charger.
Solar-i-Phone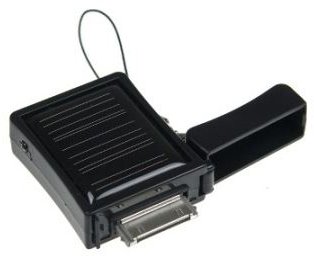 A really neat, and compact little solar charger designed for the iPhone 3GS and iPhone 4. The Solar-i-Phone only weighs 40g (less than 1.5 oz), and measures a trim 55mm x 35mm (2in x 1.5in), meaning you can slip it in your pocket and purse without any bother. The price is an average 20GBP, which isn't bad when you consider your iPhone can be fully charged from this unit in 15-25 minutes. The solar unit itself can be charged from direct sunlight, general daylight, and even artificial lights, although obviously direct sunlight will charge it more quickly. This model also works with iPods and you can even charge it up using your USB port, meaning you can have a fully charged up device before you leave the house on a dull day. One of the most perfect iPhone solar chargers for camping, and for festival goers, due to its pocket size.
Available from the manufacturer direct.
Ultra Compact Portable Solar Charger for iPhone & iPod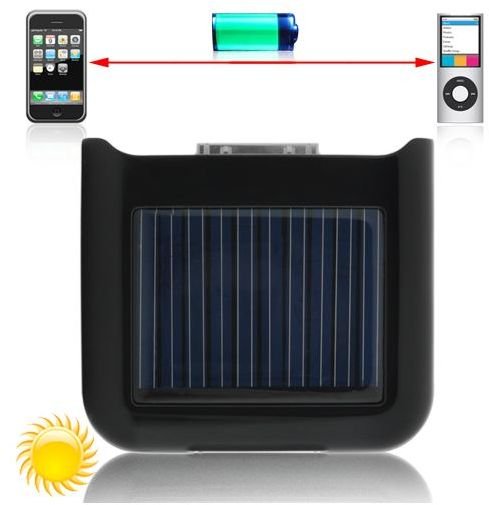 This Ultra Compact Portable model of solar charger for iPhone fits perfectly on the bottom of your iPhone, with the exact width dimensions of your phone - the manufacturer claims that this provides a seamless look that means you can use your phone at the same time the unit is charging. I would point out that whilst this is technically true, it does add a fair length to the overall phone, so I'm not sure how practical it would be, however it does mean all other buttons etc. are free to be used should you wish to do so. Another downside with this model, compared to more expensive versions, is that it only provides one iPhone charge from one charged up solar unit. As you can charge it continuously with sunlight this is not a big issue, but if it held more of a charge at one time you would be able to capitalize on a sunny day for another less sunny one. Still a very worthy investment - currently the cheapest option in our top 5 list.
If you would like more information on this product, then check out our full length review of the Ultra Compact Solar Charger.
This model is currently available through factory wholesaler ankaka, with no minimum purchase, hence the very reasonable price tag of 7GBP/10USD.
Mi-Power Solar Battery Charger
Whilst the Mi-Power Solar Battery Charger is an attractive option in terms of price and styling, it does have one major drawback. It is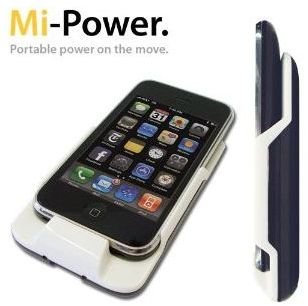 intended as a "little and often" type solar charger, meaning that the battery just doesn't have enough power, to provide you with a fully charged up iPhone. It does mean though that if you keep this with you, and leave it out in the sun to charge when you can, you will never have a dead battery again, as it can provide an additional 20% power to your phone.
This solar charger for iPhone model, is one of the sleeve design options, meaning you can just slide it into the dock and it can be charging. Although this does mean that you can still operate your phone as the charge is going on, the sleeve does add a little bulk to the phone, so you probably wouldn't want to do this for long. A perfect option if you are stranded in an airport, to give you that vital extra talk time, and as the capacity is small it can be fully charged up from sunlight in 1-2 hours. An attractive model, available from Amazon for 20 USD.
Best of The Rest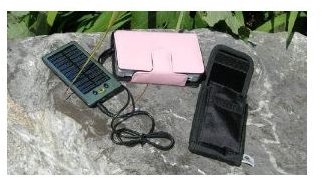 So what of other solar powered chargers that didn't make it into the top 5? For the most part these chargers offer good all-round performance, but were not iPhone specific - a lot of them are quite large with many extra attachments needed, such as the Powerpod (pictured left), for example. A little bulky, but if you need it to charge other devices too, then you might find this an ideal solution.
The i-Sun Power Charger was the only exception to this rule, as it is a neat design that was created for the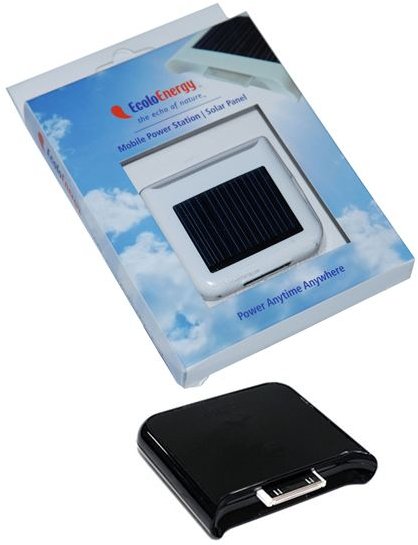 iPhone as well as the iPod. This model did not make it into our top 5 list though, as many users marked it down on power - a lot of people said it wasn't powerful enough for an iPhone at all, despite its $50 price tag.
Finding the best solar charger for iPhone for you, strongly depends on if you need it to give you a full charge, or just a small boost, and of course, how much sunlight you are likely to get. Either way, there will have been an option here for you, to keep your phone going whether you are at a music festival, stranded at the airport, or camping in the great outdoors.