The Top 5 Best iPhone Gloves For Cold-Weather iPhone Usage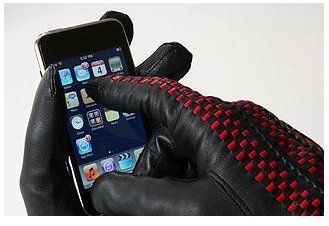 Apple's Magic Touchscreen Gloves for iPhone
With Apple announcing they've secured a patent for some 'magic' touchscreen gloves for iDevices, the issue of cold hands is a hot topic again. The Apple gloves patent consists of two layers - the inner one is a thin material that is apparently similar to human skin, the outer layer can be pulled back to allow this low thermal conductivity inner layer accurate contact to the iPhone in cold weather. The claim is that Apple's magic gloves will provide more accurate contact between your fingers and the touchscreen.
Until you can get your hands on a pair of some magic Apple gloves though, there are still a lot of great options around. We reveal the best gloves for touchscreen phones you can get your hands into.
Gaspar Gloves with TouchTec Technology
Gaspar Gloves have been featured many times in Vogue, appeared in action movies (Michelle Pfeiffer as Catwoman for example), and have been seen on a multitude of stars from Lady GaGa to Sacha Baron Cohen. It's no surprise then, that their offering in the form of touchscreen gloves is the most stylish pair you can buy - at a price.
Gaspar gloves for the iPhone, feature TouchTec technology which is a patented technology that mimics the human body. In simple terms it allows a material like leather to retain its usual qualities with the use of an invisible technology, allowing the wearer to use the gloves as a second skin. So you can use your iPhone with comfort and ease in even the coldest weather. Many current Gaspar styles feature this technology but it has been so successful that more styles, and even junior sizes will be released in the future.
They are available in ladies and men's size options, in a variety of styles and colors. Prices from GasparGloves.com vary from 225-295 USD. The obvious downside is the price, but if you are a resident of colder climes you may feel it is a worthwhile investment. See our review of eGlovz on page 2, that also uses TouchTec, for a cheaper alternative.
North Face Etip Gloves
As you would expect from such a well known brand, these touchscreen gloves from North Face are a class act. North Face manufacture

products that are even suitable when you are up a mountain, so if you are likely to be in such a place with your iPhone, you may have met your perfect match. Made from a patented fabric that keeps your hands warm without being too bulky, these gloves also feature silicon grips on the palm, with more comprehensive silicon pads on the index finger and thumb. They offer a close fit, so feel comfortable and leave you feeling in control of your device.
Not particularly stylish, and they are covered in logos, but then again they aren't so vile looking you wouldn't want to put them on. They do come in a choice of black, charcoal grey, or snow white, so you have a certain amount of choice when it comes to the style that most suits you.
Available in XS-XL, retailing at a very reasonable 22.50GBP.
Freehands for iPhones and Cell Phones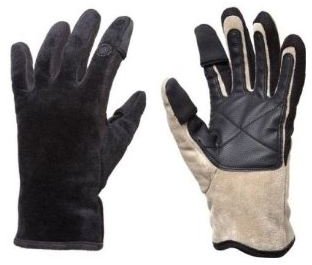 Freehands offer plenty of different style options from stylish faux fur and suede combinations for women, to a no nonsense practical black option for men, that has a more techie look. What is common in all these styles is that the design features the ability to pull back the tip of the index finger and thumb, to expose your finger tips to the elements, for ease of access to your iPhone. The obvious downside to this is that it could be awkward and time consuming to do this and answer your phone in time. If you are in an extremely cold climate you wouldn't want your fingertips exposed to the cold for any amount of time, in which case Freehands would not be a suitable option for you.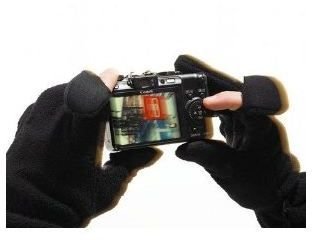 The upside to these iPhone gloves though, is that if you would rather have the feeling of accuracy from using your bare fingertips, they give you the best of both worlds. Your hands are kept warm for the majority of the time, and they give you the ability to use your phone for short periods in the cold.
Some users have reported sizing issues with this brand of glove, especially in the unisex category, as not being large enough for the male hand, so check sizing information carefully before you purchase. Buy for around $30.
eGlovz with TouchTec Technology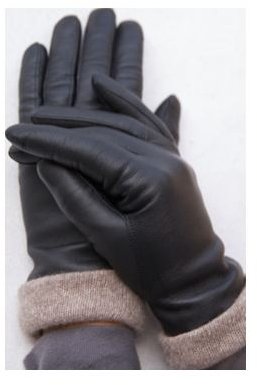 eGlovz are another user of the patented nano technology that is TouchTec, but at a more reasonable price than the Gaspar brand, while still retaining the style. They are still a bit of an investment in terms of gloves, but if you need them on a regular basis they are probably the best performing option for the price. The best thing about eGlovz, apart from the performance and comfort, is the styling. They look just like an ordinary pair of gloves, rather than an obviously techie option, but their performance is as good, if not better, than those with grips and pads on the fingers.
Depending on the style and size of gloves for your iPhone you choose, you can pay anywhere from 95USD for fleece and leather combo gloves, to 195USD for all leather options from eGlovz direct, and they are available in 3 different sizes . The more expensive options are more in the Gaspar Gloves league in terms of styling, although still offer a comparative saving. All gloves are wool lined, and are extremely comfortable to wear. One of the best iPhone accessories to have with you on those colder days.
Echo Touch Sport Gloves
As one of the most realistically priced pair of iPhone compatible gloves in our selection, Echo Touch Sport Gloves, pack a surprising punch for
your money. They look like regular fleece gloves, only the index finger and thumb has a small section of eLink fabric adhered to it. This eLink fabric supposedly interacts with touchscreen devices, even through an iPhone screen protector, and makes it easy to use your iPhone in cold weather. The downside is that you do forfeit a little on style, for this more budget friendly option. Depending on your color preference (a choice of black, charcoal or light grey), the eLink fabric is silver or gold, which doesn't work well on all color choices. They also look a little bulky, so although this hi-tech fabric interacts with your touchscreen, you may find it difficult to control with any great accuracy. A great option if you won't be out in the cold weather for long periods though.
Available in a large range of sizes from XS-XL for a very reasonable $30.
Conclusion
Finding the best gloves for using with your iPhone is obviously not just down to how a pair looks, you also need to consider how often you are likely to need them, and what performance you are looking for. This guide to the best touchscreen compatible gloves has given you a choice of the best - the decision is now yours.
References