Top 10 Designer iPhone Cases that are Weird & Wonderful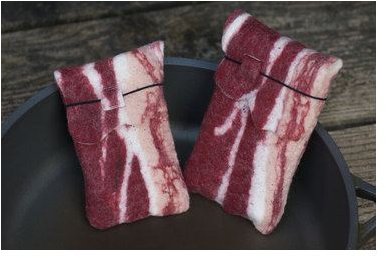 Bacon Case
Probably not a good option for vegetarians (though no meat went into its making), but excellent if you want to pull off the Lady GaGa look, without the need for a whole outfit made of bacon. This unique iPhone case with the appearance of bacon, will give you the look, as well as the practicality missing from GaGa's dress. It also has the advantage of protecting the whole phone, although if you want a case that keeps your phone protected even when you are using it, then this obviously isn't a good option for you.
The manufacturer is based in Germany and makes each product by hand which does mean you will have around a 20 day wait, but on the upside it does mean that this is one of the true designer iPhone cases you can buy, with each case being truly unique. Worldwide shipping costs are very reasonable too. Order from dawanda.com.
Police Box/TARDIS Case
An iPhone case for Doctor Who fans, this TARDIS, or Police Box case is perfect. Made in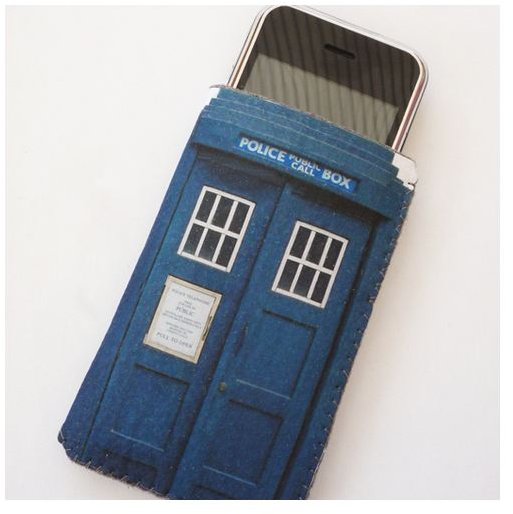 England, the manufacturer can make these to order to your phone's exact dimensions, if you want a case for any other phone too. Each case is made by hand - not bad for a price of £13 ($20) - so truly unique iPhone cases can be yours for a very reasonable price.
The advantage it has over other fabric cases is that the felt used is not only scratch free and durable, it has a coating that allows the case to be washed when it gets a bit grubby around the edges.
Crank Cases, sell through Folksy.com, and have other styles, such as the retro cassette tape iPhone cover, available too.
ChocoCase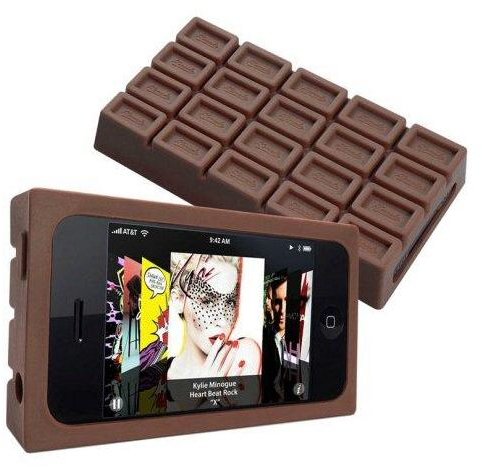 Strictly for chocoholics, this silicone chocolate bar is certainly one of the more unique iphone cases on the market. Whilst the faux chocolate bar fits the iPhone snugly, and there's no doubt the chunks of chocolate will protect it from any knocks, the obvious disadvantage is that the screen is left wide open to attack. It does mean that you have easy access to the screen at all times though, and it does come complete with a protective screen film, to protect it from any scratches.
Widely available, purchase it from play.com (currently £8.99 with free delivery).
Factron Quattro - Spy Case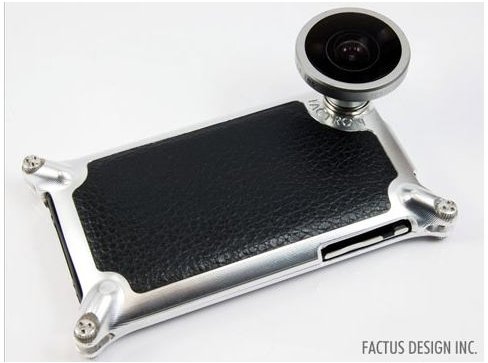 It's certainly not a budget option, (available from the manufacturer for $220), but then again it isn't just another designer iPhone case either. Made from duralumin (an aluminium alloy used in the airline industry) and calfskin, this is a quality product all the way. The attention to detail in the apparently simple design is second to none too, ensuring that your phone is protected even when placed face down onto a flat surface. The case supports the use of a strap, and lenses for this camera spy case, are available separately. Highly suitable for James Bond and secret agent wannabes, or just those of us that like to take photos with a stylish device.
Case-Mate Tire Tread Vroom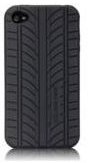 Not made from recycled tires, but from high grade silicon, that gives a really good appearance of a tire tread. Protects the entire phone, so perfect shock resistance capabilities if you drop your phone with this case on. It provides a form fitting snug-fit, but it is easy to get access your device. The material used is also highly durable so getting your phone in and out won't wear the product down in any way. Unlike similar products, this one protects your whole device whilst still allowing you access to all necessary buttons and ports, without the need to remove the skin. Perfect iPhone protection for the accident prone, or petrol heads amongst us at a very reasonable price. Widely available, buy from play.com for under 10 pounds.
Marware's Game Grip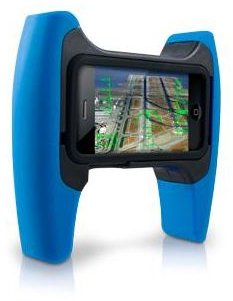 OK, so this isn't just a unique looking iPhone case, it is obviously a gadget in its own right too, but the protection it offers your phone is second to none, and yes it looks good to boot. Obviously, unless you use your iPhone for mobile games more than anything else, this won't be the only case you'll need, as it's unlikely to fit in your pocket. But it does have a great many advantages, that outweigh this one disadvantage. Made from high grade silicon in an ergonomic design, this is a great phone case for both protection, and for comfortable gaming on the go. Your phone can be charged whilst gaming, and playing with headphones isn't a problem either. The best case for hardcore gamers for sure.
Order from Marware direct, for around 40 dollars.
Phoenix Tail Rhinestone Diamond
If you can't afford Case-mate's $20,000 designer iPhone case with encrusted diamonds (and who can?), then this is a brilliant budget-friendly option if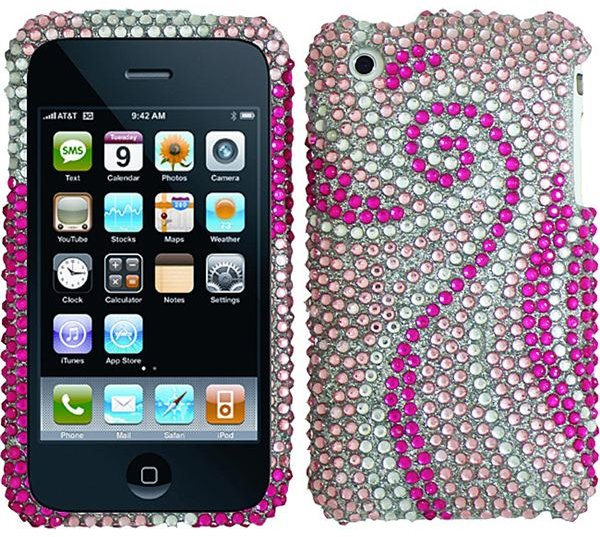 you are a girl who likes her bling. This hard plastic case is encrusted with crystals, and cut precisely to allow access to all features you are likely to need from your phone. The only negative some users commented on was that it was a hard case to get off once it was on there, without disturbing any of the crystals. It is also extremely difficult/impossible to use in coordination with a docking station, so if this is your chosen recharging method, be prepared for some hard work getting the case off each time.
On the plus side, overstock.com sell this at a very reasonable price, compared to the original.
Vers iPhone Info Case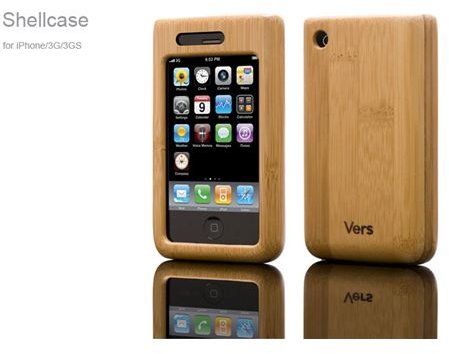 Made from cherry, walnut, or bamboo, these cases use mother nature as their designer. iPhone cases from Vers, are eco-friendly, and because trees are unique, so too will your iPhone case be. They are handcrafted, with reinforced corners, and a soft, scratch-resistant lining. As well as the three different wood choices, you can also select from two different model types: shellcase (pictured), and info case. The info case gives complete all round protection, whereas the shellcase offers good protection, whilst still allowing access to the screen. Bamboo is the most eco-friendly option of the bunch, but for every tree that Vers uses another 100 are planted in its place, meaning you can use your case with style, and a certain amount of smugness at how kind you are being to the environment.
Coveroo Custom Designed Cases
The best iPhone cases aren't just functional they should look great too. Coveroo.com allow you to create your own great looking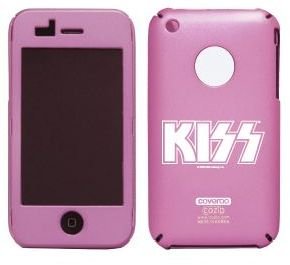 design, or customize one of the hundreds they have available. Themes run from NFL to KISS, Family Guy to Marilyn Monroe phone covers. There are also options to include Chinese characters, monograms, and custom artwork, meaning you have complete control over the appearance, of your iPhone cover. There is also a great preview feature so you can see what your case will look like before you place an order.
Available in a huge array of colors and models, from snap on cases, to slide covers, and fully protected cases. The Cozip iPhone case seems the best option for looks and all round protection for your phone, whilst still leaving access open to all your buttons and features, and this retails at around 20 dollars. Coveroo, ship worldwide and custom text can be added to your design for an extra 5 dollars. One of the few truly unique iPhone cases available.
iMeshi Japanese Food iPhone Covers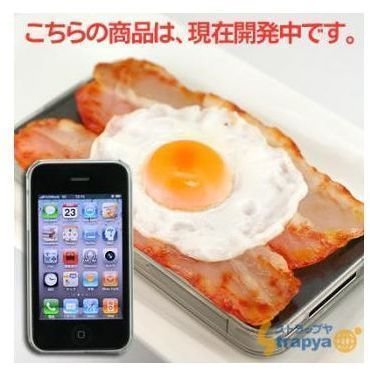 As iPhone cases go, you don't get much weirder than this selection of food themed cases from [Strapya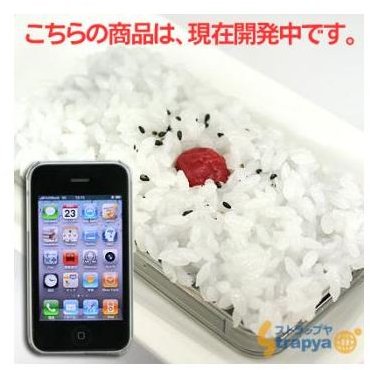 World](https://www.strapya-world.com/products/38538.html), based in Japan. The eggs and bacon, hash brown, Yakisoba noodles, and Bento cases all retail at over 40 USD, plus shipping from Japan. Striking looking yes, but I'm not sure how much protection it would offer your phone. The designs only cover the back of the phone, leaving the front and sides open to bumps and knocks. These pictures are from the range of samples, and any case bought would include a cut-out section for the iPhone's camera. If you aren't too accident prone though, and you just want a case that looks good, this is certainly an option that would make you stand out from the crowd!