OtterBox for BlackBerry Cases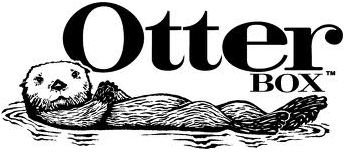 OtterBox cases generally consist of two or three layers, but still often manage not to be bulky or make your phone heavy. Most often the cases will comprise a silicone or rubber skin that will fit onto your phone like a glove and then a hard plastic-like section that snaps onto the skin. The third and often optional piece is the clip-on section for fastening the case to your belt or anything else that you deem fit. OtterBox cases will most likely be seen in three types and they are; the Defender Case, the Impact Case and the Commuter Case. While each style has their differences, you can be guaranteed that all are made to protect your phone. Below you will find a review of one case from each style category.
OtterBox Defender Case for BlackBerry Curve 8300 Series (Black) (5 out of 5)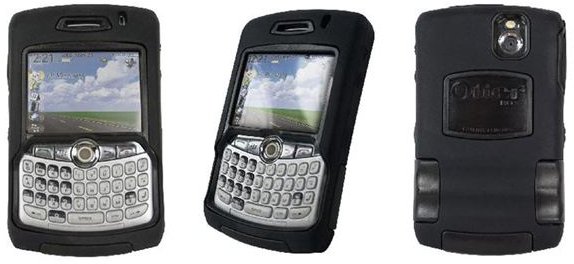 This case is the black, ruggedized Defender case for the BlackBerry Curve 8300 series. The case completely covers the phone to keep out dust and moisture, but you still have full access to all features and full use of your keyboard, your trackball and your camera. The ports on your phone have convenient plugs to keep them safe, but still provide access when you need to charge your phone or use your earphones. The case is also equipped with a holster for your phone and a swivel clip to attach to your belt.
The best feature of this and all OtterBox cases is the fact that it provides protection from bumps, scratches and even falls.
The layers for protection on this case are the thermal layer, which is a clear screen and keyboard guard that protects them from scratches and dirt. The polycarbonate shell, which is the hard plastic-like material that was mentioned earlier and the silicone skin, also mentioned earlier, which is the main source for shock absorption.
OtterBox Impact Case for BlackBerry Curve 8520 (Black) (4 out of 5)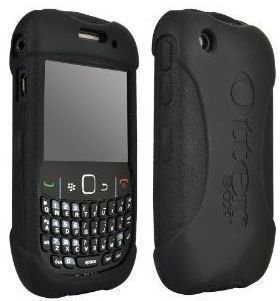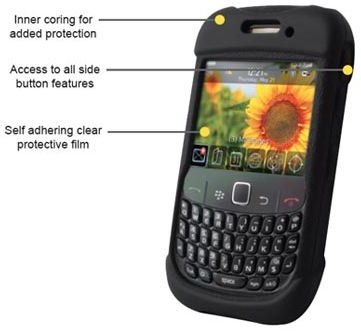 This is a great phone case that will keep your phone safe from shocks and bumps. This a silicone case for the Blackberry Curve 8520 that also comes with a screen cover that will help to protect your phone screen from scratches. The difference between this and the Defender is that it does not provide protection from dust or dirt, but will prevent your phone from being destroyed if it falls. You do not have to remove the case to access your regular phone functions as you can access the ports and sounds are transmitted through the case so you can still take and make your calls with the case on. This form fitting silicone case will also fit a BlackBerry Curve 8530.
OtterBox BlackBerry Curve 8520 Limited Edition Commuter Strength Case (Pink) (5 out of 5)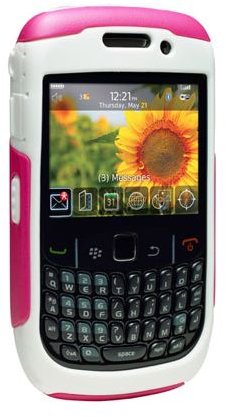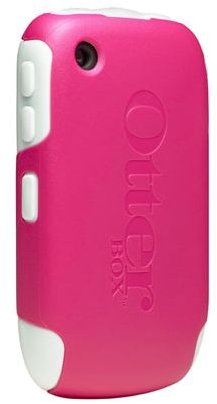 This particular Commuter case is a limited edition, but there are always commuter cases available from OtterBox for BlackBerry smartphones. This case features two layers for ultimate protection and it is still form fitting without being bulky. This particular case is pink and white as it represents OtterBox's support for the Avon Breast Cancer Crusade. As a matter of fact, 10% of the price for the item is donated to that cause each time a purchase is made.
The first layer is made of white silicone and fits onto the phone like a nice smooth skin. Similar to the Defender listed above, it also provides silicone plugs to cover the ports when they are not in use. The package includes a screen protector, which is self adhering. The second layer is a pink polycarbonate snap on case that covers a great part of the silicone to add even more protection.
Offering stylish protection against bumps and shocks, this Commuter Strength Case is constructed of pink polycarbonate on white silicone. You can access all buttons and features of your BlackBerry Curve, and silicone plugs provide coverage for ports. This package also includes a self-adhering protective film for the screen. Note that this case is not protective against water.
Top BB Protection
The consensus is that OtterBox for BlackBerry and other cell phones is the first name that should pop into your mind if you are on the hunt for cell phone cases that will protect your phone from shocks, bumps, dust and dirt. They are always highly rated and their users swear by their quality and durable standards. You can choose your own OtterBox case for your BlackBerry based on the features that the case has and how much protection you need for your phone. You can also make your choice based on color, although most people tend to go for a black case unless the colored one represents a specific cause or they simply like that particular color. Not all cases include the clip-on section, but most often what you will need is the silicone skin and the hard case, because the silicone skin is actually the part that deflects the shock away from the phone and the hard shell casing helps to minimize damage.
References