Highly Recommended iPhone Charging Car Cradle Accessories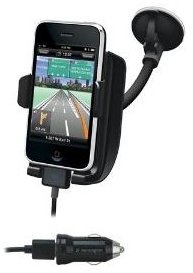 Kensington Car Mount w/ Sound Amplifying Cradle (4 out of 5)
Be productive even if you're out driving. The Car Mount w/ Sound Amplifying Car Cradle allows you to legally and safely converse on the phone to maintain your productivity while on the go. This impressive product by Kensington amplifies twice the sound of your iPhone volume without added battery drain. The mount keeps your phone safely in place and you can easily and quickly insert and remove the device single-handedly. There is also a cable holder that keeps the charging cable connected and a car charger that allows charging even if you are using your phone. This is also designed with a flexible cradle swivel that turns and tilts so you can adjust it to a comfortable viewing position. Drive safely with this fantastic car cradle for $39.00.
THB BURY Comfort Car Cradle (4 out of 5)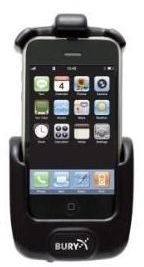 The THB BURY Comfort Car Cradle is designed with built-in battery charging technology that allows unlimited talk time while in your car. It has an external antenna that highly improves reception and transmission performance for vividly clear sound and optimum connections. This ultra durable car cradle can be used together with other manufacturer's hands free Bluetooth car kits. The comfort cradle is one product among the iPhone charging cradle car accessories that ensures the highest security and comfort of your device while driving. This costs $79.99.
Kensington Car Mount w/ Quick-Release Cradle (4 out of 5)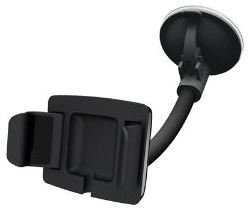 The Car Mount w/ Quick-Release Cradle by Kensington provides total security for your iPhone with its ultra amazing fit. Its features includes a quick-release design for easy and fast putting in and taking out of your device, even with one hand. This cradle also pivots for landscape or vertical mode. It comes with flexible arms that can provide ultimate phone security even if it is in the case. This is a superb product by Kensington that also comes with a cable holder that allows charging via a connected cable to your car cradle even if not in use. This costs $23.43.
Wilson Electronics Sleek Signal Cradle Booster (4 out of 5)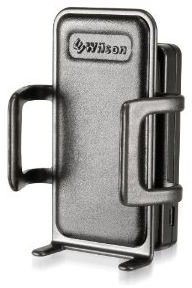 The revolutionary Sleek Signal Cradle Booster by Wilson Electronics is one of the iPhone charging cradle car accessories that is worth having. It is designed to increase data rates in areas with weak signal and extends signal range thus reducing the possibility of dropped calls. It also extends the signal's strength and calling range on any cell service provider (excluding IDEN & Nextel) in North America. This top-notch car cradle has an external antenna which increases the phone's output power and at the same time, improves its ability to detect a signal. This product that comes with a built-in battery charging port and costs $99.00.
Amzer Suction Cup Car Cradle / Mount (5 out of 5)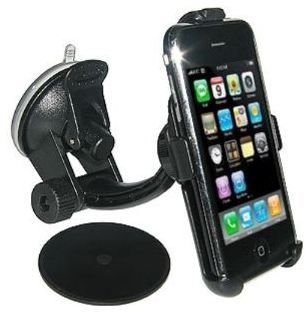 This highly reliable Suction Cup Mount by Amzer is specially designed for usage on the dash, console or windshield. This is perfect for your iPhone and iPhone 3G because of its custom made soft grip holder and backing that will not scratch your phone but will hold it securely in place. This must-have car cradle fits all vehicles and can be easily installed in seconds without using any tools. Safety is always first with this truly recommendable Amzer product. This costs $20.82.