Different Types of Car Chargers for BlackBerry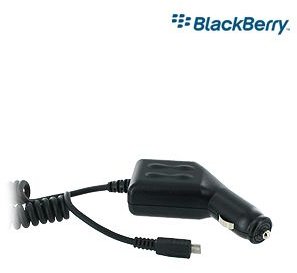 Most car chargers for mobiles give your phone a quick and thorough shot of battery power while you are in your vehicle and they are designed in such a way that they do not short circuit.
It is important to know what type of USB port your BlackBerry smartphone can accept. BlackBerry phones use USB ports but over the years the size of the port has changed from Mini USB to Micro USB. BlackBerry models 88xx, 83xx 900 Bold and similar younger models use a Mini USB port while newer models like the Tour, Pearl Flip, 9700 Bold, Storm and Curve use Micro USB ports. There are also micro/mini USB adapters that can be used to charge your phone in case you end up with the wrong port at one end.
Standard Blackberry Charger (4 out of 5)
Standard car chargers for BlackBerry phones plug into your car's cigarette lighter and plug into your phone using a USB port. They typically have a coiled telephone like cord so you can use the phone while it is being charged. This car charger can be bought for an average of $30.00 but it is worth shopping around.
Retractable Blackberry Charger (5 out of 5)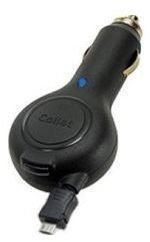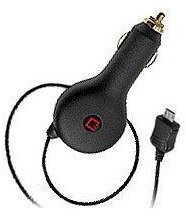 Similar to the standard car charger, this model plugs into the car's cigarette lighter and into your phone. The cord which attaches the two ends is not coiled but straight and is retractable. Once you are done charging the cord can be retracted so as to save space. This is ideal for getting rid of the long and pesky cord which often gets tangled. These accessories usually carry an average price tag of $40.00.
Car Mount (4 out of 5)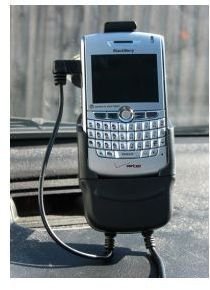 This type of car charger comes with a mount that can be attached to the dashboard of a vehicle. It plugs into the cigarette lighter and allows for hands free use of the phone's many features like GPS. Instead of holding the phone or looking down at it, it will be in front of the car's driver which is a much safer driving practice and ideal if you are using the phone for navigation. This can be bought for roughly $30.00 or sometimes more.
Universal Car Charger (5 out of 5)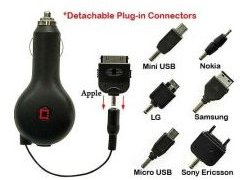 There are chargers available to BlackBerry users that are not necessarily the BlackBerry brand. These are called universal car chargers and may work with multiple smartphones. These chargers are much cheaper but may not be as durable as a name brand model.
Some people purchase universal car chargers that work with any type of mobile smartphone. These come in many different types but sometimes it is best to go with a charger that is specific to your phone. It ensures there are not short circuit problems and that it charges your phone properly. This is also another type of car charger for BlackBerry devices that can be obtained for an average of $40.00.
Stay Charged
Instead of driving around with a depleted phone battery, purchase a BlackBerry charger. Some BB car chargers also come with a rapid charge feature just in case you need a quick charge and don't have much time. They also come with an LED light that turns green when the phone has received a full charge.
If your BlackBerry smartphone is your lifeline then it may be necessary to purchase an additional battery and have it fully charged and on your person. If you are unable to access your car's charger then that battery can be inserted as a backup.
Before purchasing any type of charger think about how much you are willing to spend. Some chargers cost more than others but the most important features they must all have are durability, quality and the ability to charge your phone quickly and safely.
References