The Top 5 iPhone 4 Leather Cases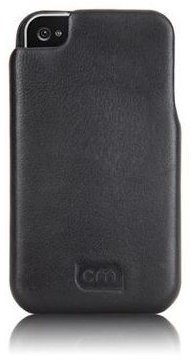 The launch of the most talked-about smartphone, the iPhone 4, has created several new opportunities for sellers to come up with new and exciting accessories. But, it all depends on the consumer, who decides which accessories are best for his sleek and "cool" iPhone 4. These may include Bluetooth Headsets, FM transmitters, portable speakers and car kits. Besides these accessories, consumers also look for the best iPhone 4 cases, which come in a variety of designs and material options. Some prefer snazzy, colorful cases, while others go for simple, yet stylish ones. But, when it comes to luxury, iPhone 4 leather cases rule the roost!
Leather cases for the iPhone 4 are known to exude a plush style statement and are one of the most expensive options available in the iPhone 4 accessory market. However, it is very important to ascertain whether they are genuine or artificial. Some cases may just have a "leather sticker" glued onto the plastic surface of a case, which others are downright artificial, which means they are not made from Genuine Leather. This compilation will help you buy the right leather cases without worrying about the material used and the quality:
Case-Mate Signature Leather Case
Made from the finest Italian leather, the Case-Mate Signature Series easily snaps to your classy phone without any hassles. Users can choose between the classic and supple Italian Napa leather and the Carbon Fiber pattern leather, but if you ask me, I would surely go for the former as I can customize the case by etching my name on it. Yes, Case-Mate does allow you to customize your case to add that extra sparkle. What's more, you also get an iPhone 4 screen protection kit free with the Signature leather case. With such exciting features, this leather case for your iPhone 4 is definitely a steal deal!
Buy the Case-Mate Signature Leather Case
Sena Walletbook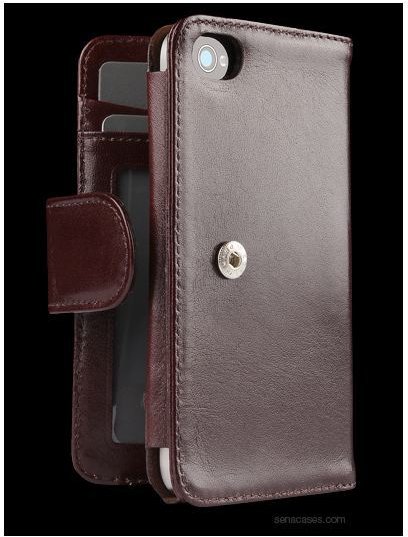 iPhone 4 leather cases that combine a regular case with a designer wallet are quite in vogue nowadays. Many users want an iPhone 4 case that doubles as a leather wallet. To attract this segment, Sena has come up with a unique book style case called Walletbook. It comes in various colors and two distinct leather types: croco leather and classic leather.
The best part of the Walletbook is the side spine design. You open the wallet like a book and place your iPhone on the right side. The left side sports a designer leather wallet that lets you store important items. The case ensures a snug fit to your phone and has a protective layer that provides additional backbone support to your phone. Handcrafted to perfection, the Walletbook is made from the finest Italian Napa leather and the unique book style will certainly leave you spellbound.
Buy the Sena Walletbook Premium Leather Case
SGP Argos Black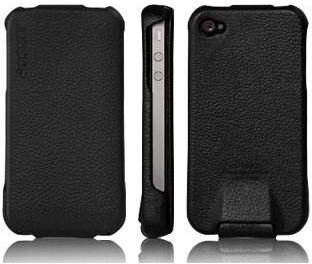 The United SGP Corporation is best known for manufacturing cases and scratch-resistant coating films for a variety of gadgets, such as handhelds, digital cameras, iPods, iPads and of course iPhones. The Argos Black for the iPhone 4 is a classic leather case that protects your phone from dust, scratches and damage. Made from Premium Genuine Leather, the Argos range of leather cases has a nice microfiber interior that snaps to the surface of the phone and keeps it slim and sleek. The leather case has no magnetic buttons attached and is hand-crafted to perfection.
Buy the SGP Argos Black Leather Case
Marware C.E.O. Flip-Vue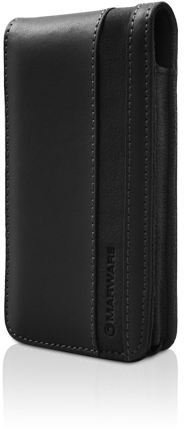 The Flip-Vue flip-top holster offers a superb combination of convenient access and protection. Made from genuine leather, this slim iPhone 4 case has a unique suede design, which is quite appealing to the eye. It ensures easy access to all buttons without removing the case. You can easily receive calls and listen to your favorite tracks without removing your phone.
The inner structure of the flip-top case has a storage pocket to store important items like credit or debit cards, cash and business cards. The genuine leather quality is excellent and complies with the RoHS (Restriction of Hazardous Substances), rendering it safe for the environment.
Buy the Marware C.E.O. Flip-Vue
Beyza Slimline Stripes Case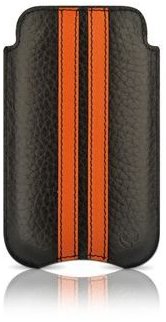 Most users are of the opinion that iPhone 4 leather cases have their own limitations when it comes to color and design. Well, Beyza can prove them wrong! Its Slimline series of leather cases for the iPhone 4 sports a unique stripe design in the middle that adds a snazzy look to a simple and sophisticated leather case. Available in a wide range of color shades, Slimline Stripes cases are made from floater leather, which is soft leather that sports a pattern. The floater variety is quite smooth and is quite soft when compared with other leather types. The pouch ensures total protection and a snug fit and it features a slim and padded design.
Buy the Beyza Slimline Stripes Case