The Top 5 Nokia 5800 Accessories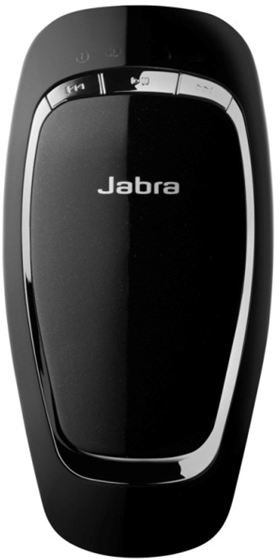 The Best Nokia 5800 Accessories
The launch of the Nokia 5800 XpressMusic in October 2008 marked the entry of Nokia's first touch-enabled phone. The sound quality is top-notch and with a resistive touch screen, you can easily browse through our favorite music and applications. This mid-ranged, music-centric smartphone sports a 3.2 inch touch screen, GPS, Bluetooth, and a slick touch screen interface. To make the most of its music and other features, you will need to have some of the best Nokia 5800 accessories. We have compiled some of the top accessories for you:
Jabra Cruiser Bluetooth Speakerphone
When it comes to hassle-free hands-free conversations, Jabra Bluetooth Speakerphone does not let you down. The Cruiser Bluetooth speakerphone is a portable wonder with excellent features including dual mics for effective noise cancellation, excellent placement of volume controls and voice announcements.
The Jabra Cruise can be easily installed, without the setup hassles that plague other Bluetooth enabled speakerphones. The speakerphone also has an FM modulator to enjoy music on the go. You can also stream music from your phone and when you receive a call, the music will stop immediately and resume when the conversation ends. With such excellent features, this useful device should be included in your Nokia 5800 accessory list.
The Jabra Bluetooth Speakerphone at $47.99
Proporta USB TurboCharger 3400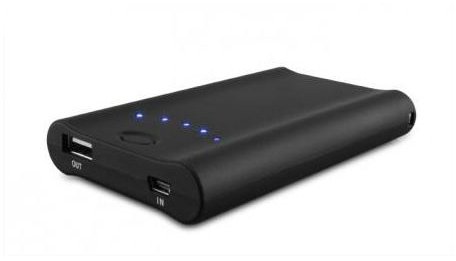 The USB TurboCharger is an ideal emergency charger for travelers looking for a neat and compact device that can quickly charge their phones anywhere. The charger consists of a 3400 MaH battery pack that can charge your Nokia 5800 XpressMusic at least four times. Moreover, The TurboCharger's charging time is a lot quicker than your standard charger. It just takes a little over 30 minutes to fully charge the Nokia 5800, whereas a standard charger takes more than an hour or so.
The Proporta USB TurboCharger has a USB retractable cable that can connect with any gadget, thanks to the variety of heads included in the pack. Want to charge your Nokia 5800? Just connect the barrel connector to the USB cable as well as your phone. The TurboCharger is a nice compact device with a rubberized cover and sports five LEDs that indicate the progress of the charge. With such excellent features, this accessory is certainly a must-have for travelers who want to charge their mobiles on the move.
Proporta USB TurboCharger 3400 at $46.95
Nokia Mini-Speakers MD-4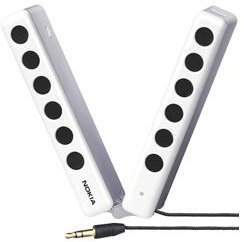 The Nokia 5800 is music-centric, so it may not be surprising if most of the Nokia 5800 accessories are related to music, be it a snazzy headphone set or portable mini-speakers.
The Nokia MD-4 is an ideal "pocketable" music accessory for people who love listening to the music player on the go. It has a 3.5 mm standard interface connector and is powered by 4 AAA batteries. The sound quality is excellent and crystal-clear when compared to other portable speakers for the XpressMusic. The MD-4 is ideal for music-lovers and also comes with a 2.5 mm adaptor for other gadgets.
Reusable Screen Protector for Nokia 5800 XpressMusic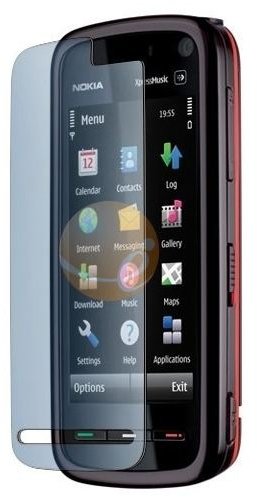 Most scratch guards, or screen protectors, leave a trail of glue and are unusable after they get peeled off from your mobile. What you need is a reusable scratch guard that leaves no residue and can be washed and reused over and over again.
This screen protector features 99 percent UV protection, thus reducing any strain on the eyes. It is thick and durable, offering unmatched clarity and unscratched surfaces. If you are looking for a scratch guard, but are unhappy about the glue residues left by them, then this Reusable Screen Protector for Nokia 5800 will be your preferred accessory.
Reusable Screen Protector at $0.87
Skull Candy Lowrider Headphone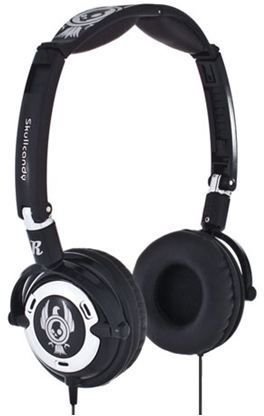 If you are looking for the best Nokia 5800 accessories with a snazzy design, then the Skull Candy Lowrider Headphones will suit your preferences. They are suitable for those who love to jog or cycle around with their headphones on.
Lowrider's durable headphones are easily adjustable and can be folded and stored anywhere. Although the bass delivery is not up to the mark, the sound quality is near-perfect. With a 3.5 mm standard connector, the Skull Candy can be a perfect travel mate for music-lovers.