Best HTC Touch Pro 2 Accessories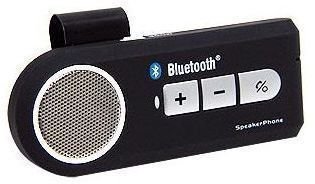 Bluetooth Portable Car Kit
This is an excellent and cheap solution for using the HTC Touch Pro 2 while driving. This slim Bluetooth enabled car kit can be moved from one car to another and offers the same functionality of a portable car kit. There are buttons for volume adjustment, while the car kit works like a speakerphone anywhere the user goes. Mounting of the car kit is easy with its removable metal clip that allows the kit to be mounted on the sun visor. There is also a mini USB port for charging and connecting to the cigarette lighter for portable charging. It also comes with advanced noise reduction technology ensuring optimum voice quality during voice calls. Users will love the fact that with this portable car kit they need not wear headsets for hands-free voice calls.
The BlueAction Bluetooth portable car kits can be charged for 2 hours with standby time of 300 hours. This is one of the more recommended HTC Touch Pro 2 accessories.
Price: $54.95.
Mugen Power Lithium Battery with Door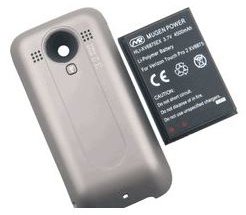 This is a replacement or extra battery for the HTC Touch Pro 2. This Lithium-Ion battery ensures best performance and can be recharged anywhere when necessary. With a power of 4500mAh, the battery substantially lengthens the standby and talk time of the HTC Touch Pro 2 so users will not have to recharge the battery frequently. This battery doubles the standby time of the original battery of the HTC Touch Pro 2. No more worries for long travel hours and long camping trips.
Price: $99.99
2-in-1 Audio Charging USB Cable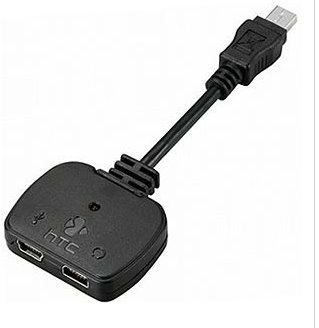 This HTC charging and headset adapter allows HTC Touch Pro 2 users to charge their phone and make use of its wired headset simultaneously. It comes with two ports that connect the phone to a headset and charger. The mini USB jack is used for syncing the phone with a computer and charging it, while the extension USB jack is used for connecting to the stereo handset. The product lights up with LED when it is connected properly.
Price: $9.95
SanDisk 16GB MicroSDHC Memory Card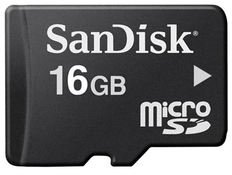 The SanDisk 16GB MicroSDHC Memory Card is a very useful accessory for the HTC Touch Pro 2. With this memory card with a storage of 16 GB, HTC Touch Pro 2 users will be able to store their various digital files such as movies, music, photos, and software. It is highly reliable and fast. The memory card is rated Class 2 in terms of speed performance and is built to last as it has a 2,000Gs operating shock rating, meaning it can drop from a ten feet area and still be operating. It supports the high speed USB 2.0 transfer and comes with a 5 year warranty from SanDisk. It can also be accessed with Windows Vista operating system and Mac OS X.
Price: $79
Screen Protector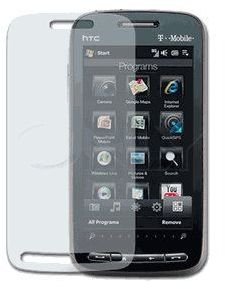 Prevent scratches, dust and different signs of wear and tear on your HTC Touch Pro 2 mobile phone. This high quality HTC Touch Pro 2 screen protector will prevent users from worrying and carrying big mobile phone pouches. Users can confidently slip their phones directly in their pockets or into their hand bags without having to check it every minute for blemishes. This transparent screen protector is easily applied with a perfect fit. Others won't even notice that you applied another layer on the phone. After long use, this screen protector is replaceable with new ones without leaving any signs of adhesions. Make sure the new look lasts longer with this HTC Touch Pro 2 screen protector.
Price: $5.99
For more mobile phone enhancements, you may also check the Free Applications and Software for the HTC Touch Pro 2.