What is the Best iPhone Docking Station?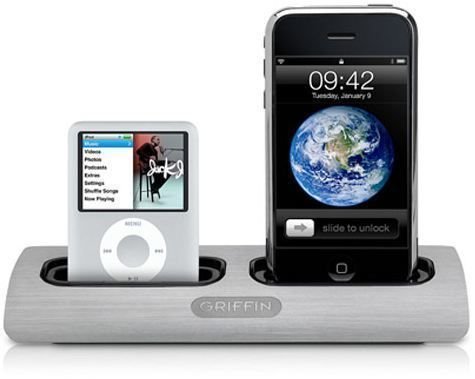 iPhone Dock
The iPhone has been a phenomenon in itself but it has also sparked an industry of accessories into life. One of the most important iPhone accessories is a docking station. It is very convenient to have a dock you can set your iPhone in over night to recharge the battery. You can also get iPhone docking stations with speakers, clocks, radios and a mixture of all the above.
In this article we highlight the top five most popular iPhone docking stations. There are devices with different functionality to compare and options to suit various budgets and tastes so hopefully you'll be able to find the best iPhone docking station for you.
5 - Griffin Powerdock
Our first offering is a simple charging dock but it does offer dual device charging. Finished in brushed aluminium, this attractive device has a rubber base so it grips surfaces securely. You can charge your iPhone and any iPod device at the same time or use it to charge two iPhones at once. You will probably need an additional iPhone adapter piece if you want to charge two iPhones at once but it won't add much to the cost. This simple, no frills, docking station is ideal for couples who both own iPhones and strangely it is cheaper than a lot of single slot charging docks.
You can order the Griffin Powerdock for around $20 at Amazon.
4 - iHome Rotating Alarm Clock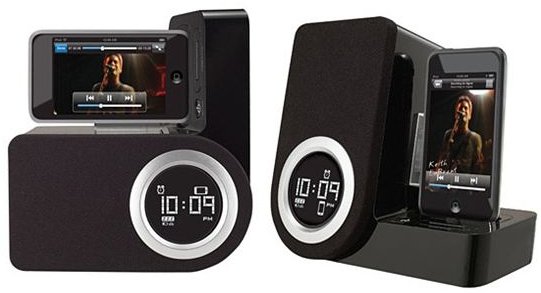 This is an interesting option which will definitely attract some iPhone users. It is an iPhone docking station with a speaker and an alarm clock function. The unique selling point is the fact that it can be rotated and you can watch a movie or video file on your iPhone while it continues to charge. It is a very compact device (6.4 x 3.3 x 6.3 inches). The speaker offers reasonably decent sound and you can program the device so you can fall asleep to your music and the volume will gradually fade.
The alarm function allows you to wake up to your iPhone music or a buzzer and there is a snooze button. The wireless remote control which offers full access to your iPhone functions is an optional extra. If you want a dock with a speaker and alarm for your bedside table and you think you'll watch the occasional movie then this could be the device for you. If you're unlikely to use the features on offer here then go for something which offers better sound quality.
You can order the iHome Rotating Alarm Clock for $64.10 at Amazon.
3 – Philips DC315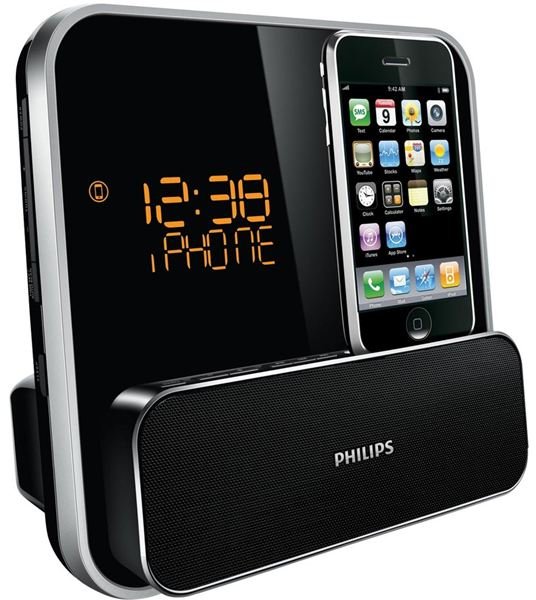 This iPhone docking station also supports iPods and it has an LED clock display, dual alarm function, built in FM radio and of course a speaker so you can listen to audio files from your iPhone. It is a compact device (8.2 x 8.2 x 6 inches) so perfect for a desk or bedside table. The sound quality is surprisingly good for a device this size and the Bass Reflex speaker system delivers bass without distortion. The sound is better than your average radio/clock alarm but it won't compete with a stereo.
The dual alarm function allows you to be woken by the radio or music from your iPhone. You can set separate wake up times (ideal for couples) or you can set different times for weekdays and weekends. It also has a lovely gentle wake up feature which gradually increases in volume easing you out of the land of nod.
You can order the Philips DC315 for around $75 at Amazon.
2 - Sony Speaker Dock Clock Radio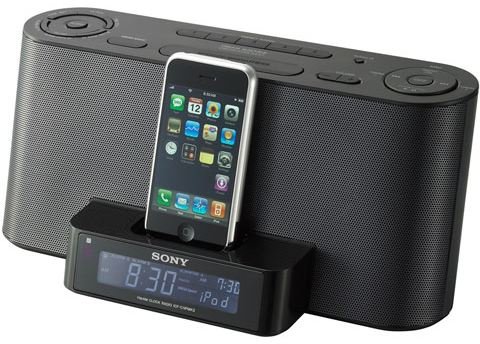 This is a strong candidate for the best iPhone docking station title and if you want a device under $100 then this is the one. Sony is a name you can trust and they combine the charging dock for your iPhone with stereo speakers, an AM and FM radio, and a clock display with alarm functionality. The device is perfect for the bedside (11.4 x 6.9 x 5.5 inches) and it offers excellent functionality.
The sound quality is extremely good for a bedside alarm clock in this price range and you'll have to pay a great deal more to get better sound. The versatile alarm function allows you to wake up to the radio, iPhone music or a buzzer which starts off slowly at low volume and builds up. You can also set two different alarm times and there is a sleep function which lets you drop off listening to music.
The little extras make a difference and you can change the display brightness of the clock if it bothers you at night (you can even turn it off for total darkness). This docking station also ships with a remote control which allows you to navigate your iPhone menu.
You can order the Sony Speaker Dock Clock Radio for around $65 from Amazon.
1 - Altec Lansing T612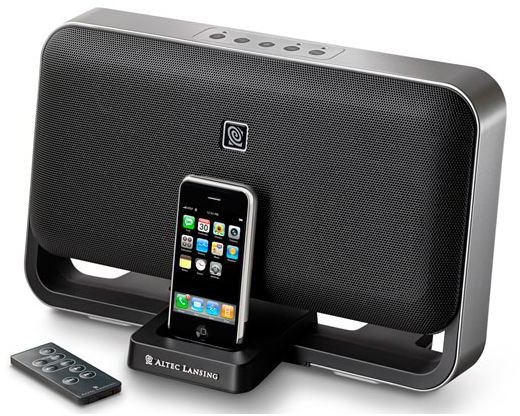 If you don't really need the clock or alarm functionality and all you really want is great sound then this is the best iPhone docking station for you. The Altec Lansing T612 speaker for iPhones and iPods is very popular and with good reason. It features four specially engineered drivers and offers a rich spectrum of sound with a decent depth of bass. This speaker will easily fill a room with music and of course it is shielded so there is no interference. You also won't miss calls with this system because it will automatically pause the music when a call comes in.
It is an attractive design and it delivers an amazing level of sound considering the size (5.4 x 14 x 8.2 inches). In this price range the Altec Lansing T612 offers the best sound you can get.
You can order the Altec Lansing T612 for around $180 at Amazon.