Protection While Crossing Over: The Best Pantech Crossover Cases

Defend Your Pantech Crossover
Pantech Crossover has the added advantage of having additional exciting functionalities. If you have one or are planning to purchase one in the near future, you must consider buying one of the beautiful, stylish Pantech Crossover cases for its protection. You can choose one of the cases presented below.
Amzer® Injecto Snap On Hard Case - Black For Pantech Crossover (5 out of 5)
The Black Amzer Injecto Snap On Case is made specifically to glove over your Pantech Crossover. It is developed from a plastic material that is very lightweight for easy carrying and functionality, but it is also very durable for long-lasting protection. It is not uncommon for your phone to occassionally get an accidental drop, bump or scrape so no blame will be laid if it does occur as long as you have a quality case installed. And to ensure that your phone is always protected, all the necessary ports are left open so that the case does not need to be removed for usability. You can get a Snap On Case for your Pantech Crossover for only $14.95
Pantech Crossover P8000 Rubberized Plastic Case - Blue (5 out of 5)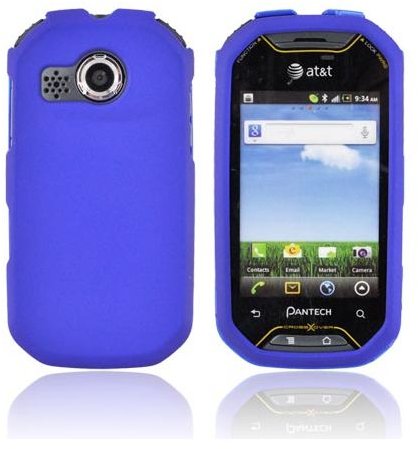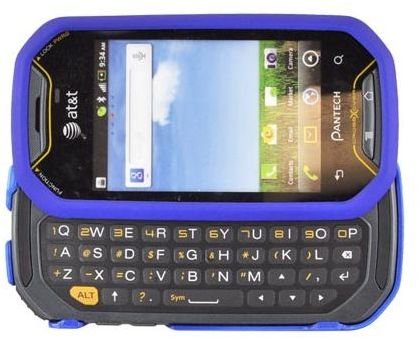 This Pantech Crossover P8000 Rubberized Plastic Case has holes for all the buttons and ports for easy access and functionality. The material used for the case is a durable plastic with a rubber finish. It provides complete protection from potential hazards such as scratches, shock, bumps and dust. The cases are often sold with a screen protector which is particularly helpful for the screen which gets easily scratched when left exposed. It is also comfortable on the hands and provides a firm grip. It slips on the phone with ease and is secured with a snap at the back and front, so anyone can install it. The summer price is now down to a low of $12.99 from $16.99
Pantech Crossover P8000 Plastic Case - Clear (4 out of 5)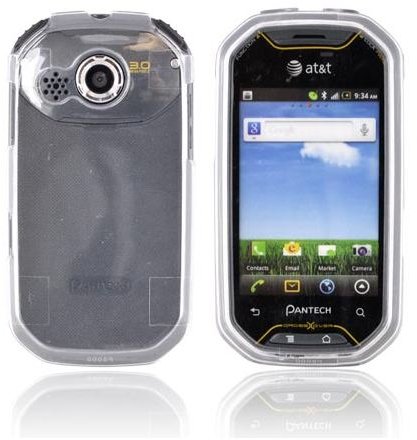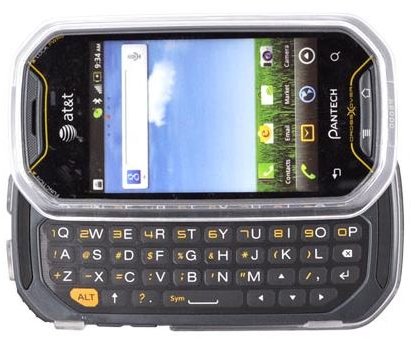 Hard plastic cases are always a good choice for any phone and this Pantech Crossover case is not an exception. With the installation of one of these cases, you will be providing your phone with, bump, shock and dust defense. In addition, this clear plastic case will add a sense of style so that it does not seem as if you are sacrificing style for quality; who says you can't have both? The price is not bad either as you can get this Crossover clear case for as little as $9.99 during the sale period or $16.99 at the regular price.
Pantech Crossover P8000 Case-Mate Tough Case-Black (5 out of 5)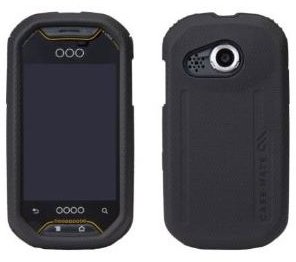 The best thing to say about this case is that the "tough' in the title is not exaggerated. This Pantech Crossover P8000 Case-Mate Tough Case is one of those dual layer cases that generally consists of silicone as well as a hard shell. The silicone skin is a great material for absorbing shocks and bumps, while the hard shell is superb against scratches, bruises and the overall impact. Even though it is a dual layer case, it is still lightweight and slim, thus looking stylish at the same time. You can provide a shield for your Pantech Crossover for $21.95. You may think that it is pricey, but a tough case for your cell phone must always be top priority
Pantech Crossover Truly Black Naztech Voyage Carry Case (4 out of 5)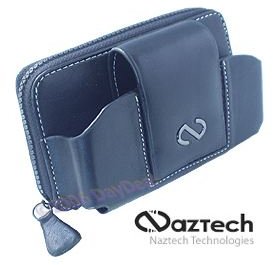 This Naztech carry case can also be used for other cell phones, but you will find that it works well with your Pantech Crossover. In addition, you can carry extra items in the zipper compartment that it comprises. It is also equipped with a rotating belt clip that you can use to easily attach it to your belt, waist or bag. In essence, you can protect your Pantech Crossover from dust and scratches while conveniently carrying it around on your belt and also providing easy access to a few other items such as credit and business cards. You can purchase this case for $22.99
Pantech Crossover P8000 Rubberized Plastic Case - Purple Flowers & Vines on Silver (5 out of 5)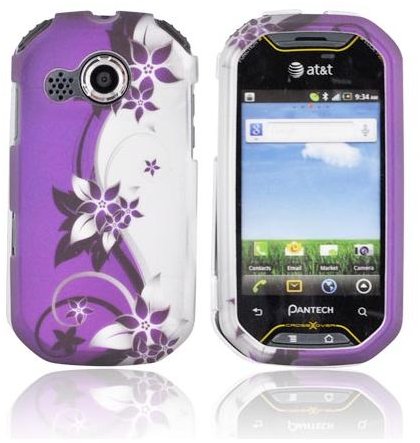 Well, we have covered rubberized cases for the Pantech Crossover before, but there is only a slight difference with this one. This rubberized plastic case is made the same way with the durable plastic material that provides the protection of a hard shell and the rubberized coating that gives it the finish of a silicone skin. But, this one stands out just a little more in terms of style. This Pantech Crossver case is actually a printed case that is covered in purple flowers and vines on a silver background. Yes, this is a girly print, but men can also find their own printed Crossover case via the link that I will provide in the reference section. All for a cost of $12.99 on sale and $16.99 regularly.
References