Shelter for Your Evo 3D with the Top Five HTC Evo 3D Cases

You will find that Evo 3D cases are made in different colors and of diverse material types, and we will explore some of the best options that are already on the market. The diversity will include rubberized cases, hard plastic cases and anything else that fits! You will also be provided with purchase links in the reference section just in case you find the case that was made for you and your HTC Evo 3D
Body Glove® Flex Snap-on Case - Black For HTC EVO 3D (4 out of 5)
Body Glove pride themselves in making customized cases that hug your phone and "fit like a glove." This snap on case will do just that with its hard shell model and textured side grips that protect your phone against bumps, scratches and shocks. Body Glove cases are never bulky and neither is this case for your HTC EVO 3D that will also allow you to access all the phones ports and buttons with its precise cut-outs. These Body Glove® Flex Snap-on cases are available for only $19.95
Amzer® Silicone Skin Jelly Case - Grey For HTC EVO 3D (5 out of 5)

This Amzer case features shock absorbing qualities that protects against bumps and drops and will keep your HTC EVO 3D in tip top shape – it also keeps away dust and scratches too. The silicone material also provides an anti-slip effect that will improve your grip and prevent your phone from easily slipping off smooth surfaces. As with all the cases for the HTC EVO 3D that you will see in this article, all the ports are accessible so that you can use the phone without removing it from the case. The best part is that this case only costs $9.95
Amzer® Luxe Argyle High Gloss TPU Soft Gel Skin Case - Smoke Grey For HTC EVO 3D (5 out of 5)

If you are looking for a stylish case that has the gloss of a hard shell, but the texture and durability of a soft shell case, then the Amzer® Luxe Argyle High Gloss TPU Soft Gel Skin Case is for you. The skin is made of a flexible yet durable material that will protect your phone against bumps and shocks, should you accidentally drop it. Installing the case is easy with just a stretch and a snap and you will never have to remove it because all your ports and buttons are still accessible. Your Amzer case will fit your HTC EVO 3D perfectly and help to protect it from scratches, dust, dirt and minimize every day wear and tear, thus extending the life of your phone. You can have this case in one of its many available solid colors or patterned to suit your style. The cost of one of these Amzer® Luxe Argyle High Gloss TPU Soft Gel Skin cases for the Evo 3D is only $9.95
HTC EVO 3D Otterbox Defender Series Case (5 out of 5)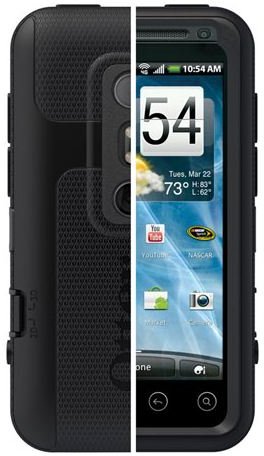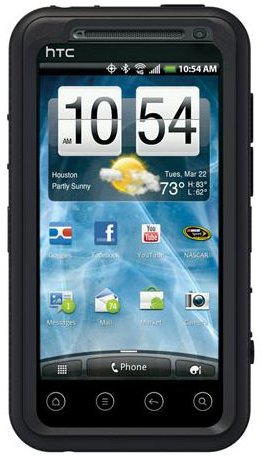 If you are looking for a rugged case for your Evo, then OtterBox is usually the name you look for. Otterbox has various different series of cases that each has their own benefits. This is from the Defender Series and is usually aimed at active people or those people whose phones are more at risk of drops, bumps, dirt etc. With this case you won't even have to buy a separate screen protector because one is built in and the shell of your case is shatter-proof. The durability of the Otterbox defender cases may be attributed to their three-layer system that consists of the silicone skin which is covered by the polycarbonate shell coupled with the protective membrane for the screen. At $49.95, it may seem a bit pricey, but your phone's protection is guaranteed and your case will last as long as your phone does.
HTC EVO 3D Case-Mate Tough Case (5 out of 5)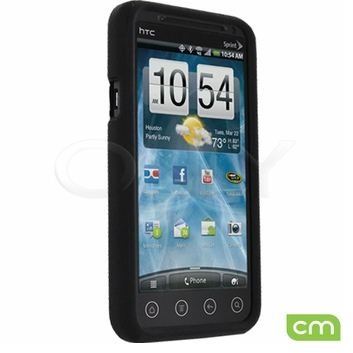 Case-Mate is also a popular brand to consider when comparing cell phone cases and this case is made tough to offer you extreme protection. This is a bit similar to the Otterbox case in the sense that is starts off with a silicone skin which is then covered by a solid ABS plastic case. It does not have a built-in screen protector as the Otterbox case does, but a screen protection kit is included with your purchase. You can purchase it for $25.99.
HTC EVO 3D Seidio CONVERT Combo (5 out of 5)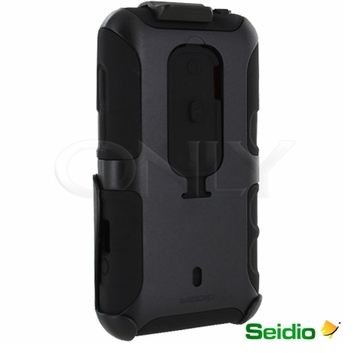 The Seidio Convert is sort of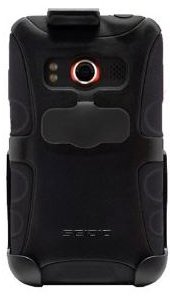 a two-in-one case, wherein you are provided with a stylish rubberized skin that helps to protect your phone on a daily basis from shocks and scratches, as well as a hard plastic heavy duty case that provides extra protection for those rugged sessions when your phone may come in contact with more stringent conditions. This HTC Evo 3D case has passed the highest level of military durability testing. You are also equipped with a clip-on hip holster for easy carrying. The downfall is that your phone's ports and buttons will be covered when everything is installed, but the good news is that no dust or dirt can enter, and there are flaps over the ports that can be pulled back. Buy your HTC EVO 3D Seidio CONVERT Combo for only $49.99.
References
Image Credit: Attributed to the manufacturers and sales sites via the above purchase links.