A Word About HTC Cases
There are quite a few cases that are made specifically for HTC cell phones and you will find that many of them will fit your HD7S. I will help you to protect your HD7S by providing you with different types of HTC HD7S cases that will suit individual styles and preferences. I will also provide you with the purchase links to these cases at the end of the article, in the event that you discover the case for you, and are interested in purchasing it.
Amzer® Silicone Skin Jelly Case For HTC HD7,HTC HD7S (5 out of 5)
This Amzer case is the type of cell phone case that you would refer to as a "skin". It is made from silicone and fits your HTC HD7S like a glove, as matter of fact it is installed in a similar fashion to a glove. All you need to do is to stretch it a little and place your HD7S inside. This is best done from one corner and then popped around until your phone is completely situated inside the case. Silicone cases, on the whole, make great shock absorbers and this one is no different. While it is not ideal to drop your phone or bump it into things, you can still feel at ease if it does accidentally occur as your Amzer silicone case will greatly minimize your chance of damaging the phone. The silicone case also provides a rubberized effect when placed on smooth surfaces, so if you have your phone on vibrate, you do not have to worry that it will dance right of the table or counter; the silicone will provide some extra grip.
The best thing about this case is that you do not need to remove it to use your phone, so you can keep it on all the time and enjoy using your HTC HD7S without worrying about its safety. You can purchase the Amzer Silicone Skin case for only $9.95. Also available in blue, pink, green and a host of other colors.
PowerSkin® Silicone Case with Built-in Battery For HTC HD7,HTC HD7S (5 out of 5)

This silicone case by PowerSkin is similar to the one above, but with an added feature that makes it stand out from the rest. This HTC HD7S case has a built in battery that will extend the life of your phone. It is equipped with a battery cell that is specially formulated to give your battery life twice the power, while still protecting your HTC HD7S from bumps, drops and scratches.
The best thing about this case is that the added battery does not make the case bulky or heavy, and it is completely safe. In addition, you can recharge your phone and the case at the same time, whether or not you choose to charge via a computer or wall socket. You can have this amazing multipurpose case for $52.95.
Original HTC HD7 / HTC HD7s Rubberized Plastic Case (5 out of 5)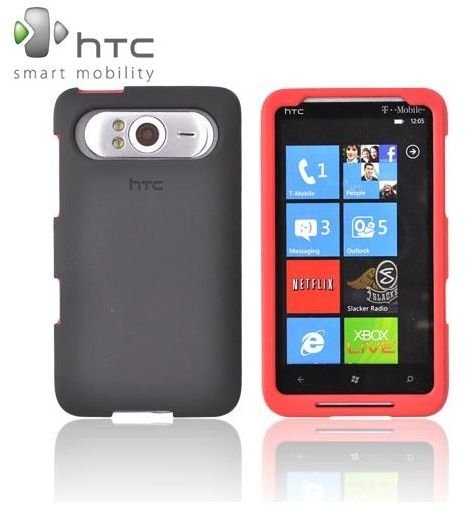 This is an original case for your HTC HD7S and thus it was made to fit it perfectly. With that being said, you should know that you will be able to fully utilize your phone while the case is installed because all the necessary ports and buttons are left exposed for easy access. The case itself is made from a durable ABS plastic with a rubberized finish for even more protection and easy grip. This case will keep your phone free of dust and scratches while also protecting against bumps and shocks. It is easy to install with just a snap on the front and back of your device, and you are also provided with a screen protector to further enhance your phone longevity. You can currently get all this for the lowly price of $16.99.
Amzer® Luxe Argyle High Gloss TPU Soft Gel Skin Case (5 out of 5)

This Amzer soft gel case is one of the least expensive options on my list, but do not let the price affect your judgment because it is as stylish and as durable as they come. As stated in its name above, this Amzer case features a high gloss finish which would probably resemble some of those shiny and stylish hard plastic cases. However, it is actually made from a soft gel material which provides the type of shock and bump protection that a rubber case would. As usual, the buttons and ports are accessible so that your device will still be fully functional within its case. With all things considered, isn't surprising that you can get this case for only $9.95?
OtterBox™ Commuter Series Case (5 out of 5)

Last, but definitely not least on my list, is the Otterbox Commuter Series case for your HTC HD7S. OtterBox cases are generally known for their durability. They often aim to make tough, protective cases that may or may not be stylish, but does its job well. In essence, if you are getting an Otterbox case, you know that your HTC HD7S will be well protected, so you can focus on the style factor without worrying that you may be sacrificing quality. This Otterbox case is made specifically for your HTC HD7S and is a silicone skin type case that is similar to the aforementioned cases on this list. It is not bulky as some other Otterbox cases can be and still protects well against bumps and shock. Installation is easy and, as with the other cases in this article, the ports and buttons are made accessible, so there will be no need to remove the case once it is installed. You can buy this Otterbox case for your HTC HD7S for only $34.95
References
Image Credit: Attributed to the manufacturers and sales sites via the purchase links above.
Amzer® Luxe Argyle High Gloss TPU Soft Gel Skin Case - Clear For HTC HD7,HTC HD7S, http://www.fommy.com/view-full-page.php?divid=HTC&model=HTC+HD7S&cat=Cases&skuno=89932
OtterBox™ Commuter Series Case - Black For HTC HD7,HTC HD7S,http://www.fommy.com/view-full-page.php?divid=HTC&model=HTC+HD7S&cat=Cases&skuno=90700
PowerSkin® Silicone Case with Built-in Battery For HTC HD7,HTC HD7S,http://www.fommy.com/view-full-page.php?divid=HTC&model=HTC+HD7S&cat=Cases&skuno=91336
Amzer® Silicone Skin Jelly Case - Grey For HTC HD7,HTC HD7S,http://www.fommy.com/view-full-page.php?divid=HTC&model=HTC+HD7S&cat=Cases&skuno=89643
Original HTC HD7 / HTC HD7s Rubberized Plastic Case, 70H00636-08M - Red/Black,http://www.accessorygeeks.com/htc-hd7-rubberized-plastic-case-70h00636-08m-red-blk.html