The Top Five Best HTC Salsa Cases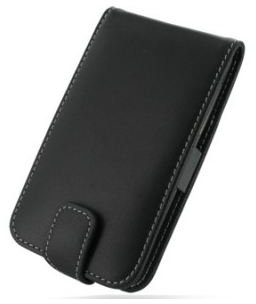 Protecting your HTC Salsa is your main concern, so you want a solid yet good looking case to fulfill basic requirements including allowing complete accessibility, functionality and durability. Take a look at some terrific cases for your HTC Salsa that stand up to all these demands and more. Get a detail description of each of their specifications so you know which is right for you.
PDair Leather Black Flip Case
Get top class protection and a sophisticated solution to cover your HTC Salsa with this PDair Leather
Black Flip Case. It has an executive style most suited for the business professional. Unlike most leather cases this is certainly no pouch, instead you can expect a form fitting, customized enclosure to safely hold and access your phone with ease.
The phone is attached to a sturdy frame on the inside of the case and can be easily accessed by the dynamics of an effortless flip cover. Even when the case is closed, you will find that you can reach the side controls of the phone without having to release the cover flap. So if you need to insert a charger, plug in some earphones or use other such HTC Salsa accessories there would be no problem. On the back there is a harness for you to install a removable belt clip for easy carrying.
Warrington Pink Premium Mobile Horizontal Case
Not typical of a leather case, this handmade pink accessory is professionally dyed to channel the chic and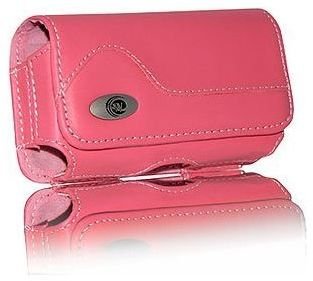 trendy fashionista in you. It is manicured with white threading along the edges and outer surface with a stainless steel emblem nicely situated on the front cover. It has expandable sides and you will see that there are cutouts along the sides to give a buoyant appeal – this accommodates for minimal access of the controls and ports of the phone as well.
The case features a magnetic flap closure; a fixed belt clip and leather bound belt loops for added security. Also, it is lightweight and provides a custom enclosure for your HTC Salsa smartphone. The smooth velvet interior keeps your phone scratch free and brand new. Combined with the leather surface material, this case makes a terrific guard against impact shock as well as unsightly scratches, scrapes and dings. The color won't appeal to everybody, but don't let that girlie look put you off, as it does pack a surprising protective punch.
Flexishield Skin – Pink
Among some of the best HTC Salsa cases, there are those that gives total control of your phone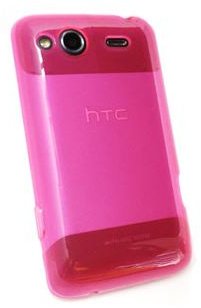 without hindrances to slow down accessibility – and this Flexishield pink skin is one of them. With bendable characteristics, courtesy of its unique rubberized tough gel skin, users can expect easy installation and removal in jiffy. Also, there are precision cutouts for all the controls, ports and functions of the phone. It feels great in your hands and provides slip free stability when placed on certain surfaces.
Another great thing to note about this flexishield case is that it is a superb impact absorber and with the combination of a simple protector screen can give your smartphone complete scratch free protection. Plus you will find that it is lightweight, affordable and comes in a wide array of fantastic colors.
Clear Silicone Case
Silicone cases are everywhere; even though some people may shy away from cases as inexpensive as these,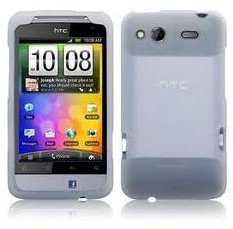 they are in fact, terrific protective covers. The silicone material is tough against external factors that may tarnish your smartphone and cause damage - this can be from every day bumps, scratches and marks as well as accidental falls.
They make practical covers in that they are slim fitting and lightweight, so this doesn't take away from the features and feel of your HTC Salsa smartphone. Each of these designs are constructed to provide the exact cutouts to access the ports and controls of the phone, so there is no need to remove the case unless you need to take out the battery. This translucent design is a great for keeping your HTC Salsa looking light and bulk-free, plus you can still see the signature features of the outer part of the phone.
Tough Hard Plastic Case
Get a custom fitted case with a tough, lightweight and slim shell to provide the best kind of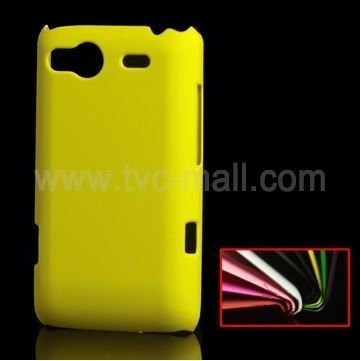 protection there is for your phone. The Tough Hard Plastic Case is a clever design that simply snaps on to the back of the phone in one quick motion. It features all the necessary cutouts for you to charge and sync your device as well adjust the volume, take pictures and such, without removing the case.
The case is tough, but has a rubbery, smooth feel for a comfortable and secure grip. It shields your handset from scratches, dents, dings and scrapes and keeps everything intact in the event of a fall. Since this is only a back cover really, you will need to add a screen protector on the front of your phone if you want to keep it scratch free too. This great accessory comes in a bunch of brilliant colors, such as fuchsia, green, blue, red, purple and orange.
References
Image Credit – Images courtesy of the respective retailers.