Top Sony Ericsson Xperia Pro Cases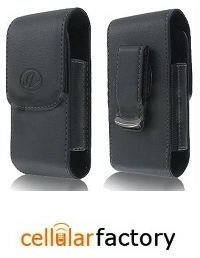 Welcome Sony Ericsson Xperia Pro owners, you must be looking for a smartphone case for this intricate device. Here is a round up of the best available Sony Ericsson Xperia Pro cases you can find considering it's a fairly new release. These are the most practical, customized designs that support and protect the phone all while exuding trending styles. Enjoy!
Vertical Leather Carrying Pouch
This executive style carrying pouch is great for business professionals or those of you who just want
to look smart. It provides a good fit for your Sony Ericsson Xperia Pro and even gives it a secure embrace with its elastic/expandable sides. The cover flap is held in place by a magnetic locking mechanism that allows you to simply flip up the cover to release the phone.
It boasts a terrific fine grain leather surface that looks and feels good in your hands. The interior is lined with a soft cotton type material to comfortably hold the phone and keep it looking pristine. Under personal inspection, you will find that this case is flexible and slightly padded, this will provide a protective support from hard-hitting impact. In the back it features a fixed belt clip so you can securely clip the case on to your belt or bag.
Red Embroidery Carrying Case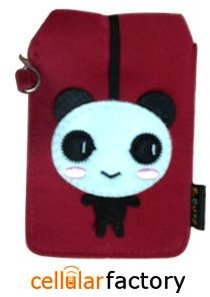 A fun addition to this list is this trendy, red embroidery cartoon bear pattern pouch. It's a great choice for everyday wear and a good way to bring out the kid in you. Made from lint fabric, this case will give a soft, comfy enclosure for your smartphone. It closes up at the top through the easy mechanics of an elastic band system. It may not be the best solution against impact shock, but it sure will protect your Sony Ericsson Xperia Pro from scratches, nicks, and scrapes.
It features a small metal loop on the upper part of the case, so you can loop a lanyard and optimize its carriage. This case has a universal design; conveniently it is a great fit for your smartphone as well as digital camera, iPod and any other device of similar dimensions.
Black Horizontal Carrying Pouch
This horizontal pouch design is a terrific solution for your Sony Ericsson Xperia Pro. It is lightweight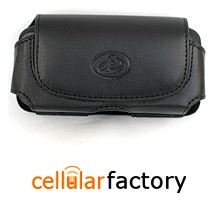 and provides a slim fitting encasing so you can slip it in your pocket or purse hassle free. The leather exterior has a smooth, soft feel, while the inside is lined with a more fiber type textile.
It boasts a nice decorative laser imprinted logo on the cover and has decorative cutouts all around creating peepholes for the phone. The cover flap un-snaps via a magnetic lock to release the phone, which you have to do to access the functions of the phone, since it is completely inaccessible while inside the case. Also, with this leather pouch you will find that in the back there are two strap loops so you can choose to wear the case on your belt.
Skinomi TechSkin - Dark Wood Film Shield & Screen Protector
This is by far no case, but it gives superb protection in a number of ways, quite comparable to that of an actual case. Plus you wont get a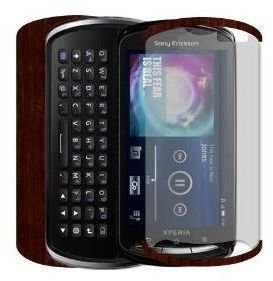 better form-fitting and lightweight solution. It is specially engineered to give lasting protection and a scratch free guard against nicks and scrapes while only measuring 0.1 mm in depth. The Skinomi brand is known for designing film shields and screen protectors that are easy to install, as well as remove, without leaving any messy, sticky residue. You will find that the grid adhesive included doesn't require any liquid or solution to apply, simply peel off the concealed layer and smooth over the phone.
This dark wood style is not only for show; it is textured to give your device a natural wood-like feel reminiscent of actual cherry wood, plus this also allows you to grip the phone better. Once installed this Skinomi TechSkin film shield will give full access to all the functions and controls of the phone, including an effortless release of the keypad.
Also check out the Pinewood and Carbon Fiber Skinomi TechSkin Film Shields (see references).
Universal Carrying Case with Belt Loop
Another great Sony Ericsson Xperia Pro case is this patterned black carrying case. It is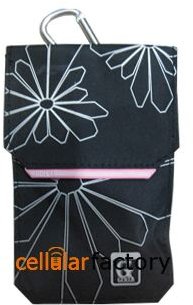 made of a strong canvas material, which creates a lightweight, yet durable encasing for your phone. Plus it forms a great guard against hard-hitting impact and day-to-day wear and tear.
It has a simple classic design – from a vertical stance, the cover flap releases from a Velcro attachment so that you can easily remove the phone, on the inside of the cover flap it houses two pocket incisions, which optimizes its purpose to store a credit card, memory card, etc. The case also features a belt loop in the back so you can strap it through a belt and wear it on your waist. Plus it comes with an optional neck strap lanyard for convenient carry.
Sony Ericsson Xperia Pro Leather Case
This leather case is constructed from premium, high quality leather with a bit of padding to provide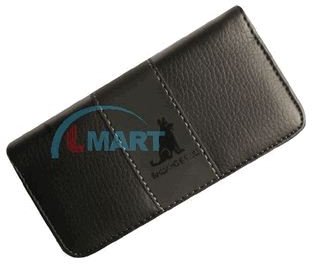 both a cushioned enclosure for your phone as well as a shield to protect it from impact shock. Don't worry about scratches and dents either, this case completely wraps up your Sony Ericsson Xperia Pro from all the potential hazards of the outdoors excluding water of course.
It features a sturdy belt loop in the back so you can strap it onto your belt, this collapses to give a flat-leveled back surface if you choose to go a different route. On the inside, it is lined with a softer fabric and features a number of incision pockets to store other personal effects. It is a little bulkier than the other leather style cases in this line up, but it has a nice executive charm about it.
References
Image Credit - Images courtesy of the respective retailers.