Best BlackBerry Docking Stations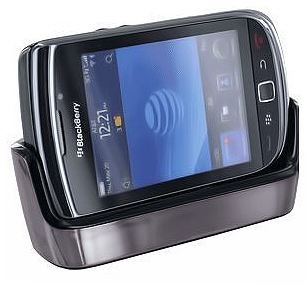 There are way too many streaming features that you can enjoy on your BlackBerry for you not to have a docking station. These accessories allow you to charge and sync your handset so that you can transfer files and photos, watch videos and movies, or even pan through your playlist and listen to your favorite tunes hands-free and in style.
If you're having trouble deciding which are the best and how to get the most out of your docking experience, then we are here to help. We have something here for different individuals and their demands, so if you're one to run away from a bulky accessory like I am, there is a terrific OEM Desktop Charger Dock you can look at, as well as a Sync/Charge Pod Dock. Some of you may want a charging station so that you can charge more than one device at a time, well there is something here for you too. Take a look at this line up and see if there is a BlackBerry docking station here for you.
Sync & Charge Pod Dock
This device can extend some of the core functions of your BlackBerry Torch through its direct
synchronizing qualities. Not only does this device charge your smartphone, it also allows you to sync it with your computer to transfer data, videos, music or photos. It uses a micro USB cable for both charging and syncing your handset. You can power the BlackBerry Torch Sync/Charge Pod with a RIM AC travel charger or a RIM car charger.
This device creates a customized docking cradle for your BlackBerry Torch smartphone in style with a very sleek looking design. It provides a sturdy stand so that you don't have to worry about your phone falling over too easily.
A signature feature with newer versions of the BlackBerry is the illuminated LED clock accent that appears on the screen once it begins to charge. This Sync and Charge Pod works together to fashion the perfect alarm clock so that you can easily view your smartphone while you lie in bed and especially in dark surroundings.
OEM Desktop Charger Dock
Designed specifically to charge the BlackBerry Curve 8900 smartphone; this device may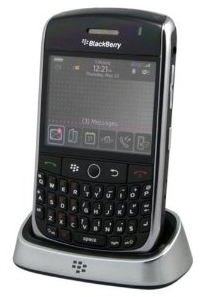 simply be considered as a stand for your phone, but it helps you, in a number of ways, to use your BlackBerry conveniently. Apart from providing a firm holder for your phone, this OEM Desktop Charger Dock charges your smartphone while you stream videos and music, view photos or take and receive calls so you never run out of battery power. Also, users can easily connect a USB cable and sync their handset with a PC without removing it from the dock.
This Desktop Charger Dock compliments the design of the BlackBerry Curve 8900 so that it doesn't create a cumbersome look or enclosure. It is made from the same metallic alloys as the phone so that it looks like a complete unit, you will also find it boasts the signature BlackBerry symbol on the front to add a bit of authenticity.
You can also get the OEM Desktop Charger Dock for the following BlackBerry models – BlackBerry Tour 9630, BlackBerry Curve 8350i, BlackBerry Bold 9000 and BlackBerry Curve 8300, 8310, 8320, 8330.
USB Sync and Charge Cradle
Now here is BlackBerry docking station for a specific list of phones. It is designed to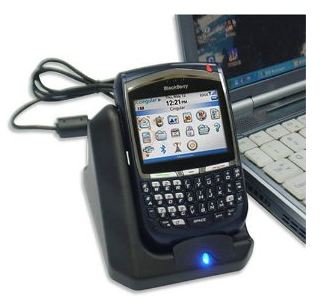 work with the BlackBerry 8700, 8700c, 8700g and 8703e smartphone models. Users can synchronize and recharge their BlackBerry with the USB Sync and Charge Cradle simultaneously when connected to a PC. The cradle offers a convenient portrait stand for your phone, making it easy for you to view when using it with the computer.
There is also an AC charger that you can plug directly into a wall outlet to charge the phone, especially during travel. However, the USB Sync and Charge Cradle has a nice portable design just in case you were considering taking it with you on the road.
There is a blue LED indicator light to show when the phone is synced or being charged, so if this light isn't illuminated during use then something is definitely wrong.
USB Docking Station
This USB dock can serve as a desk stand, console synchronization, as well as a docking station for your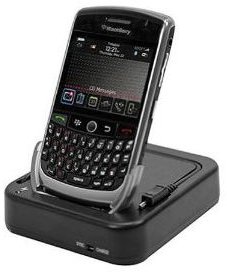 BlackBerry Javelin smartphone. A more bulky design, this docking station perches the BlackBerry Javelin atop a charger base, which takes up pretty much most of its complete size. It holds the phone in a portrait position when you want to watch movies, stream music, view photos and so on.
It has a convenient groove embedded on the top to hold the micro USB charger cord that plugs into the phone. While the phone is being charged the device implements an LED indicator light that illuminates when it is charging. The stand has very good traction, so that it stays secure in one position, whether it is placed on top of a glass, ceramic, tile or wooden surface.
Belkin Conserve Valet Energy-Saving Charging Station
This Charging Station's most outstanding purpose is that of an energy conservator,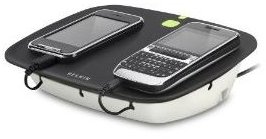 it can charge up to four separate BlackBerry devices simultaneously, but stops charging once they are fully powered up. Not your typical dock enclosure, its design allows you to place each device flat down on a charging mat by which USB plug-ins are used to charge the phone/s from the device.
There are no excess wires to worry about nor any chance of them getting tangled. This charging station utilizes an innovative cord management system that does a good job in separating the wires for specific phones and offers a convenient way for you to access each cord. There is main power cord that connects directly to a wall outlet to energize the entire device.
It has an integrated timer that turns off the device after 4.5 hours of charging time to save energy. This device stands about four inches from any base level and gives a slight tilt so you can glimpse the screen of your BlackBerry from a little distance away.
References