The Best Motorola Defy Cases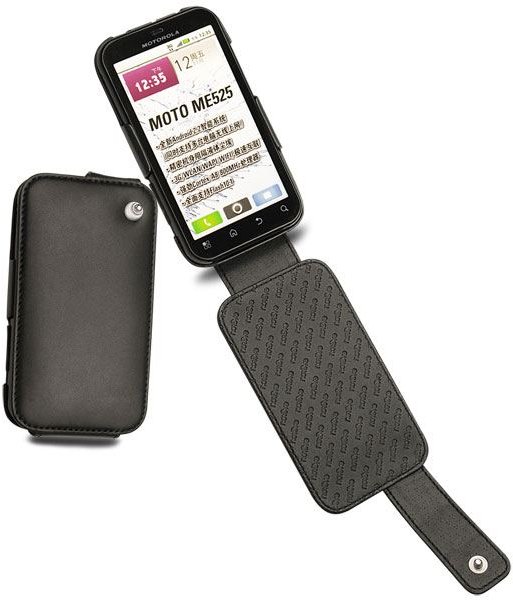 Feel comfortable enough to take your smartphone anywhere with you, whether it is to the beach, camping, to work or on a roller coaster. These are the best type of cases that will allow you to do anything you want, while protecting and keeping your phone safe. Not only will these cases give you assurance but also style, endurance and the ultimate convenience. Hand selected from an extensive variety, these are the best Motorola Defy cases.
Noreve Tradition Leather Case
Looking for a case to make you feel unique, yet sophisticated and stylish? Try this Noreve traditional leather case, it comes in different colors – including a pastel pink, purple, baby blue, grey, ruby red, aqua blue, orange, green, white and many more, even with different textures. Made from top quality, handcrafted leather; this case is constructed with a full cover flap to close off the entire face of the phone. It releases with the pull of a buttoned strap and opens from the top to hang below the base of the phone.
There are inconspicuous braces to securely hold your Motorola Defy smartphone inside the case, so no need to fear it being detached and damaged during day-to-day handling. The entire case is padded, yet compressed to give a slender sleek enclosure, so it holds comfortably in your hands and take up little room wherever it is placed.
Once installed, there will be easy access to the phone and all its controls and ports. The case doubles up as a stand for landscape viewing of your phone too; you just have to be a little creative. In addition, it has a completely removable plastic belt clip to optimize its carriage. A strong purchase here, you can count on a pretty good investment with this featured Noreve design.
OtterBox Commuter Case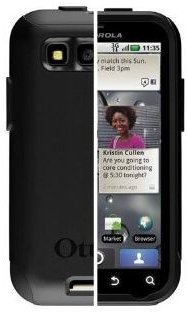 There will be nothing but fantastic reviews for this OtterBox Commuter Case. Just by looking at this case you can see the quality and durability of its construction. This OtterBox Commuter Case is a brilliantly constructed hybrid case that incorporates a hard shell case and a soft silicone skin into one. Along with this purchase, you also get a self-adhering protector film that shields the phone's screen from scratches and scrapes and also the accumulation of dirt. The silicone section of the case enwraps the back and sides of the phone and is merged underneath the hard polycarbonate shell. Both these materials combined provide scratch, shock as well as impact protection all in a slim, pocketable and stylish design.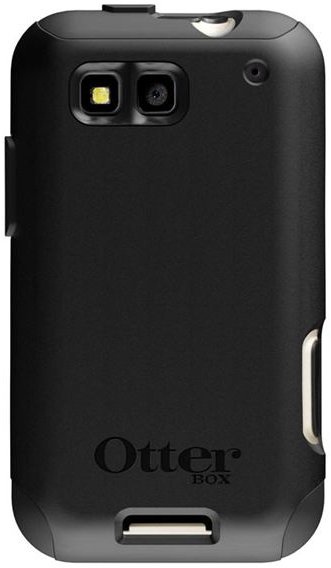 Even the ports and controls of the phone are protected; this is done through the integration of protruding silicone plugs. These not only protect and prevent dust from working its way into the creases but also aid in initiating the functions of these controls.
The phone and its functions are completely accessible, even with the case installed. There is no significant weight to worry about and the surface finish is smooth to the touch. On the exterior is an embellished OtterBox logo, which looks great and simply displays the signature brand so as to stand out from the rest of the Motorola Defy cases on the market.
Armor Case™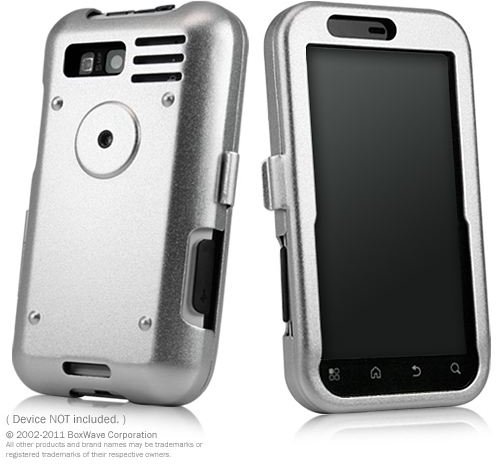 A definite eye popper; this form fitting, metal case is made of anodized aluminum to give a strong, yet lightweight, solution to cover your Motorola Defy. Its design is thin in depth to give a slim enclosure with the exact cutouts for the speaker, volume, camera and other ports, plus it features a few vent openings in the back for extra ventilation.
The interior is padded with a layer of foam to hold your smartphone securely and snugly inside as well as protect it against impact. You probably won't want to get this terrific case tarnished since the sheen and texture is so attractively psychedelic, but if it does, just remember it's sustaining an injury that could have been planted on your Motorola Defy.
The design of this Armor Case also incorporates a high quality, detachable belt clip, which is capable of rotating into several positions to optimize your carrying experience. If this case is a little too much for you, the same design and style also comes in black.
Snap-On Protector Case
Cheap and sweet – some of us can appreciate a phone case on the cheaper side of the market,
because sometimes switching it up is more fun. Why spend too much on one case and look at it for months at a time, when you can buy a few with the same cash and switch them up for different occasions?
This Black Protector Case should be one on your list, its cost – only $7.37. It gives the benefit of any other hard plastic case but it's more attractive on the eyes. It has a light sheen on the outer surface and exaggerated cutouts for the controls and ports of the phone; this adds a great appeal to its physical look.
The case features two section plates, for the back and front of the phone. These are made to interlock with each other to merge into one complete enclosure for your Motorola Defy. It is easy to handle, whether you want to un-snap the plates, access the functions or maintain a good grip on your phone.
You are guaranteed a strong construction for a solid protection against wear and tear on your phone. Also, it is lightweight and slim fitting so as not to add bulk. You can expect to have this case around for a long time, plus its design makes it a very versatile accessory to take with you anywhere on any occasion.
Momax I Case Pro - White Edge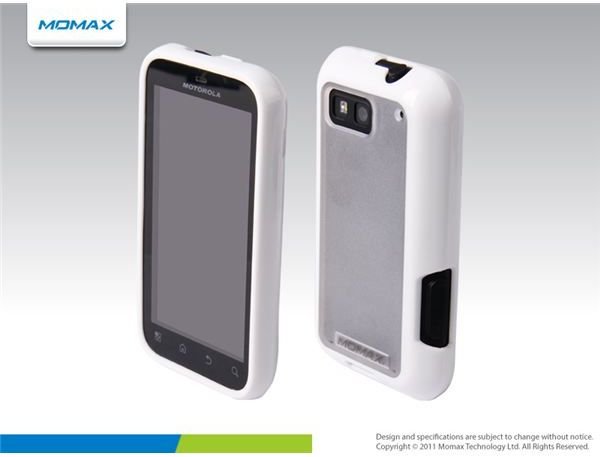 Only settle for the best of what is already out there. We know there are silicone cases, TPU cases as well as polycarbonate, plastic, rubber and so on. Why settle for just one when you can incorporate two of these materials in one terrific design? This Momax I White Edge case is doing just that for you. It features a two in one fusion of polycarbonate (PC) and thermoplastic polyurethane (TPU) material. The white edge is made of the shock absorbing TPU material and the back of a transparent PC material.
This case is tough, durable and scratch resistant, however, this white and transparent surface won't stand up against dirt very well. The good thing is, this case is fully washable so you can keep it looking clean and spotless.
The case allows you to be fully functional on your phone even when it is installed. There are precision cutouts so that you can access the controls and ports, along with sync with external plug-in accessories. It also comes with an intelligent screen protector, offering an anti-glare property and as expected, protecting the screen from damage.
References
Click any of these links to connect with the respective retailers.