Top 10 Best iPhone Stands: Hold Up Your iPhone in Style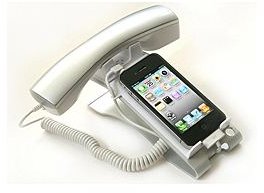 Designs That Stand Up to the Test
There are an unbelievable array of stands for your iPhone, so it stands to reason that some of them just aren't worth your time. There are also some pretty cool DIY options out there, but if you own such a wonderful piece of gadgetry as the iPhone, who wants to prop their phone up on some pencils and an elastic band?
There are many options from slim and lightweight travel options costing just a handful of dollars, to more designer look stands that deserve a place on your bedside table. Whatever your needs, we've rounded up only the best options.
Retro Phone Stand
Not everyone's idea of style, but if you like a bit of retro then you've found your match – what's more kitsch than putting your iPhone onto a stand that's like an old "stay at home" phone. However, even if you don't instantly love the design, you might love this idea. Not only is it a stand, but the phone's handset works as well. Basically you can stand your iPhone up in place and watch a movie, and not have to worry about disturbing it when a call comes in; simply pick up the handset.
There are a few cons to this stand though, in that you can't alter the position of the phone so you'd be watching the screen at an angle. It's also not great for those who like a tidy look, as there are a fair few cables going on. Still, if you like the idea of keeping your iPhone in view while taking calls, it is a great option.
Griffin Travel Stand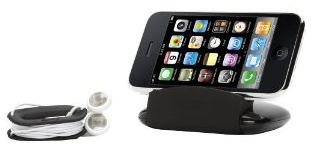 In complete contrast to the retro cable-mania design above, the Griffin travel stand is great for portability, even having a place for you to store your headphones.
There's nothing genius about this design, it just works. It will only hold your iPhone in landscape mode, but for video viewing this is likely to be what you'll need anyway. As you'd expect from a travel stand it easily flips open when needed, and the little rubber feet make sure that it stays in place too. It is so compact it can even fit inside your pocket.
iBend iPhone Stand

Fancy putting your beloved iPhone onto a lightweight strip of vinyl to act as a stand? What a stupid question, of course you wouldn't. You care for your iPhone and only want the best for it right? Well, don't be too hasty in dismissing this iBend stand, which packs more of a useful punch than you'd think.
It comes flat and basically you bend it into shape (hence the name, see). This creates a pretty useful stand and you have a choice of designs too. Super lightweight and portable, but offers no grip and can be easily knocked over, so choose your situations in which to use this stand wisely.
Movie Peg Stand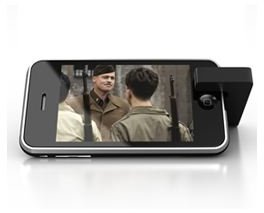 Minimalist design at it's very best, there are no bells and whistles attached to this peg stand, but it does what it's supposed to do, and makes sure your phone is safe too.
Unlike many stands for your iPhone, this one can easily be used in either portrait or landscape mode, so is pretty versatile for such a small piece of iPhone gadgetry. Simply slide this peg design over your phone (smallest side uppermost), and the larger section of the peg will act like a stand – surprisingly sturdy for a small piece of plastic. A useful gadget for travel that doesn't take any style away from the phone, but if you want to add your own style statement there are six colors to choose from.
Piolo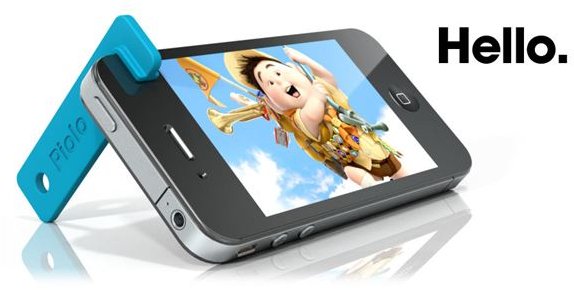 Crave something even smaller than the Movie Peg to hold up your iPhone? The Piolo is quoted as being "the little stand for iPhone", and although it has a similar design to the Movie Peg, it has its own style too.
Can be used in landscape mode for great movie viewing, or portrait mode when you fancy using your iPhone as a cookbook – you don't want to be getting sticky or garlicky fingerprints on your phone after all.
It also comes in several different colorways, and is nothing short of a fun and funky design. It even has a hole at one end for slipping onto a keyring, to show just how portable the stand is – and it only weighs three grams.
The only minor downside is that the Piolo won't cope with iPhone cases as the design is already pretty snug.
Crabble Folding Stand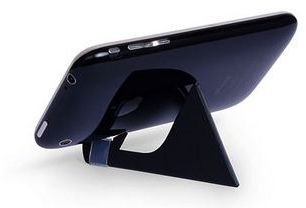 Although this looks like the back of a school photo frame, the Crabble folding stand works pretty well considering its diminutive dimensions. Advertised as the stand that fits in your wallet, you'll always have a stand on you when you need it. It's not hugely stylish, but it does a good job of holding your phone in either portrait or landscape mode, and has rubber grips to make sure it doesn't slide around on a table – reportedly even working well on airplane tray tables.
It's not the sturdiest piece of equipment, a bit of a jolt or knock would easily have your iPhone falling off. Still, for a travel option you can't go far wrong.
Elago S2 Stand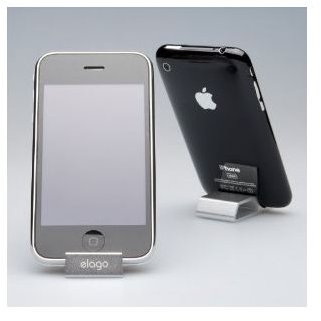 No frills, simple, stylish, but effective. There aren't many iPhone accessories that can boast those kind of credentials, and even fewer that will only set you back three dollars, but the Elago S2 stand is definitely all of those things.
For a small piece of kit it's pretty sturdy, being made of aluminum, and works in either portrait or landscape mode. You can also use it with slimform covers on your phone, but not bulky cases. Depending on the kind of case this might actually help the hold on your phone in the portrait mode; the one negative about this stand is that you don't get a satisfying feeling of stability when your phone is held in portrait orientation.
PED3 Stand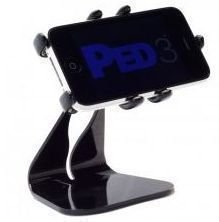 This iPhone stand wouldn't look out of place in a sci-fi movie, but despite its alien-like appearance, this piece of equipment is very sturdy and stylish if you're after a more permanent stand for home use.
Unlike many other designs it can cope with cases pretty well and is a solid choice for both holding your phone, as well as sitting safely on your nightstand or desk – it would take more than a knock to knock this design off its perch. Can easily be maneuvered in either orientation, and also features a simple but effective cable management system to keep wires out of the way. Comes in either black or white.
Can be a bit of a snug fit with some cases, and certain parts of the stand cover over areas like the microphone, so it's not a great option if you want to take calls, but is great as a stand when charging or to use as an alarm clock.
Clingo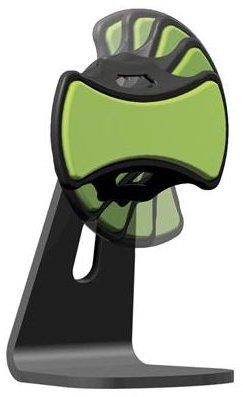 While not made specifically for the iPhone, Clingo products are a refreshing change to the usual offerings of clicking or slotting your phone into a stand, no matter the make and model. There are a good few options in the Clingo range that could work as stands for your iPhone, including the parabolic speaker dock, and the compact travel stand, but the one I'm looking at here is the podium stand.
You can adjust the viewing angle, and also change if your phone is held in either portrait or landscape mode easily. The sticky green substance holds your phone firmly in place, and despite it being strong enough to offer reassurance, the green pad isn't so sticky that it leaves any residue on your phone – it simply comes off clean with no damage or residue at all.
The Oona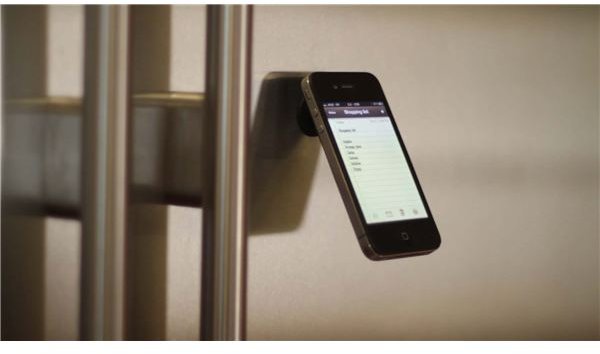 This is perhaps my favorite of all the iPhone stands we've featured here, as it's so unique. You can reconfigure this little device to work with your iPhone in loads of cool ways. It can attach to the fridge (pictured), or just sit on your nightstand, it can be on your car windscreen, or even slot into a camera stand.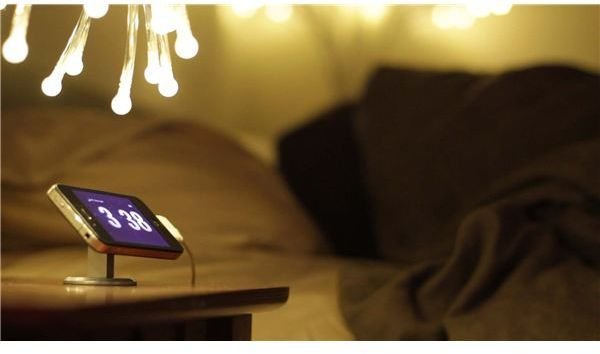 It centers around a simple piece (or two) of aircraft anodized aluminum, so is ultra-sturdy and scratch resistant, and can be reconfigured easily into whatever you want it to be, using the simple components of aluminum pieces and suckers.
The inventors recently got full backing to go ahead and make more than just prototypes, so you can pre-order one now to be shipped when the first stands roll out. It will even work if you have a case on your iPhone too, just as long as it is a smooth surface.
So What's the Best?
Which one is the best stand for your iPhone? Well that depends on your needs, and none of these top ten choices should disappoint you in any way. For travel I'd go with the Movie Peg, but for sheer versatility, as well as good looks, the Oona gets my vote as the best – well worth the wait I'd say.
References