Top Picks for HTC Evo Extended Battery Cases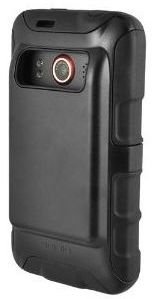 As effective as some of these extended battery cases can be, they often add more bulk to our phones than we want. We've entered into an era where the thinner and sleeker phones are, the more sophisticated they look. So why would we intentionally add bulk?
One would think there is no win-win outcome here, it's either we choose to get the optimal practicality with an extended battery case or an attractive, ultra thin enclosure with a stand-alone custom fit case. Well you're in luck, here we bring you a little of both worlds – these are the most ideal custom fitted covers, which make up the best HTC Evo extended battery cases.
Seidio Innocase Extended Rugged Hybrid Case & Holster
This case looks like something they give to military recruits, construction workers or firefighters.
It exudes masculinity in everyway and is nothing short of a tough guard and durable enclosure for your HTC Evo. You can count on complete protection of your smartphone and battery with this case installed, it provides two types of fitting in one – a sleek cover for everyday carriage with a fantastic grip made of rubber, and a heavy-duty guard for the demands of the outdoors or rugged professional; this part is made of a hard plastic material.
It is ingeniously crafted to give the best kind of thinness, while providing an immense amount of hardness, to withstand impact shock and surface damage to your smartphone. However, it is somewhat bulkier than other standard HTC Evo cases.
It comes in a package that includes a protective film made of high-grade Japanese film to protect the screen. There is also a patented locking CONVERT holster that fits onto a duty or utility belt up to 2 inches wide. Unfortunately, the case covers access to the kickstand feature and uses rubber plugs to cover the ports on the sides; however, you get full access to the speakers and use of the camera.
The Laza Silicone Cases
Get a sleek and immaculate looking enclosure for your HTC Evo with a terrific Laza silicone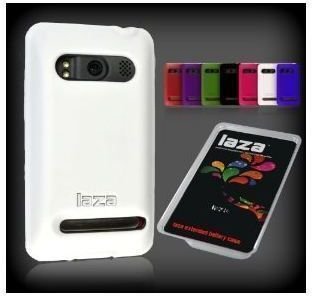 extended battery case. The material from which this case is constructed is made of premium low-stretch silicone. It is lightweight and has a smooth, soft finish that gives a good grip and slide protection on flat surfaces.
This case may be a bit more difficult to install than other silicone cases, but its low-stretch property provides a great hold for your phone and back-up battery. Also, it makes an even better shock absorber and guards against scratches, dings and so forth. This case is conveniently designed to allow instant access to all the functions and ports including the camera lens, speaker and kickstand.
Another great asset to note, the Laza silicone case can be easily cleaned, so you don't have to think twice about shying away from light colors like this featured, classic white model. There is a wide selection in other colors too; this Laza style case comes in orange, purple, green, black, pink, blue and red.
Seidio Innocase Extended Combo Hard Case & Holster
Another great design from the Seidio brand, this hard case and holster combo set is specifically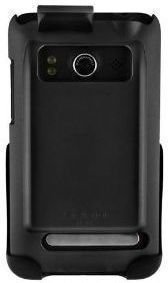 crafted for your HTC Evo with an innocell 3500mAh extended life battery. It features Seidio's signature soft touch coating, which only measures a millimeter in depth for a slim and sleek enclosure. It gives great handling and slip-free properties when placed on flat and slightly slanted surfaces. It is light in weight, despite its durability and strapping build, and is an extremely tough guard to protect against hard hitting impacts and cosmetic damage.
This HTC Evo extended battery case offers the maximum convenience with precision cutouts for the ports, controls, camera and kickstand on the phone. Plus a unique spring clip lift for quick access and easy removal. There is also an adjustable swivel belt clip with 7 rotating angles for which you can interchange.
HTC Evo 4G Extended Battery Custom Case
If you're trying to take away the appearance of obvious bulk that there is with extended battery cases, then this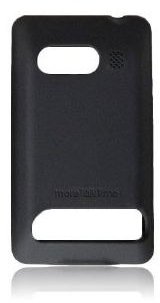 custom case may just be what you're looking for. This is a simple protective case customized to cover the HTC Evo 4g smartphone with the extended battery installed. It is made of high-grade TPU rubberized plastic material and is constructed to give a slim fitting enclosure plus adequate accessibility with precision cutouts for all the functions and ports of the phone. The TPU material also offers superb resistance to impact shock as well as scratches, dents and scrapes on the surface of your HTC Evo.
Unlike the typical door plate covers for extended batteries, this case offers much more durability and protection as it covers the entire back and sides of the handset. You will find it is quite light in weight and easy to install/remove from the phone when needed.
Leather Case With Extended Battery Pouch
Here is fantastic leather pouch case for your HTC Evo and extended battery. It provides a snug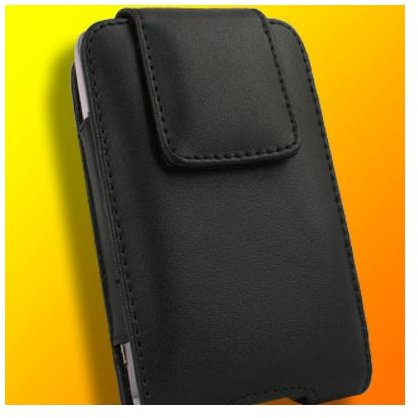 enclosure to give a secure hold of your smartphone complete with a built-in sturdy magnetic snap closure system at the top. This easily releases to give quick accessibility when the phone is needed. The case also features a well-designed opening at the bottom to help push the phone out.
The insides are lined with a soft cushioned material to protect the device from an accidental fall and has quite a resilient exterior made of genuine leather, that not only looks exquisite, but acts as a shield from scratches, dents and scrapes to your HTC Evo. On the back, the case comes equipped with a comfortable 360° swivel, steel belt clip to conveniently clamp unto your belt or attire.
References
Click on any of these links to buy :-
Image Credit - Images courtesy of the respective retailers.