Top Picks for LG Optimus 3D Cases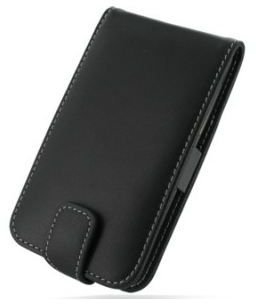 Although there are many types of leather, silicone and hard cases for the LG Optimus 3D smartphone, this selection was handpicked to give great protection from all types of cosmetic damage on your phone while offering style and unlimited access. Here is a list of all the highlighted features for each so you can choose just the right one.
PDair LG Optimus 3D Leather Flip Case
One of the more executive looking cases for the LG Optimus 3D is this genuine leather PDair flip
case. With a simple release strap at the base, this case opens upright to give full access to your phone while giving it a secure nesting inside. When the case is closed, users have access to all the side controls and functions of the phone as well.
The most intriguing thing about this case is of course the appearance of its enclosure as it is made of smooth soft leather, with neat white stitching along the edges, which not only adds strength but also a classy look. Additionally, you will find that this particular design comes with a removable belt clip for easy carrying and versatility. This case looks robust and strong and even with the addition of the belt clip, it is quite light in weight especially for when you are on the go. You will also find there are inside pockets for the convenience of storing credit cards, ID, SD cards etc. and don't be intimidated with its executive style, this case will cost you under $15.
Rubber Design Snap- On Case
LG Optimus 3D cases come in many colors and designs, especially hard and rubber covers. This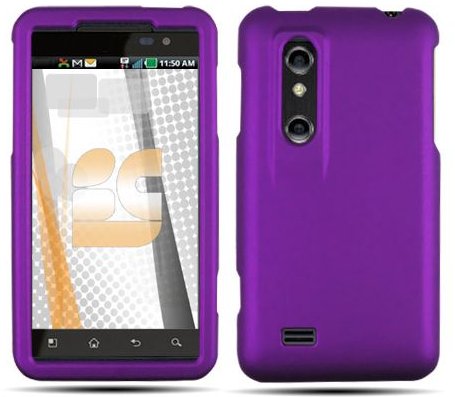 beautiful purple case features a rubberized surface that offers great handling along with a strong and durable enclosure. It is made from a hard rubber material, perfectly molded to fit the LG Optimus 3D exactly. It also offers accessibility for all the controls and functions, so you can use the phone and connect to external plug-ins conveniently without removing the case.
The case has two pieces – a back and front plate, which snaps on to offer overall external surface protection of your smartphone. With the addition of a protector screen (sold separately), users can experience the ultimate protection there is in a case so as to prevent all-around scratches, dings, scrapes and shock from impacts. This is one of the more practical cases you will find for the LG Optimus 3D, in addition to its durability and long lasting appeal; it is easy to install and remove, light in weight and comes in a wide range of fantastic colors.
Kick Stand Hard Case
This case has the simplest installation process, since it only snaps-on to the back. It is a hardback cover plate case, which extends to also cover the sides of the LG Optimus 3D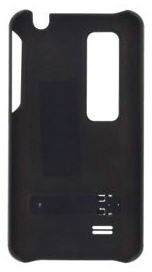 handset. It features a kickstand in the back that flips out and props up the phone for convenient viewing whether for landscape or portrait modes. A great choice for users who love to watch movies and other videos on their LG Optimus 3D.
It is made from a strong TPU material which offers great protection for your phone, so you don't have to worry about getting dings or scratches on the surface. There are also precise cutouts for the camera lens, volume control, charging port and other controls - all easily accessible without having to remove your LG Optimus 3D from the case.
Flexishield Skin
Here is a great flexishield case designed for the LG Optimus 3D. It is made of a special tough gel that bends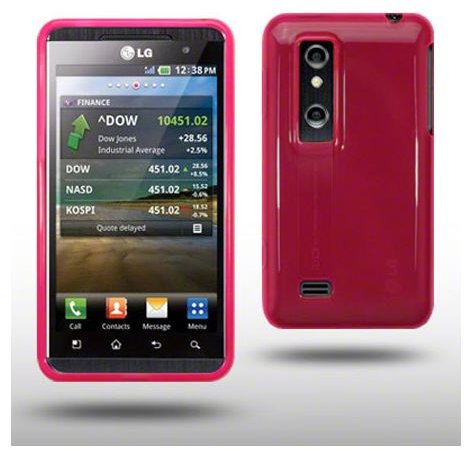 to give some flexibility and long lasting durability. It is easy to install and remove from the phone when necessary and has all the exact cut-outs for all the controls and the screen.
The flexishield material from which it is made is an effective guard against scratches, scrapes and dents on your phone plus it makes an attractive cover with its smooth and shiny surface. Additionally, you will find it provides good handling and grip and is quite light in weight. Another practical design, these cases come in a wide range of colors and are very affordable, also suitable for for a long list of consumers - males, females plus the young and old.
Silicone Case/Cover
Get a simple phone case solution with this silicone cover; this particular cover is made from a rich black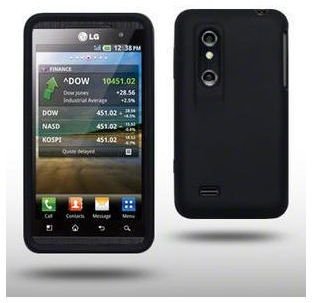 silicone material, which at a glance could appear to be made of some other leatherette material. It is flexible and makes a superb impact absorber and shield against scratches and other cosmetic tarnishes. It feels great in your hands and gives complete access to all the functions and controls of your LG Optimus 3D smartphone. It also helps prevent your mobile from sliding across slick or sloped surfaces.
If you're looking for a versatile solution for a case or cover, this is the perfect answer. It is super flexible, which makes it very easy to install and remove; it is one the lightest cases on the market; they come in a wide range of colors and you will find some designs have creative patterns and textures plus added decorative embellishments of crystals and rhinestones.
You may also be interested in checking out the top LG Optimus 3D accessories.
References