Top 5 Best Hello Kitty iPhone Cases: Dress Your iPhone in Purrfect Style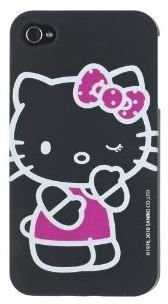 Hello Kitty iPhone 4 Bold Case
If you love Hello Kitty, but don't want the look of it to dominate your already fine looking iPhone, this Bold Case is the perfect choice. The design is striking, but the matt black background means it's not too overpowering.
It's specifically designed for the iPhone 4 and as such has all relevant cut-outs to make sure you can still use the phone while it's on there. Another design feature this case has above many others is that it has a raised edge, so still offers some screen protection if you were to drop your iPhone. It's also really easy to fit onto and to take off your phone.
Hello Kitty Smile Case - Pink Bling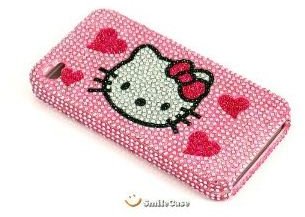 Not for the feint hearted, this Smile Case offers a double whammy of bright pink and bling in one shot. It also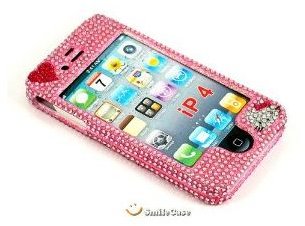 features Hello Kitty in a large design to the back, and a small feature on the front of the case. Not only will this case brighten up your life, it will also offer some good protection for your iPhone too, as it's an all-encompassing design. There are cut outs for the dock connector and camera etc., as well as protecting the front and sides of your phone too – those raised edges will keep your screen looking good.
The good thing this case has above other bling types is that it comes in two separate pieces that snap together, so while there's no real need to take off this case again and again (unless you use a dock charger), you shouldn't dislodge any of the bling should you need to do so.
Hello Kitty Silicone Case

For a more subdued take on the Hello Kitty iPhone case, this option is the best. It comes in many colorways, and features a nose, eyes and whiskers raised design on the back of the case, with a quirky bow to the upper right, just how Hello Kitty wears hers.
The silicone material means that keeping a good grip on your phone is ensured, as well as keeping open access to all the relevant buttons and ports. This case is super cheap, so you aren't going to get the maximum protection, but it's a good option for dressing your iPhone in Hello Kitty style.
Hello Kitty Polycarbonate Wrap for iPhone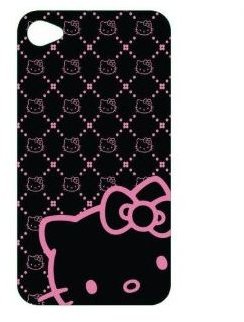 This is a striking gloss case featuring Hello Kitty, made from polycarbonate. Again it's a good choice as the design is effective without being too overpowering. There are a number of features that this case could have done with, in addition to the good looks, especially if you want a case to actually protect your phone rather than just look good. Although it's made of polycarbonate it is prone to breaking if you aren't careful when putting it on. And although it's form fitting, and works fine for everyday use, the screen is rather open to attack. It's a good choice, depending on how accident prone you are.
Hello Kitty Apple Case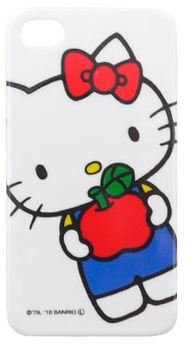 The design of this case certainly reinforces the widely-held belief that 'you get what you pay for' – at least in terms of aesthetics. It's a classic design that would look great on your iPhone – adding the Hello Kitty theme in a bright and beautiful way without being too much. The downside of such a lovely image though, is that less time may have gone into the actual necessities of case design. Does this case give your phone the most excellent protection? Probably not. It has all the usual cut-outs and certainly won't add any bulk to your phone, though no consideration is given to protecting your screen. This case is great for looks, but not much else.
Conclusion
So which of these Hello Kitty iPhone cases should you buy? Of course that's personal preference, and you won't be sad should you purchase any of these covers and cases – we've weeded out the less worthy remember. For out and out girly style, the pink rhinestone iPhone case is a must have, as well as providing some great protection, or go for the Bold option – a great design that will protect your phone with style.
References