Top Choices for iPhone 4 Sports Logo Cases: Dress Your Phone in Sports Fan Style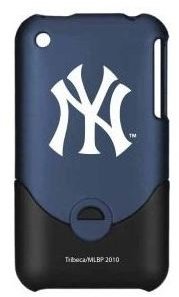 Express yourselves with this great round up of iPhone 4 sports logo cases, what better way to show the world your passion for sports and your favorite team, than to whip out your very own trendy sports case. This selection was sought to appeal to a diverse range of sport fans, see if there is one in the bunch for you or a friend. Non logo options can be found on page 2.
Tribeca New York Yankees Duo Shell
This duo shell iPhone case boasts the New York Yankees logo on the back and has a clever and
attractive design; it has a two-toned hard shell to fit your iPhone 4 like a glove. There is a simple release clip that separates the duo shells, which both combine together to securely cover your device, there are exact cutouts for all inputs, camera lens and the phone's full touch screen. In addition, you will find that this case is lightweight, easy to install and remove.
Check out more great MLB New York Yankees logo iPhone cases - [Link to Buy]
Boston Red Sox Design Case
Take a look at this awesome Boston Red Sox logo printed hard case. The logo will not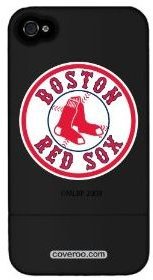 peel nor strip away, so fans who are looking for a long lasting solution, this is one of the best iPhone 4 sports logo cases for you. The case design has a simple slider system that allows you to easily install and remove it whenever necessary. It has a soft smooth finish and allows for full access to all functions while the phone is securely fitted inside.
This featured model offers a true depiction for the Boston Red Sox team colors, which ranks it high among it's kind, it is ideal for fans that want a more spirited look.
See more amazing iPhone cases with the Boston Red Sox logo - soft silicone covers, high gloss hard cases plus much more with a lot more types of great designs. [Link to Buy]
Dallas Cowboys Hard Case Back Cover
This case has a great logo, inspired by the Dallas Cowboys football team.

It is customized to give your iPhone 4 a precise, slim and sleek covering; it is made of durable hard plastic and layered with a crystal clear enamel coat for a long lasting effect. The case fits directly unto the back of the iPhone allowing clear access to the touch screen and all other functions, you will find that it is lightweight weighing in at only 18g.
Pittsburgh Steelers Case Cover
Pittsburgh Steelers fans! Here is one of the best iPhone 4 cases you can show off to your friends. It has the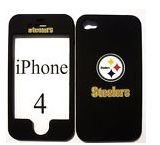 Pittsburgh Steelers logo on the back and offers great protection for your iPhone, there is no reason to ever remove this fantastic case.
The case is made of high quality, super durable and strong plastic and has a front and back cover that easily snaps-on to completely enclose your smartphone only allowing access to the touch screen, external plug-ins and camera lens. Also, this case is lightweight and ultra thin to give your phone a slim and sleek appearance.
Los Angeles Lakers Silicone Skin
This LA Lakers soft silicone skin case is made of durable silicone and feels as good as it looks.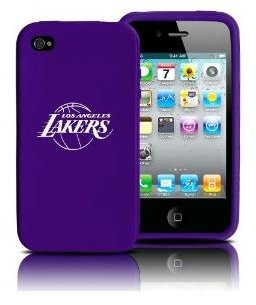 The silicone shield is designed to fit your iPhone 4 perfectly and the logo is laser-engraved so it won't fade or rub-off. Additionally, the case allows for easy access to all ports and screen, it is super flexible to provide ease when installing and removing.
This fantastic case comes in a wide range of great colors, gives great grip on your device, is cost effective, lightweight and boasts an everlasting LA Lakers logo, which puts it in high ranks as one of the best iPhone 4 sports logo cases on the market.
Miami Heat Hard Shield Case
This case features an official licensed logo artwork from the NBA and is a great case for the iPhone 4.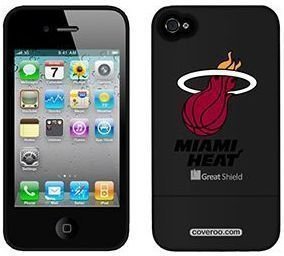 It is made from hard, durable polycarbonate synthetic material and guarantees a tough guard against shock of impact, scratches, dents and scrapes on your device. However, you will find the surface of this shield case is ultra smooth and feels great in your hand.
It's design has a two-piece hard shell slide-on installation system, which securely encloses your phone giving it a custom fit by closely wrapping every corner and edge. Also, this case has precise openings for the screen, controls, camera lens and other external plug-ins.
Do you want see some more amazing sporty iPhone 4 cases? Page 2 has a great selection of sports fan cases to appeal to a wider range of sports fan. Check them out!
Zagg Sports Leather Hard Cases
Hard cases are one of the best choices to protect your iPhone 4; there is no doubt they are durable, long lasting, secure and sturdy for your device. We focus specially on these sports leather hard cases; their designs are purposely crafted to visually and physically replicate sporting gear such as a football, basketball or baseball. The cases are tactically coated with genuine leather and tailored to designated textures.
You will find the convenient cut outs for external plug-ins, controls and screen and they all come with an easy snap-on system to securely hold your device in place. If you can't find the right sports logo case for your iPhone, then these sport leather hard cases will make great substitutes.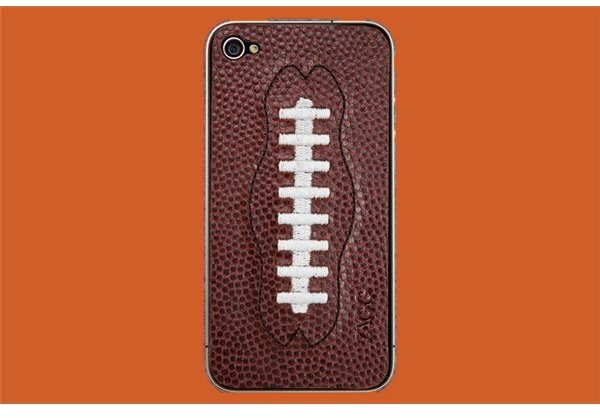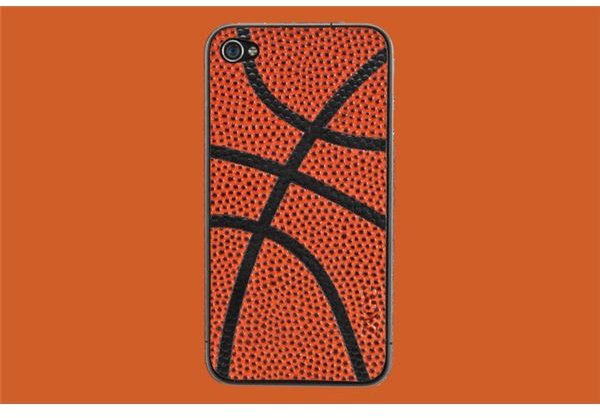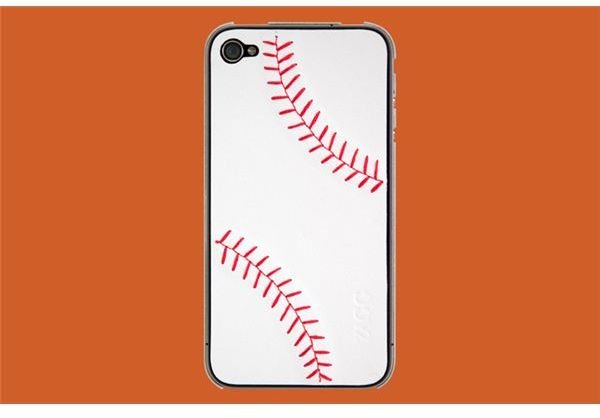 Soft Silicone Sports Shoe Design Case w/ Shoelace
This unique and trendy case made our list of sports fan cases for the iPhone 4 since it has such a sporty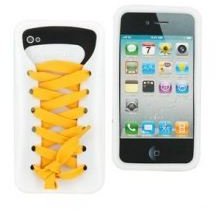 look. It depicts a sport shoe with shoelace. What makes this case even more special is the interchangeable shoelace colors that fans can swap to represent and celebrate their favorite teams during sporting events.
This does not take away from the functionality of the case, it has easy access to all the buttons, controls and ports of the phone; allows for clear viewing of the screen and camera lens for snapping pictures of your favorite players. Ultimately, giving your device superb protection and safety.
Paul Frank Durable Protective Silicone Case
Every sports fan with an iPhone could do with a soft silicone skin cover for their iPhone 4, and what better choice is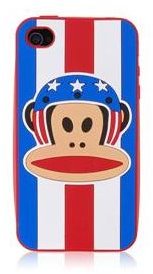 there than with this featured sporty helmet-wearing Frank Paul design. This ultra slim cover is custom made to fit the exact contours of the iPhone 4, so there is no added bulk. The case is waterproof, dustproof and shockproof, which makes it ideal for any sports fan under any condition or occasion.
You will find the case is durable and has long lasting detailing to withstand wear and tear and consistent cleaning. It is very flexible and can be installed as well as removed quite easily.
Carbon Fiber /w Metal Chrome Kickstand
For those sports fans taking in the game at home; on your big screen TV, what better way than to flip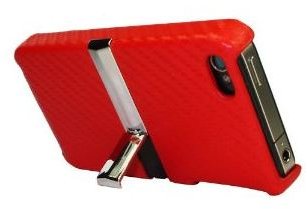 out the kickstand on this iPhone 4 case and set your phone upright and in front so you don't miss a call from your buddies calling, trying to get a word in during the game.
This featured carbon fiber case, boasts a small inconspicuous metal chrome kickstand at the back to hold your phone at a vertical angle face-up. It has a fabric leather textured surface with hard shell under cover that snaps-on to give your iPhone 4 a slim custom fit. The case comes with screen protectors in the front and back and allows easy access to all the phone's controls and external plug-ins.
RainBallet - Rugged Waterproof Case
There are those water sports fans that need the added protection of water resistance whether during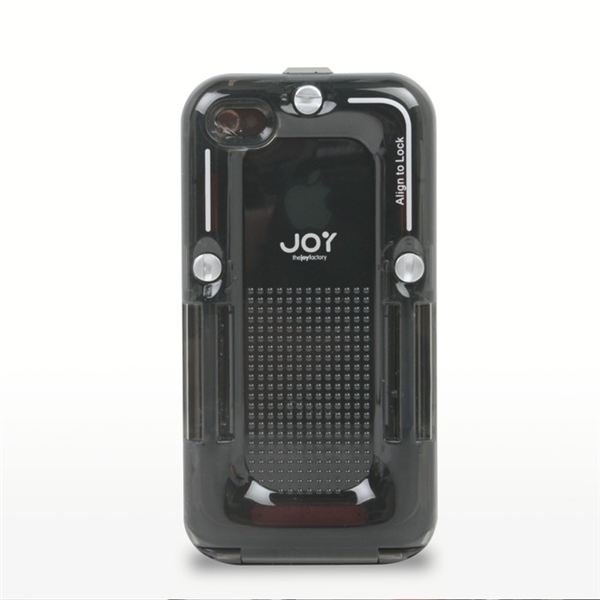 watching, partaking or actively assisting in an event. We found this original waterproof iPhone 4 case that looks great, has a slim custom fit, is lightweight and completely locks out water of any kind, no matter what situation you're in. This amazing case can be submerged completely underwater with the impact of rapids or water jets and still have no effect on your device.
It features 'sharpvue' lenses on the front and back of the case, turning your iPhone 4 into a high-quality, waterproof camera. The waterproof casing has a rubber-like feel and a built-in shock-resistant structure that provides extra protection all over. With all these great features, the RainBallet rugged waterproof case is one of the best choices of sports cases for the iPhone.
Sport GYM Armband Case Cover
A great way to keep your iPhone secure and safe, while enjoying your favorite sport, is placing it in an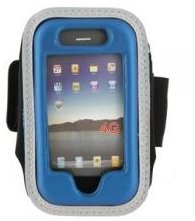 armband case. It straps nicely onto your arm and goes unnoticed with its lightweight and ergonomic design. Its unique design allows access to all functions of your phone easily, without removing the case, and the adjustable Velcro lets you be as resourceful as you want be - adapting to any situation during a sporting event.
Ideally this case is designed for individuals to wear during an exercise workout, but additionally its expediency serves well for those energetic fans who want to move about freely when taking in a game.
References
Coveroo - https://www.coveroo.com
Ebay - https://www.ebay.com
Amazon - https://www.amazon.com
The Joy Factory - https://www.thejoyfactory.com
Zagg - https://www.zagg.com
SaraOutlet.com - https://saraoutlet.com
Image Credit – Images courtesy of the respective retailers.