Six of the Best HTC Tilt 2 Cases Online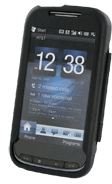 What to Expect
There are many different types of Tilt 2 cases that range from metallic to leather and even rubber. You will see different types of these cases in the listings below. Keep in mind that all cases listed are chosen because they are top rated and considered among the best, but they are not listed in any particular order in the article. Therefore, ensure that you take a look at all of them and examine the different types before you make your own conclusion.
AT&T Tilt 2 Aluminum Protector Cover (5 out of 5)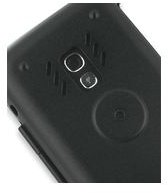 The first on our list is the AT&T Tilt 2 Aluminum Protector Cover. They are available in both black and silver, but I have chosen the black one because I think it looks more classy. As the name suggests, this case is made from aluminum (aircraft grade) and fabricated to fit your Tilt 2 snugly while protecting it from scratches and dents. You will not have to remove the phone from the case to utilize its features and they offer the case with a sliding belt clip so that it is easy to carry around. Additionally, the case is lined to keep the phone from slipping in the case, but that lining will also help with a little bit of shock absorption. However, that was not the purpose of its design, so utilize the belt clip to fasten your phone securely to your belt, waist, bag or whatever you carry around with you, to minimize the risk of dropping it.
The regular price for the case is $39.99 which may seem a little steep to some, but the good news is that it is currently on sale for $22.95. You can purchase the AT&T Tilt 2 Aluminum Protector Cover at Talkie Tech.
Tilt2 Armor Case (5 out of 5)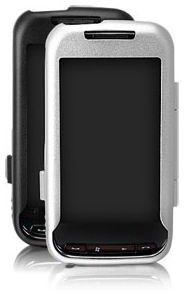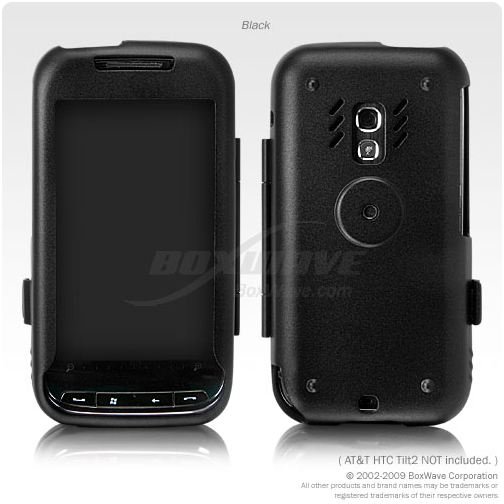 This is another aluminum case that is made to accommodate the HTC Tilt 2 mobile phone. It is provided by BoxWave, a brand that is no stranger to quality cell phone cases. The case is made from anodized aluminum, which means that it is lightweight, but is also very strong. Similarly to the AT&T protector case, this one also has inside padding to secure the phone in place and it also helps with a little shock absorption. The face of the Tilt 2 Armor case is cut out so that you can still access the touch screen, but I would suggest that you also get a screen protector to prevent scratches on the face. All buttons and controls can still be accessed while the phone is cased, so there is no need to remove the case regularly. Another similarity with the AT&T protector case is that they are both available in black and silver and accompanied by a belt clip.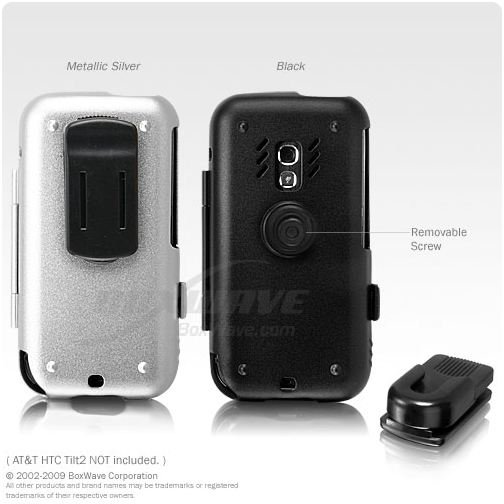 This case initially had a lower price than the one above, but has since been beaten with the AT&T Protector's sale price. You can buy the Tilt 2 Armor Case for $27.95, a mark down web special from $34.95.
Praetorian Tilt2 Crystal Slip (4 out of 5)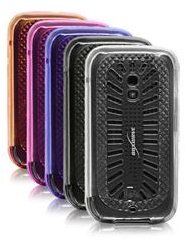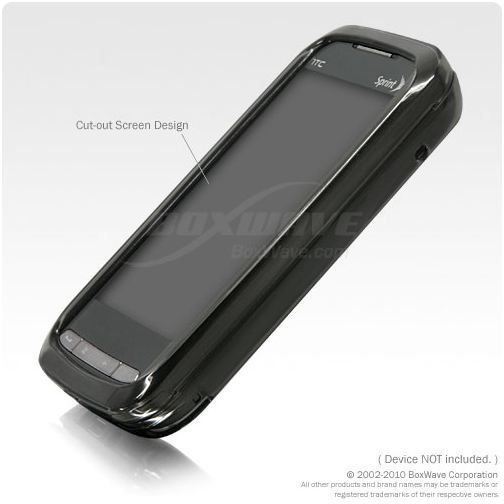 This is another case by BoxWave, but it is not metallic, it is actually a rubberized slip on case that securely holds your HTC Tilt 2. This is a better case than the previous two if you are mainly looking for bump protection and if you would also like a colorful assortment to take your pick from. Another good thing is that you will not need to remove the case to access the screen or the camera and charger ports. This is especially good because rubber cases will tend to stretch over time if you constantly add and remove them.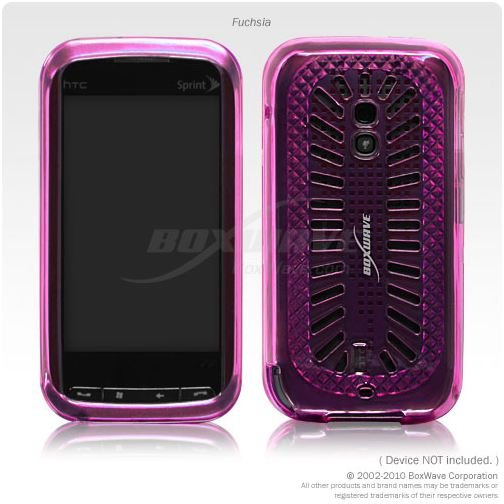 With all that being said, this Praetorian HTC Tilt 2 case is still a good buy and the price is not bad either, especially on sale. You can currently purchase the Praetorian Tilt2 Crystal Slip for $19.95, a web special mark down from $32.95
Monaco Executive Leather Case for HTC Tilt 2 (5 out of 5)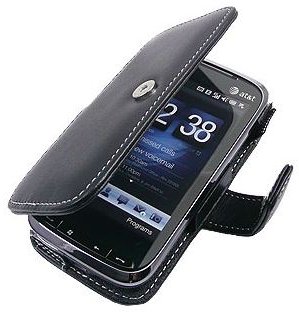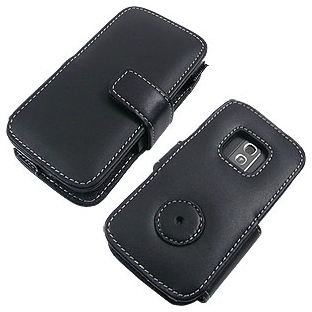 You were promised metallic, rubber and leather, well this is our first pick in the leather section. Before I talk about this particular leather case, you should be aware that there are many Tilt 2 leather cases of similar grade, quality and style so feel free to browse around the website link that will be provided at the end of this section. This particular leather case just happens to be my pick of the litter.
First off, I should point out that this case is made from genuine leather to protect the body of the phone with a clear cover that protects the keyboard. The screen is left open so that you can utilize all your touch screen functions, but it is always recommended that you get a screen protector to go along with these cases. Your camera is still accessible in the case and you are free to slide and tilt the screen without removing the case. This Monaco Executive Leather Case is also accompanied by a leather clip as with the other cases that I have chosen, so that carrying your Tilt 2 around will not be a hassle. Another reason for this case being so great, is its price. You can purchase the Monaco Executive Leather Case for only $24.99 and this is its regular price.
AT&T Tilt 2 Book Leather Cover - Black (5 out of 5)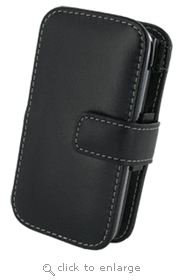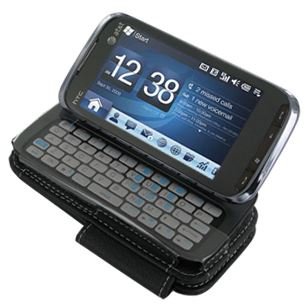 This is another leather HTC Tilt 2 case, but this one has a different design which is already described in its name. It takes the form of a book and opens and closes around your HTC Tilt in that manner. You can get a better idea of its design by looking at the images. It is also made from genuine leather with enforced stitching; therefore, you can consider this an investment as this case is built to last. This leather case provides essentially the same protection as the aforementioned Monaco leather HTC tilt case and functions pretty much the same way. Its style, design as well as its price is what makes it different. The original price for this leather case is $39.99, but you can purchase the AT&T Tilt 2 Book Leather Cover on sale for $23.95.
Naztech Ikon Belt Clip Carrying Case, #17 Gold (4 out of 5)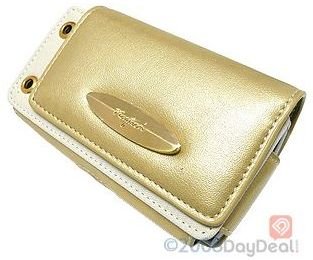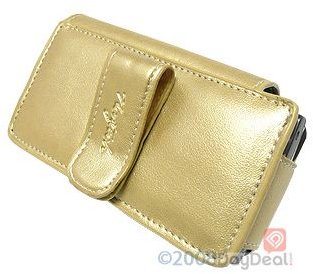 This last case has been added to the list just to provide a mixture and a touch of style. It is not specifically made for the HTC Tilt, but it is nonetheless compatible. The Naztech Ikon case is considered a luxurious case and it completely looks the part with its gold finish and impeccable workmanship. If you know anything about Naztech phone cases, you will know that they are not only known for their quality but also their sense of style. This is a slide in case with a magnetic flap to keep your phone in place. You will have to remove the phone from the case to use it, but if you are a person that is attracted to style and glimmer, you will like this case. It also protects your phone against bumps and scratches when encased. The price is also reasonable as you can purchase the Naztech Ikon carrying case for $19.95.
Conclusion
Ok, I have provided you with 6 different HTC Tilt cases. Each case has its own desirability and will appeal to different consumers. But each will provide protection for your HTC Tilt 2 as well as providing a sense of style and elegance. Your choice may be based on protection, style or price, but it is still your choice. I would personally go for the AT&T Tilt 2 Book Leather Cover, but that is because I really like how it looks, it does not appear to be just another phone case but more of a necessary accessory that I should not leave home without. Feel free to tell me what HTC Tilt 2 phone case you would choose and why, even if it is not on my list.
References
Image Sources: