5 Best Indestructible iPhone Cases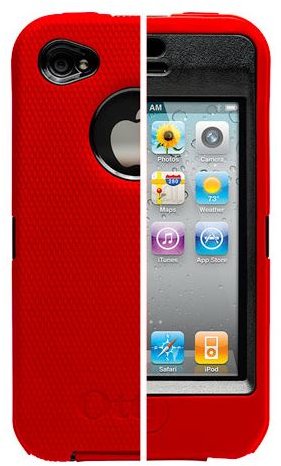 Picking Indestructible iPhone Cases
Purchasing one of top smartphones on the market is an investment. iPhone isn't necessarily the most expensive phone on the market, but it could be considered a small fortune to some. That's exactly why you need to protect the phone after you buy it. It would be horrible to spend all that money only to lose your phone in an unfortunate "drop" accident a few months later. I've seen it happen before, which is why I scoured the markets to find the best indestructible iPhone cases around. From practical to ultra-bulky, this list has it all. Read through them, see what you think and I'll weigh in at the end on my favorite indestructible case for iPhone.
OtterBox Defender Series Cases
The OtterBox Defender Series cases for iPhone are a rugged, multilayer case that protects your phone from drops, bumps, shocks and dust. The case adds minimal bulk to your phone for the amount of protection that is given. This isn't to say that it's a thin case, just thin for the protection level that it gives. The hard polycarbonate inner layer snaps securely over your phone, which is then covered by a durable silicone skin. The hard inner layer also contains a clear protective membrane for your screen, so the phone is fully encased. It sounds like a lot, but it's actually one of the thinner indestructible iPhone cases around. The case also comes with a belt clip that doubles as a stand for watching videos.
iPhone 4 Defender Series Case (Link to Buy) - $49.95
iPhone 3G/3GS Defender Series Case (Link to Buy) - $49.95
ZAGG invisibleSHIELD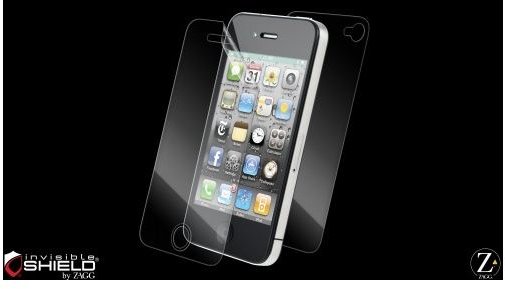 Alright, invisibleSHIELD isn't exactly an indestructible case, but I thought it was worth mentioning because it gives a scratch-proof protective layer around your iPhone. I've watched demos of people taking knives and keys to the intentionally scratch the film. It does little to no damage to the protective film and absolutely no evidence of the scratchings can be seen on the phone itself when the protective film was pulled off. You are able to choose coverage for just your screen or a kit to cover your entire iPhone. Either way, the film is pretty thin and you'll barely notice that it's there. Your phone will still be able to fit into most cases when the invisibleSHIELD is applied.
InvisibleSHIELD for iPhone 4 (Link to Buy) - $24.99 for Full Body, $14.99 for Screen Protector Only
InvisibleSHIELD for iPhone 3G/3GS (Link to Buy) - $24.99 for Full Body, $14.99 for Screen Protector Only
Griffin Elan Form Hard-Shell Leather Case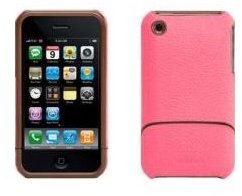 The Elan Form case is a good choice if you want more of a business look without sacrificing tough protection. Griffin makes this case with two layers of protection: an inner polycarbonate shell and top-grain leather outer layer to give the case a sleek look. The bottom of the case slides off to allow easy access for docking or syncing your iPhone. This case is sold in a wide variety of colors and designs, so you'll want to check out their website to check out what they have available. The price varies depending on color and style that you choose.
Elan Form Hard-Shell Leather Case for iPhone 3G/3GS (Link to Buy) - $9.99-$19.99
Magellan ToughCase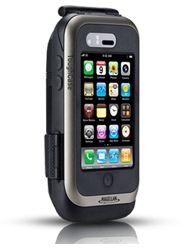 If you're looking for heavy-duty rugged protection, Magellan's ToughCase for iPhone may be something for you to consider. This case isn't for the feint of heart when it comes to an indestructible iPhone case. It's a huge case that is clearly designed for contractors and outdoor sports fanatics. If you can handle the extra bulk, the case protects from drops and is also water-proof; not a feature that you find in most cases. You will also enjoy that the case itself is a battery-extender for the phone, doubling your iPhone battery life. And last but not least, ToughCase also features technology that enhances the GPS signal of your phone. Despite the heavy-duty casing, you will still have access to your screen and buttons while the phone is in the case. Your wallet will take a nice hit if you do decide that this is the case for you. The manufacturer sells the case for $179.99. I could only find it online as low as $149.95 through a third-party seller.
Magellan ToughCase for iPhone 3G/3GS (Link to Buy) - $149.95
Case-Mate iPhone Tough Case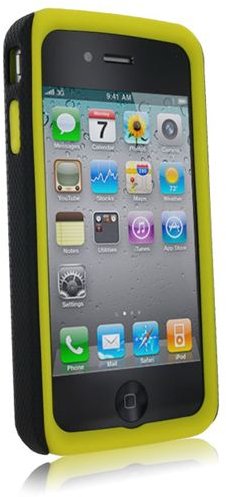 For hard-core protection with ultimate customization options, Case-Mate's Tough Cases are an excellent option. The case has two layers of protection, a silicone inner layer and a hard shell plastic outer layer that wraps around the silicone skin. The case also contains a screen protector. It offers shock absorbing protection for drops and bumps and keeps dust and scratches off your phone. The best part about this case (besides the great protection that it offers) is the choice in colors. You have your choice of colors for the silicone skin and hard outer shell, giving you endless possibilities for mixing and matching your case.
Case-Mate iPhone 4 Tough Case (Link to Buy) - $34.99
Case-Mate iPhone 3G/3GS Tough Case (Link to Buy) - $34.99
The Best Indestructible iPhone Case
So now that you've seen some of the better options out there for protecting your iPhone, I'm sure you're wondering which one would work best for you. The type of protection you're looking for and your personal preference will have to be considered when picking a case for you. For me? The OtterBox Defender Series case has saved me from seriously damaging my iPhone on numerous occasions and I wouldn't go anywhere without it. I'm a bit clumsy with phones and always seem to drop them on concrete or other equally painful surfaces that would normally destroy a phone. Despite my abuse, whenever I take my phone out of the OtterBox Defender Series case, it looks brand new and unscathed. The case is more than worth the $50 that I spent on it, because it has saved me from having to replace my phone more than once.
What about you? Do you know of some great indestructible cases for iPhone that weren't mentioned here? Comment and let us know what they are. Have you tried one of the cases here and loved or hated it? Comment with your input. I'm always looking for new cases and better options, so let me know what you think!
Sources and Image Credit