Top Rhinestone iPhone Cases: Best Choices of Rhinestone Cases for the iPhone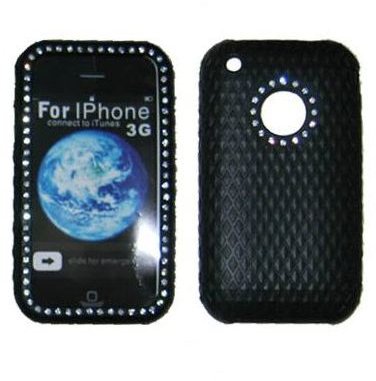 Rhinestone iPhone Cases
There are a number of features to look for in purchasing a rhinestone iPhone case; it all depends on what you are looking for. We have a round up here that offers a great selection of features to cater for a wide range of consumer demands. This is a review of the best rhinestone iPhone cases with added purpose, great functionality and strong protection. Also, we look at rhinestone cases with creative and trendy designs that can be appealing to everyone.
Soft Silicone Rhinestone Case
This case is one of the best rhinestone cases available for the iPhone. It provides all the features or a regular
soft silicone cover, plus added enhancement features of decorative rhinestone patterning. The silicone material is soft and flexible so that it provides a very snug and secure fit unto your iPhone. The polymer agent in the silicone makes this iPhone case water resistant and resilient to high temperatures. Its rubbery texture absorbs impact shock upon hitting a hard surface. Users love the color variety this iPhone case has to offer and the ease of which you can remove and put back on the skin.
Check out this textured black silicone iPhone case with encrusted crystal outline (see image).
Hard Snap-on Rhinestone Case
These are the most common rhinestone cases available for the iPhone, however this section concentrates more on the trendy styles of the snap-on case. Consumers often rave about the selection of these cases made by developers such as Luxmo, SW Box, Cuffo and MyBat – they have the most attractive designs and creative patterns available in the rhinestone category for iPhone cases. They have all sorts of unique designs and styles; from a depiction of a pair of stilettos to a Coca Cola logo - the designs are limitless. Here are a few of the best iPhone case designs.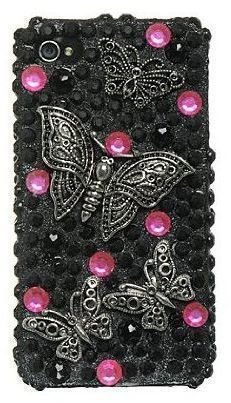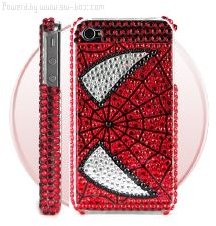 Clear Rhinestone Hard Case
The clear rhinestone hard case maintains your iPhone's sleek appearance. It makes the phone look slim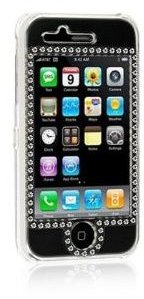 , as if it were just an invisible shield. Most clear rhinestone cases have decorative crystals on the front, and may or may not have on the back - in all this is one of the more simpler looking rhinestone cases. The hard plastic protects the phone from scratches, dents and any other surface damage, making it a tough iPhone case choice. These are snap-on cases with openings precisely made for the top and side buttons, charger port/dock connector, headset jack and speaker, to allow full access to all the phone and music functions. Users appreciate the rhinestone feature of this case combined with its transparency, which allows them to also showcase their iPhone.
The Semi-Hard Rhinestone Case
These cases are categorized as hard cover cases, however the surface is conditioned with a rubberized finish.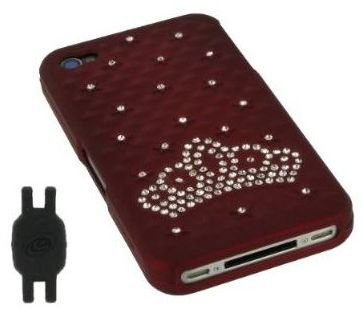 It merges the rhinestone feature along with the hard case and the silicone covering in one superior package. They are tough and durable yet soft to the touch. The semi-hard rhinestone case provides lasting protection against wear and tear, as well as guard against cosmetic deterioration of your iPhone and looks good doing it. Consumers love the multi-faceted quality of this iPhone covering - it is the ideal rhinestone case.
Rhinestone Faceplate Case
These are hard snap-on cases with a faceplate, to add optimum protection for your iPhone. If you can't get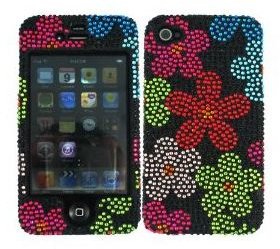 enough rhinestones on your phone case, then this is the best choice of bedazzled coverage for you. The rhinestone faceplate case appears to engulf your iPhone to show only the screen, everything else is covered with jewels. The hard plastic protective cover is easy to install, the front frame simply snaps-on to all the edges of the back base instantly. It allows access to all the openings for top and side buttons, dock connector, headset jack and speakers. This phone case has rave reviews and is adored for its beauty, however there were complaints from consumers regarding removal of the case, at times they found it difficult to take off. It's certainly a unique iPhone case choice.
References
Luxmo iPhone Cases -https://www.luxmo.com/search.aspx?searchterm=FDIP4
SW Box - https://www.sw-box.com/wholesale-Iphone-4-Rhinestone-Cases.html
Rhinestone Case, iPhone – https://www.amazon.com
Image Credit – Screenshots courtesy of https://www.amazon.com