The Best BlackBerry Curve Covers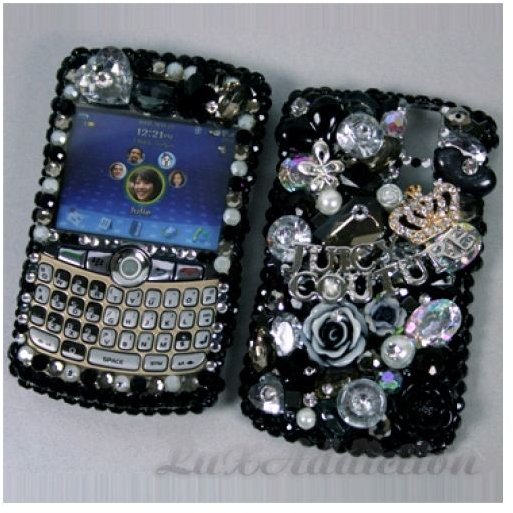 The BlackBerry Curve series of smartphones are simply amazing devices capable of keeping you connected to almost everyone and everything you care about, all while on the move. Over time, normal usage can wear down your Curve, making the device look old or ragged, and even causing issues with the Curve's performance. To protect against this type wear and tear, you'll have to get one of these BlackBerry Curve covers. There may be all kinds of BlackBerry Curve cases, or Curve holsters, out there but this list focuses on accessories that simply fit around your phone, both protecting it and beautifying it.
BlackBerry Curve Bling Cover
Sometimes, a few well-placed jewels or sparkles can add just the right bit of flare to a BlackBerry Curve cover, but this is not one of those times. The amount of bling on this case is not for the weak of heart. The case is covered, literally covered, with a mix of Swarovski crystals, Australian crystals and other decorative elements. The case itself is designed specifically for all three BlackBerry Curve series, so you will have access to all the ports and buttons. The crystals and jewels are installed by hand using a strong glue, so you can be confident that the pieces won't fall off. Since each case is designed by hand, it can take up to two weeks to get your order, and at almost $80, this cover doesn't come cheap. When you are ready to give your Curve a case that will really make it stand out, you can get the crystal cover.
Three Diamond Gel Covers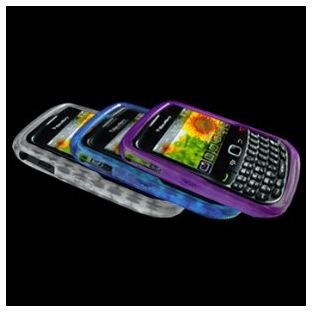 These simple gel BlackBerry Curve phone covers are almost the exact opposite of the crystal ones, both in form and price. These soft gel covers are easy to put on and take off, and they protect your Curve from minor dings, scratches or dents. The pack comes with three of the gels, one in blue, one in purple and one in white. The back features an argyle pattern, making the Curve look a little more stylish in your hand. These covers are sold for just a few dollars, and you get three of them, so if you need a little protection for not a lot of money, you should check these gels out.
Crystal/Bling Hard Cover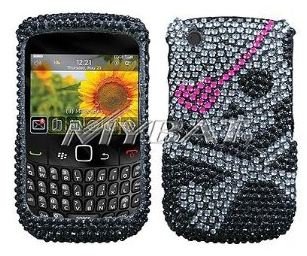 Users who want a sparkly device, but who also want a design with a little bit of an edge, should take a good look at this cover. This two-piece hard case snaps around your Curve to keep it safe from dents and scratches, while giving you access to all of your ports and buttons. The entire case is covered in tiny colored crystals, with the back of the cover featuring a pirate's skull and crossbones design. If you are ready for a sparkling cover that doubles as a way to express yourself, you should check this one out.
Thermoplastic Polyurethane Skin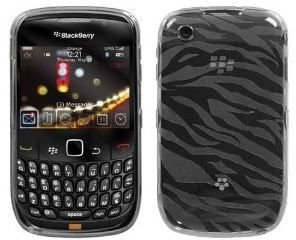 The Thermoplastic Polyurethane skin cover is one way to protect your BlackBerry Curve, without completely changing the look of the device. This case is made from a hard silicone that is designed to protect the Curve without adding a bunch of bulk or weight to the device. There are a variety of colors available, all with a zebra print on the back side, adding a touch of style without making the design stand out. The silicone also makes the Curve easier to grip, which helps keep the device in your hand, instead of flying across the room. If you want to protect your phone, but need a case that is a little subtle, then purchase the thermoplastic polyurethane cover.
Coveroo Five Butterflies Design
If you are looking for a back cover for the BlackBerry Curve, instead of something that will encase the entire device, you will certainly want to check out the options the Coveroo can give you. These are simply battery covers that have designs engraved onto the back. The covers are available for all types of BlackBerry Curves, as well as a host of other phone models. Coveroo also offers a wide range of designs, from the beautiful print of five butterflies shown here, to sports logos, flags, pop culture images and many more. If you just want something to add a bit of personality to your Curve, you should check out Coveroo's available options.
DecalGirl Vinyl Covers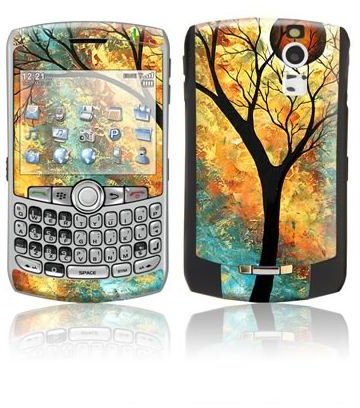 These skin kits from DecalGirl are another departure from the standard BlackBerry Curve phone covers. The skins are made from cast vinyl and have digital prints and a clear protective enamel on them. The vinyl is held onto your Curve through a removable adhesive that is designed to not damage the surface of the underlying device. The skins come in a number of art-quality images and prints, like the "Fall Inspiration" one seen here. Each cover also has a matching BlackBerry wallpaper, so the design can appear to continue right onto the screen. Best of all, the cover is so thin that you can still place a true case around the device, but be sure to make it a see-through one. If you are ready to spruce up the look of your Curve, you can get a DecalGirl Curve cover.
References