Top 5 iPhone Battery Cases: What is The Best iPhone Battery Case?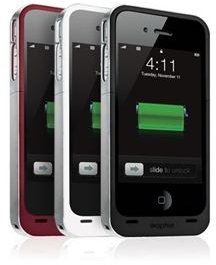 I've been using a battery extender, that also served as an iPhone case, since I got my iPhone 3GS. I mean with so many games and apps that I use on daily basis, a battery juice extender has become a necessary iPhone accessory for me - and perhaps for you as well. So, we have listed here, five of the most popular and widely used iPhone battery cases, to help you decide which one to get.
Mophie Juice Pack Air for iPhone 4
When it comes to an iPhone battery juice extender, the Mophie Juice Pack Air has become the go-to accessory. My iPhone-using friends who play games, surf the web and do most of their daily activities on their iPhones, either have the Mophie Juice Pack Air or are planning to get one soon.
But what really makes this iPhone battery case a big hit among iPhone users? There are several reasons - lightweight and ultra-thin form factor, sleek and business-like design, and it could extend your iPhone's battery life for twice as long as it can normally last. You'll also appreciate this iPhone battery case's four light LED battery status indicator, that shows you how much power is left in the Juice Pack Air. Or if you are charging your phone, it will tell you how much time is left before it's fully charged. (Price: $79.95)
For more details, read our full review of the Mophie Juice Pack Air for iPhone 4.
Kensington PowerGuard Battery Case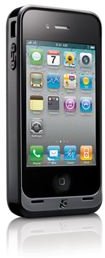 This iPhone battery case promises to deliver additional usage time of your iPhone calculated as follows - 4 hours of extra talk time, or 5 hours of watching video, or 22 hours of listening to music. But perhaps what makes this battery case worthy, and more useful, is the fact that it can serve as stand for your iPhone in either landscape or portrait mode too. You just need to insert the supplied stand. Design-wise, this iPhone case is pretty much desirable as well. It has a soft touch finish that feels nice when you're holding it. Of course, the case also has the standard openings for the USB and charging port of your iPhone, plus the LED battery indicator, similar to the Mophie Juice Pack Air. And yes, it's also a tough iPhone case to beat as well. ($59.99)
MiLi Powerskin
The MiLi Powerskin is also a popular battery case for your iPhone, next to Mophie Juice Pack Air. I've seen and tested this battery extender on my iPhone 3GS, and I was pretty impressed by its thin form factor. The manufacturer claims that it is the thinnest iPhone battery case, and this is probably true as I have never seen an iPhone battery as thin as it is – hence it has PowerSkin for its name. For extending your iPhone battery life, the MiLi Powerskin offers 19 hours of audio play time, 5.4 hours of video playback and up to 230 hours of stand by time. It's a hard shell case, so your iPhone 3GS is pretty much in good hands. A major plus for this case is the choice of various colors that will surely fit your style. For an iPhone case, that feature has become a must. ($39.95)
[Link to buy](/tools/MiLi PowerSkinhttp:/www.powerskin.co.uk/power-skin.html).
FastMac IV Battery Case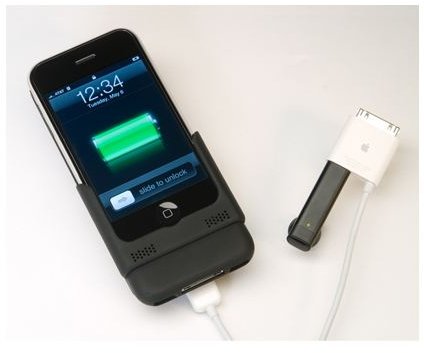 FastMac's IV Battery Case is quite unique among the iPhone cases with a built in battery we've listed so far. This is due to the fact that it not only serves as battery extender and case for your iPhone, but also serve as a charging port for your other electronic devices. Sounds pretty cool, right? The IV Battery Case has another full size USB port, aside from the port where it connects to your iPhone. Another feature that makes this iPhone battery case unusual is the presence of built-in flash, by way of a bright LED light that also serves as a flash light. So if you need these two functionalities for your iPhone, then go ahead and grab one of these FastMac IV Battery Cases. ($79.95)
[Link to buy](/tools/FastMac IV Battery Casehttp:/fastmac.com/iv.php).
EXOGEAR Exolife Battery Case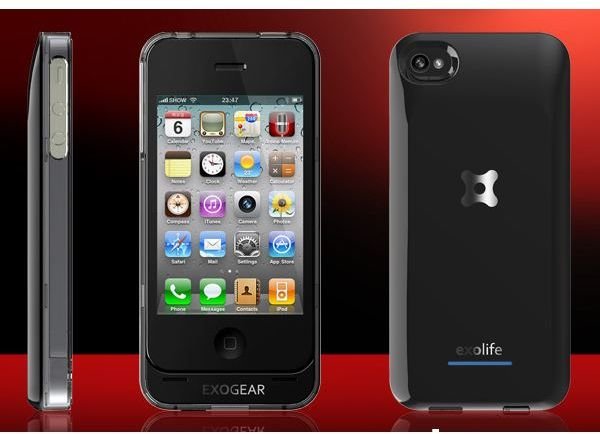 There's nothing much to say about this battery case for iPhone, aside from the fact that it looks gorgeous when on the iPhone. This is the ultimate iPhone case with a built in battery, in terms of design and appearance. But when it comes to features, does it have what it takes to edge out its competitors? Unfortunately, it basically offers what others have to offer – double your iPhone's battery life and serves as a hardshell protective case for your iPhone. For the sake of stating the facts, here are the major features of this Exolife iPhone Battery Case - additional 300 hours of standby time, 7 hours of talk time, 6 hours of surfing time, 10 hours of watching movies and video, and 40 hours of listening to music. If those stats are enough for you, then you might want to get this battery case for your iPhone. (Price: $89.95)
So, what is the best iPhone battery case? Frankly speaking all of these iPhone cases with a built in battery on our list, provides what they say they can provide - extended battery juice for your iPhone and a durable case for your iPhone. While each has its pros and cons, I'm inclined to choose either the Mophie Juice Pack Air for having used is Juice Pack Air for both my iPhone 3GS and iPhone. The MiLi Powerskin comes in second for its thin and slim form factor.
For more options on charging your phone on the go, why not consult our article on the Top 5 iPhone Solar Chargers.
References