The Best HTC Evo 4G Leather Holsters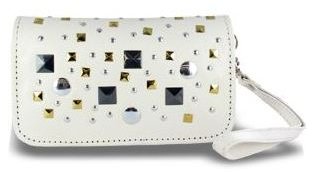 The HTC Evo 4G is still one of the best smartphones on the market, with a huge, amazing screen, lightning fast response times and the ability to tap Sprint's 4G data network. With all that going for it, you'll want to be sure that yours is protected at all times by some sort of case. If regular Evo cases just don't do it for you, and hard Evo cases aren't your style, you'll probably find something to like in this list of the best HTC Evo 4G leather holsters. These holsters keep the Evo 4G secure while still letting you slip the device out of the holster to use it.
Jewel Studded Premium Horizontal Leather Pouch
Sometimes, carrying around your new Evo 4G in a brown or black leather holster just isn't all that appealing. If you want to carry around your device with a little bit of flair, try this jewel-studded white leather pouch. The pouch is made from high-quality, premium leather and has a magnetic locking system, ensuring your phone is safe and secure. The pouch also comes with a carrying strap you can slip your wrist into, if you desire. Best of all, the surface of the white leather is covered in silver-and-gold-colored studs making the holster sparkle and shine from across the room. When you need to add some glitz to your Evo 4G, you can purchase the jewel-studded pouch.
Swiss Leatherware Bank Case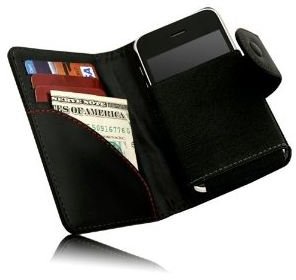 The Swiss leatherware bank case is more than just a way to store your HTC Evo 4G, it's a way to replace your wallet as well. The case is made from high-quality soft leather that is backed by an internal structure, giving the case a soft feel but making sure it won't bend or crease. The inside of the case is lined in felt, ensuring that your phone stays scratch-free as you slide it in and out of its pocket. On the opposite side of the case from your phone, you will find a number of slots designed to hold cash, ID and credit cards, making the Swiss leatherware bank case the only thing you need to carry around. The front of the case even has a small Swiss shield, which serves no purpose, but looks kinda cool. If you want to combine your Evo 4G leather case with a wallet, you can get the Swiss leatherware bank case.
Sandwich Carrying Case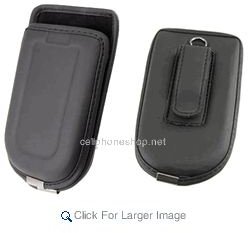 When you need a vertical leather pouch for your Evo 4G, but you want to avoid all the frills that come on other pouches, check out the sandwich carrying case. This simple case features two neoprene covers, that protect your phone from damage, and elastic sides, to hold your device in place. The top of the pouch stays open, allowing you to insert and remove your device with ease, and the back of the pouch features a belt clip and a small metal ring. There isn't anything fancy here, but if that's what you are looking for, you can get the sandwich carrying case.
John Deere Universal Vertical Camouflage Pouch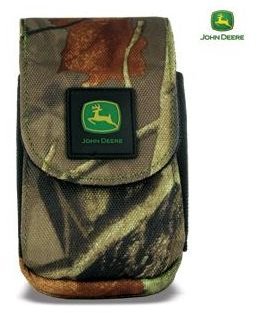 Show off your love for the great outdoors with this camouflage pouch for the HTC Evo 4G. This vertical case features two small pouches, one for the device and one for a small accessory, like a set of headphones. The back of the pouch features a high-quality metal clip that is sure to keep your device securely on your hip, and it also comes with a plastic clip to hang the pouch off of a belt loop. The pouch is camouflaged, making it the perfect way to hold your phone while you spend time in the woods or working on your property. If you need your Evo 4G to blend in against your camo pants, you can pick up the John Deere pouch.
Horizontal Pebbled Leather Pouch Case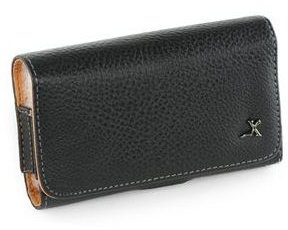 Sometimes, simplicity is the key. This simple horizontal case doesn't offer much more than a way to secure your Evo while on the move, but if that is what you are looking for, then it is a fairly perfect pouch. The case is made from high-quality genuine leather and stitched in white. Imperceptible magnets keep the flap closed and your phone secure, even if the case gets turned upside down. The outside of the case features a pebbled texture in the leather, making the case feel more secure in your hand. This case is made for someone who wants a no-frills horizontal pouch.
Vertical Leather Pocket Pouch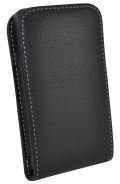 Almost every leather holster out there has a clip or straps on the back to allow you to secure the pouch to your belt. This isn't a problem, unless you have no need for the clips, then they just get in the way. This vertical pocket pouch is designed for people who want a protective layer around their HTC Evo 4G, but will still be carrying the device in their pocket. The leather pouch is stitched in white and features a soft interior that won't scratch up your device. The pouch also has elastic sides to keep the Evo in place. Best of all, there is nothing on the outside of the case, giving you the lowest profile available for a leather holster. When you get tired of snagging things on the belt clip of your current case, you can pick up the leather pocket pouch.
References