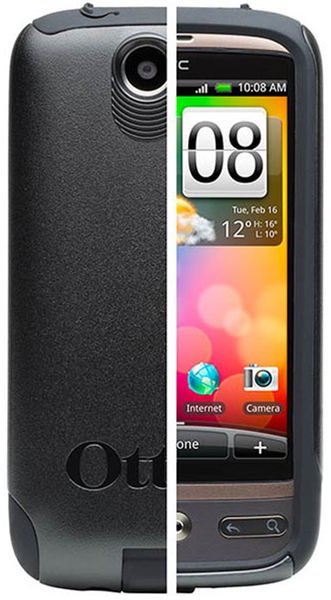 HTC's fortunes have soared as the Android platform has continued to grow and this is thanks, in large part, to excellent smartphones like the HTC Desire. For a full overview of the phone you can check out my HTC Desire review and if you're interested there's also an HTC Desire User Guide to help you get the most from the device.
Our focus in this article is protection. While the HTC Desire is a solidly built smartphone you'll still want to seek out a case. There are loads of HTC Desire cases on the market so it can be tough to find the right one.
In this round up we will cover different HTC Desire cases to cater for different styles and budgets and we'll kick off at the expensive end of the market.
OtterBox HTC Desire Commuter Series Case
There is a reason that OtterBox is such a well-respected name when it comes to smartphone cases. They make high quality products that deliver real protection. The only problem is that this level of quality comes with a premium price tag attached. This case provides access to all the controls and the touch screen of your HTC Desire. There are silicone plugs to cover your ports and an adhesive screen protector is included. The classic OtterBox combo of a durable silicone skin covered by a tough polycarbonate shell is a real winner.
This case is fairly stylish and it is the perfect balance – providing protection without adding too much bulk. The only problem with the design is that dust can sometimes get in under the screen protector, particularly if you are carrying the phone in your pocket. There have been a few reports of cracks developing in the cases but I think you'd need to drop it pretty hard for that to happen. In any event, the good news is your phone will be protected, and if the case is less than a year old it will still be under warranty. You can order one for $34.95.
HTC Desire Barely There Case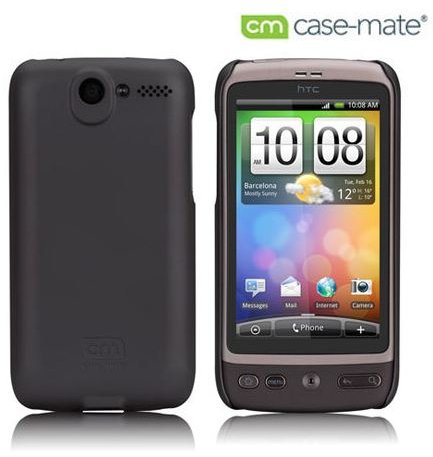 Case-Mate is another well respected name in the accessories industry and they also offer some HTC Desire cases. The Barely There Case comes in pink, white, silver or black and is designed, as the name suggests, to be as thin as possible. It is a thin plastic shell that offers access to all ports and controls, including the touch screen. It also comes with a screen protection kit. It fits the HTC Desire perfectly and despite the slim form it does offer decent protection, although if you expect to be really rough with your phone it might not be enough for you. For such a basic design you might feel the $19.99 price tag is a little expensive, but if a slim design is most important to you then you'll struggle to find a better option.
HTC Desire Monaco Aluminum Case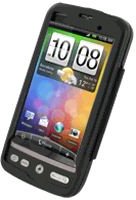 This case is crafted from anodized aluminum and there's a neoprene lining on the inside. It is designed to clamp securely around your HTC Desire and it locks into place. There are openings for the ports, controls and screen, so there's no problem using your phone while it is in this case. This HTC Desire case comes in a nice gift box and a belt clip is included. It provides decent protection from impact and it's not prone to scratches. On the downside, I'm not a big fan of metal cases as they can be uncomfortable in your pocket. The outer hinge is also a bit awkward, and I don't like the feel of this case when you are holding it. However, for fans of aluminum cases this is a good option, and it comes in black or silver. The recommended retail price is very steep at $39.95 but Monaco don't sell direct to consumers. You can pick it up for $24.95 at Wireless Ground right now.
GreyMobiles Executive Black Clip & Flip Case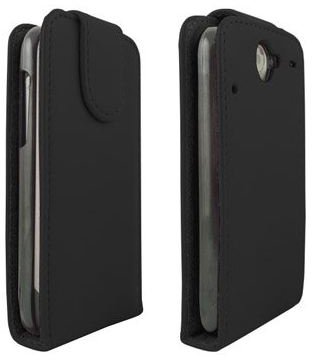 This is a great budget option for anyone seeking cheap HTC Desire cases. It is a flip open case with a soft lining interior and a magnetic closure. It doesn't cover the sides of the phone, so you have access to all the ports of your HTC Desire, and there is a cut out section for the camera lens. It also comes with a screen protector and was designed specifically for the Desire, so the fit is perfect. This HTC Desire cover won't offer top quality protection and you will have to open it in order to use the phone. It is also unlikely to last in the long term. So why is it on the list of top HTC Desire cases? The price is just £4.95 from Amazon.co.uk.
Amzer® Silicone Skin Jelly Case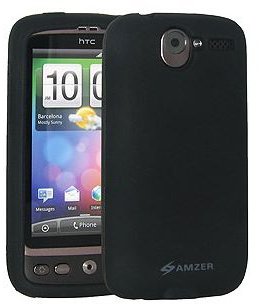 Silicone cases are easy to fit, they feel nice and provide extra grip, and they will offer some protection for your HTC Desire. The Amzer Jelly Case is perfect if you don't want your phone sliding off the dashboard when you drive. It won't attract dust or pick up scratches and the cut outs allow you to use and charge your phone without ever having to remove the case. For the average person, these cheap HTC Desire cases provide enough protection for everyday use. Although they cover the back and sides of the phone, they do leave the screen exposed. You can get them in a wide range of colors and they only cost $9.95.
Invisible Shield by Zagg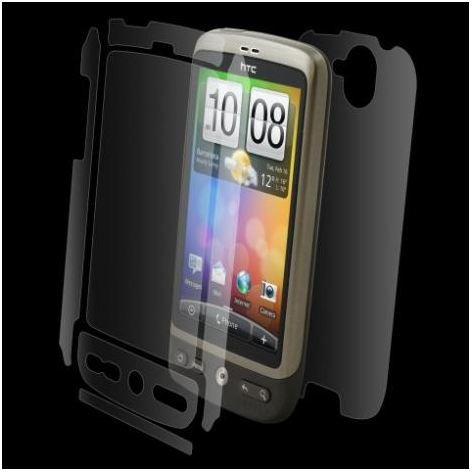 One of the most irritating things about mobile phone cases, is the fact they cover up the sleek design of your phone. It may have been partly the looks of the HTC Desire that attracted you in the first place, so perhaps you don't want to cover it up. Well how about the Invisible Shield then? Crafted from military grade material with self-healing properties, the Invisible Shield comes with a lifetime replacement warranty. It will ensure your phone doesn't pick up any scratches or marks. It isn't going to keep the phone safe from big impacts, but every day scrapes will no longer be a problem. The big drawback of the Invisible Shield is the installation, you really need to take your time and it's best to leave it alone while it dries and settles, which means not using your phone for several hours. Once it is settled it works perfectly, and it also reduces smudges and smears, but that installation process will be enough to put some people off. It costs $24.99 for the full body version or you could just opt for screen protection at $14.99.
Naztech Active Case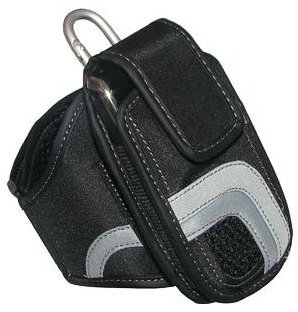 The final case in our HTC Desire cases round up is for the sporty people out there. If you like to go jogging or you work out on a daily basis, then you need a solution that allows you to take your phone with you. The Naztech Active Case is designed for exactly this purpose. It has an aluminum finished carabineer, an adjustable lanyard, a belt clip, and best of all an armband. You can take your pick, but for working out the armband is probably the best solution. The material breathes and flexes, so even in the heat of an extreme workout it remains relatively comfortable to wear. Velcro strips hold everything securely in place. It's not the most stylish option, and it won't offer impact protection for your phone, but for periods of intense activity it does the job well. You can buy one for $19.95.
Best HTC Desire Case
There is no doubt the best option for protection is the OtterBox Commuter Series Case. They actually offer an even tougher case (Defender Series) but it's even more expensive and bulkier to boot. The fact dust gets in under the screen protector is a real irritation though. The Barely There Case is worth the money – when you consider what you spent on the phone $20 isn't much of a stretch. If you do need to keep the budget down then the Amzer Silicone Skin Jelly Case is the one to buy. There are other cheap HTC Desire cases available for even less, but there's a reason they're cheaper and it's a false economy to go too cheap.
If you know of any other great HTC Desire cases then post a comment and tell us.
References and Images