Top 10 Best HTC Thunderbolt Accessories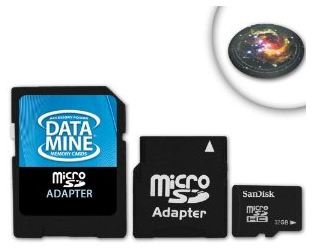 The HTC Thunderbolt is a beautiful device that offers enriching and exciting features. One way to make the experience with this phone more comfortable and efficient is to use HTC Thunderbolt accessories with great quality. Here are some examples of those good quality accessories.
Blazing 32GB MicroSD Memory Card with MiniSD and StandardSD Adapters
This MicroSD memory card is compatible with a range of HTC phones including the Thunderbolt. With 32GB of storage, it can contain several types of media files like photos, videos and different types of documents. Being in MicroSD format, it is compatible with a range of other non-HTC devices, which makes transferring and sharing files between devices easy and efficient. It can also support devices with MiniSD and StandardSD slots thanks to the included adapters. It has a physical write protect switch that prevents accidental deletion or overwriting. It is also protected by a hard casing, making sure that your valuable data will be safe and secure at all times.
Price: $99.99.
Car Vent Holder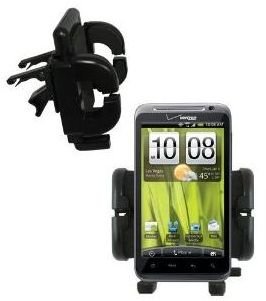 This holder is specifically designed to support and secure the form of the HTC Thunderbolt. It mounts easily on most kinds of car vents, giving you an easily accessible way to reach your phone. It has a no-skid and no-scratch design, making use of side retainers and thick rubber pads that makes sure that your HTC Thunderbolt stays in its place. Removing it from this holder is easy and quick, thanks to its side grip button. It is not only designed to secure your phone, it is also designed to prevent damage to your car vents even if you mount and remove it frequently.
Price: $24.95.
Seidio Spring-Clip Holster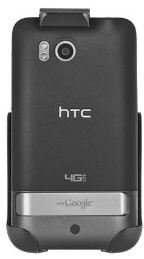 This spring-clip holster is specifically designed to hold the body of the HTC Thunderbolt. It provides a secure way for you to carry around your phone while minimizing scratches thanks to its felt lining and its face-in design. Even if it holds your phone securely, you can easily remove or access it thanks to its spring-clip design that gently lifts when you want to get your phone. It has a design that lets you easily access the different function keys and connectors of your phone, letting you use it without removing it from the holster.
Price: $25
If you prefer a cover or case to keep your Thunderbolt safe and sound, then check out our article on the best HTC Thunderbolt cases.
Power Package: Car Charger, House Charger, USB Data Cable Charger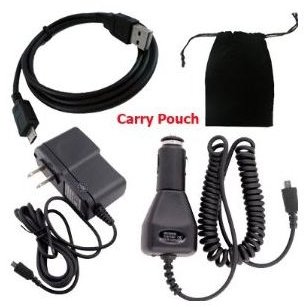 This collection of chargers includes a wall charger, a car lighter port charger and a USB sync cable that also charges. It's a complete solution for your charging needs. This means wherever you are, as long as there is a car, a computer or a wall socket near you, will always have the ability to recharge your phone's battery. This charger kit is very useful for people who always travel or who use their phone a lot, requiring a constant need to recharge their phones.
Price: $9.99
GTMax Silver Touch Screen Stylus Pen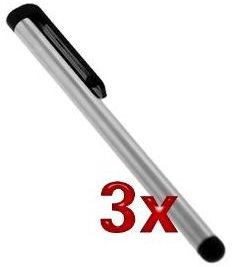 For people who do not want to smudge the screen of their touchscreen phones, a stylus is a good option. This one has a soft rubber tip that prevents you from inflicting scratches on the touchscreen display of your HTC Thunderbolt.
Price: $5.99 (Pack of 3)
3.5 mm Stereo Splitter Adapter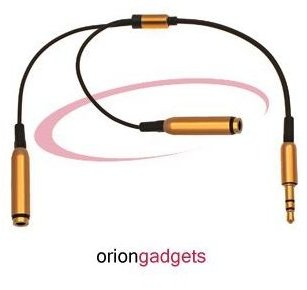 One of the cheaper HTC Thunderbolt accessories you are likely to find useful, is this splitter that lets you attach two pairs of headphones or two speakers. It essentially creates two output streams for audio from only one output socket. This is perfect if you and a friend want to listen to music together, privately using headphones, or if you want to use two speaker systems for a loud listening party. Splitting the jack into two does not bring down the audio quality. Actually, it improves listening experience thanks to this splitter's gold plated design.
Price: $9.39
Gomadic Clean-n-Dry Waterproof Protective Case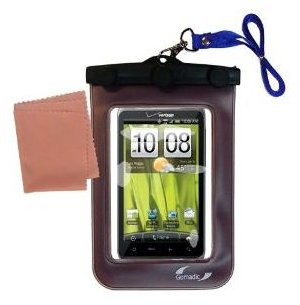 If you're going to the beach, your favorite pool resort, outside during rainy season, or if you simply want to use your HTC Thunderbolt inside the bathroom while you're taking a shower, this waterproof protective case will definitely come in handy. It is made of strong anti-scratch waterproof material that has UV protection, so you are ensured that it is always protected in all kinds of outdoors environment. Being an ultra clear transparent soft case, you can comfortably use it even in wet situations. If you drop in the pool, don't worry. It is designed to float.
Price: $24.95
Coiled USB Cable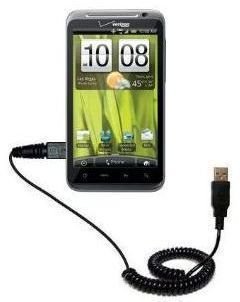 As with most kinds of USB data cables, this one not only provides a high speed way of transferring data between your phone and your computer, it also charges your phone. Aside from providing two services at once, it is also designed with a high current carrying gauge internal wire, that allows for better speed in data transfers and faster charging times. Its coiled cable makes it easy to manage for transport or storage, plus the tips can be removed so it can be used in other devices.
Price: $17.95
ReVIVE Series Solar ReStore 1500mAh External Battery Pack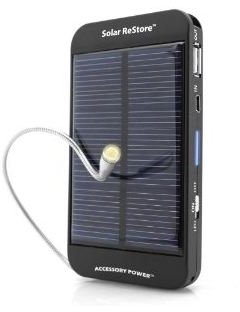 Having an wall charger or a car charger with you at all times may not be enough to keep your phone from dying, especially if there are no wall sockets or cars nearby. This external battery pack is an accessory that lets you charge your HTC Thunderbolt using the power of the sun, thanks to its solar panel design. This solar solution can provide enough power to provide a full charge to your phone, which means you can stay outdoors for extended periods of time, without having to lose battery power. This also comes with a USB charging port that lets you charge your phone via USB connection.
Price: $29.99
Amzer Mirror Screen Protector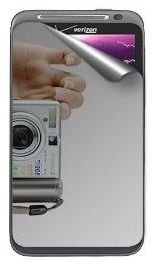 Like most screen protectors available, this accessory protects your HTC Thunderbolt's screen from scratches and dirt. But unlike other screen protectors, this one doubles as a mirror when the screen of your phone is shut off. Its thermo-plastic polymer design is easy to apply to your phone's screen and it does not minimize visibility when the phone's screen is turned on. If you are someone who loves to look at their image every once in a while, this dual purpose screen protector is a must in your HTC Thunderbolt accessory collection.
Price: $9.95
Conclusion
Before you set out to purchase these accessories for the HTC Thunderbolt, do take note that the phone itself won't be available until February 24th, 2011, so more accessories are likely to be released in the near future - keep checking back for updates.
References and Image Credits
Amazon - https://www.amazon.com
Techykid - https://www.techykid.com/2370/verizon-htc-thunderbolt-release-date-confirmed-on-february-24/
All images courtesy of Amazon.com