Heavy Duty BlackBerry Cases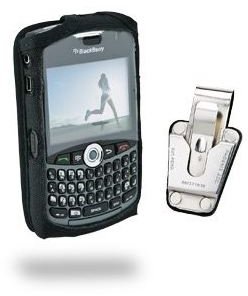 BlackBerrry Bold 9000 RUGGED Heavy Duty BlackBerry Case with Clip (5 out of 5)
This tough BlackBerry case is well described in the name of the brand which is "Rugged". It is made up of ballistic nylon of durable quality with a clear vinyl screen covering. The keypad area is left open so that typing can be done with ease and it is equipped with a belt clip made of steel to attach it to your person when you are on the go. You can swivel the phone while it is in the clip or detach it easily with the mechanical release system.
You can purchase the Rugged BlackBerry Bold Case along with the clip for $29.95.
BlackBerry 8350i Curve RUGGED Case with Belt Clip (5 out of 5)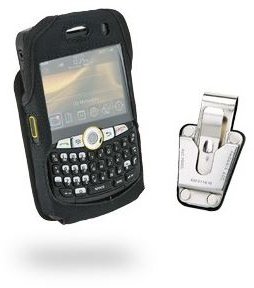 This BlackBerry Curve case is another one of those tough BlackBerry cases designed and developed by the RUGGED™ brand. This case is designed for the BlackBerry 8350i Curve phones. These heavy duty BlackBerry cases are also made from tough ballistic nylon, as with the previously mentioned case, and also feature a clear vinyl component to cover the screen. This particular BlackBerry case is made with the same durability as the one above and also features the steel belt clip.
You can also purchase the BlackBerry 8350i Curve Case along with the clip for $29.95.
CRYSTAL / BLING (Skull design) Hard Cover Snap-On Protector Case for Blackberry Curve 8520 8530 (4 out of 5)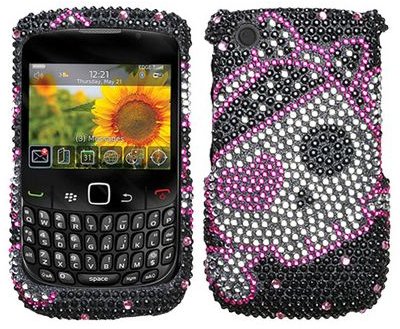 The Crystal Bling BlackBerry cases may not seem like tough BlackBerry cases right off the bat because of their exotic designs. But they are actually protector cases that help to prevent your BBs from acquiring dents and scratches. They are snap on cases that can be used with the BlackBerry Curve 8520 and 8530. They are easy to install and uninstall, but you wont need to remove them because all ports will still be accessible.
You can buy the Bling heavy duty BlackBerry cases for as low as $8.47.
Premium 2D Silver and Purple Flower Design Snap-On Cover Hard Case Cell Phone Protector for Blackberry Curve 8520 (4 out of 5)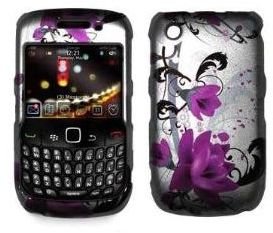 These 2D heavy duty BlackBerry hard cases can be used both with the Curve 8520 and also the BlackBerry Tour 9630. The case is a snap on hard cover protector case that is made to provide excellent protection from scratches, dust and dents. There is never a need to remove this case unless you need to access the battery or the memory card because all other ports including the charger port and USB ports are still accessible. Not only are these tough BlackBerry cases but they're highly fashionable too.
The BlackBerry 2D Cases can be purchased for as little as $9.32 each.
OtterBox Impact Case for BlackBerry Curve 8520 (Black) (5 out of 5)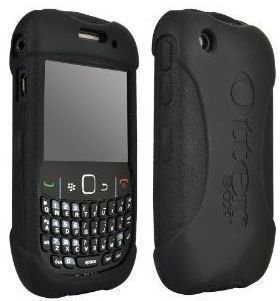 This is another heavy duty Blackberry case. The OtterBox Impact cases are great for regular protection from everyday use. It is a silicone case that has an inner coring to dispel impact away from the device, thus protecting against bumps and shock. It is also equipped with a screen cover to prevent scratches. These OtterBox BlackBerry Cases are not as bulky as some of the other OtterBox cases, but still provide sufficient protection for your device.
You can Purchase OtterBox Impact cases for as low as $12.26 each.
OtterBox Defender Case for BlackBerry Curve 8300 Series (Black) (5 out of 5)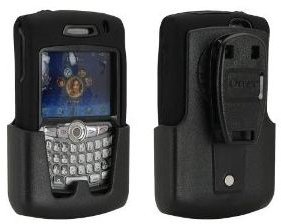 OtterBox Defender cases are highly rated among heavy duty BlackBerry cases because their main purpose is to provide top notch protection. Some OtterBox tough BlackBerry cases wouldn't exactly be called pretty or even trendy, but they blow everyone else out of the water when it comes to protecting your BlackBerry.
While the cases provide excellent protection, they still allow you to access your phone's features even though all surfaces are covered. This case is also equipped with a swivel belt clip for carrying purposes while protecting your phone from bumps, scratches and dropping. These heavy duty BlackBerry cases are made in three parts including; the clear membrane to protect the screen and keyboard, the polycarbonate shell to protect all other surfaces and the silicone skin to ward off shocks and bumps.
You can actually purchase OtterBox Defender cases for as low as $13.03 each.
Pink Diamonds Protector Case for BlackBerry Curve 8520 AT&T / T-Mobile (4 out of 5)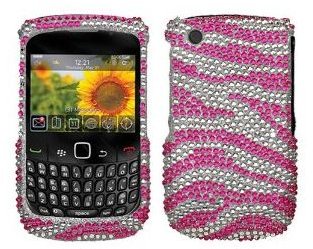 Pretty and durable – the Crystal Diamond Protector Case is specifically designed for your BlackBerry Curve 8520 and is actually made of top class plastic. It is a protector case that is made to provide maximum protection for your phone along with a classy youthful design. Simulated diamonds and gems stud the surface of the case which may actually make it a bit slippery for some users, but most users have agreed that it protects their phone from bumps and scratches even if it falls.
Purchase the Pink Diamonds Protector BlackBerry case for as little as $5.74.
NEW White Clear Transparent Hard Protective Case Cover for BlackBerry Curve 8330 Verizon Sprint (4 out of 5)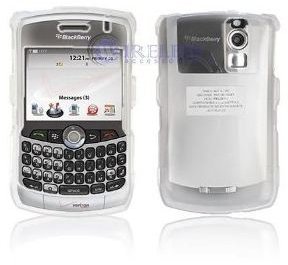 If you are really on a tight budget but still want to protect your BB investment, then this is probably the best choice for you. It is not as tough as some of the other heavy duty BlackBerry cases mentioned in this article, but it will help to protect your phone from the wear and tear of everyday usage. It fits the Curve 8330 perfectly and helps to protect it from shock if dropped. It is made from a high quality plastic material with a stylish design.
You can buy the Transparent Hard Protective BlackBerry case for less than $1.00.
Premium Designer Hard Crystal Snap-on Case for Blackberry Curve 8330 Case - Cool Pink Butterfly Print (4 out of 5)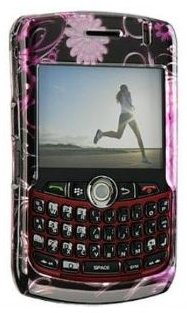 This is one of those tough BlackBerry cases that is interchangeable among many different BlackBerry models. It is compatible with the BlackBerry Curve 8300, 8310, 8320 and the 8330. These Designer Hard Crystal Snap on cases are stylish but still durable and provide adequate protection for your device. You will still be able to access your ports while helping with the fight against bumps scratches and shock.
These Premium Designer cases can be bought for as little as $7.95.
Premium Black Rubberized Hard Crystal Snap-on Case for the Blackberry Storm II (4 out of 5)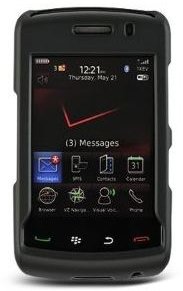 Not many heavy duty BlackBerry cases are made for the BlackBerry Storm, but this premium rubberized snap-on case does offer a lot in terms of BlackBerry Storm protection. It thwarts scratches and scuffs while helping with the prevention of shock. The device is still fully functional with the case intact and the stylish designer print completes the deal.
Buy the Rubberized Hard Crystal Snap-on case for as low as $1.13.