Magic in Device Chargers and Batteries from MacWorld 2011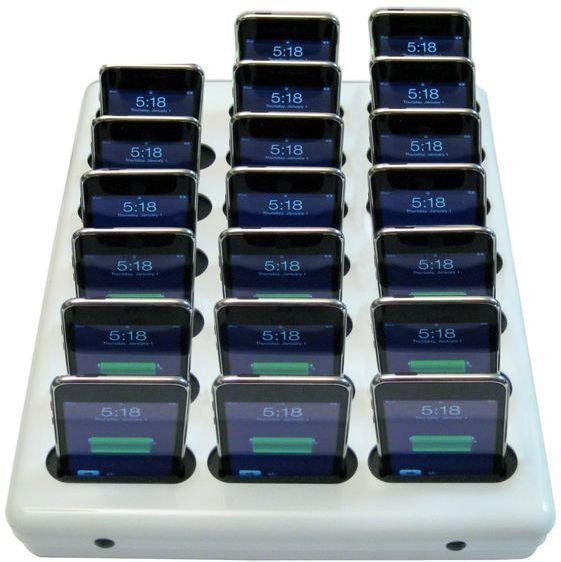 Intro
There are two accessories absolutely indispensable to iDevice users – cases and chargers/batteries. Chargers are, by far, the more vital: a case helps protect your iPhone, but a charger or battery keeps it going. Here's a range of device chargers (and external batteries) for various different uses – from multi-sync to portable chargers to charger cases – from the MacWorld 2011 Expo:
Parat ParaSync - Charge and Sync 20 iDevices in 20 minutes!
For museums, schools, enterprise, and fanatics with 20 iDevices wishing to charge and sync all of them without a mess of cables:
Parat ParaSync – Plug&Go bulk syncing of iPods and iPhones lets you charge and sync up to 20 iPod or iPhone devices from iTunes in about 20 minutes (2GB data, dependent on USB2 speed). Place each iPod in its own slot, on a 6.5 lb, 12.75" by 10.5" by 2" form factor – the entire thing looks almost like a display stand selling iPod's like candy. (Caveat: you can't mix and match charge-sync devices! Pricing available on quote only).
IDAPT 4 Universal Charger - Multi-Device charging made elegant!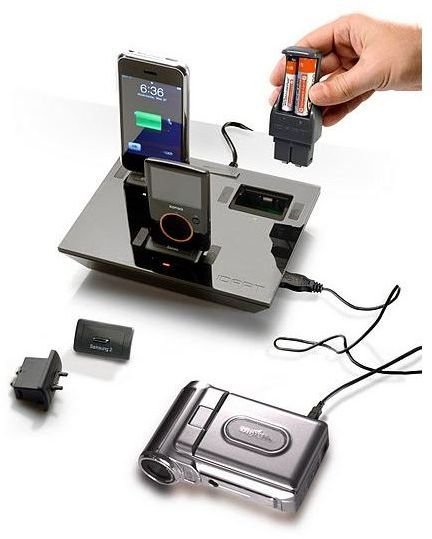 For home use, where everyone in the family has a different device:
IDAPT 4 Universal Charger – Plug&Go charge any 4 devices by using exchangeable adapters: three on the stand, and one via USB. It's also good for individual use – charge your iPhone, Android, and BlackBerry (or Nokia) at the same time, neatly without cord-tangle, with the fourth USB connector open to juice up your portable charger. 6.65" by 5.47" by 1.26" form factor, with "worldwide compatibility" on removable device charger tips. Looks like a chic techno desktop statue – and makes for a sleek coffee table piece.
Price $59.99.
Joos Orange - Extremely durable solar charger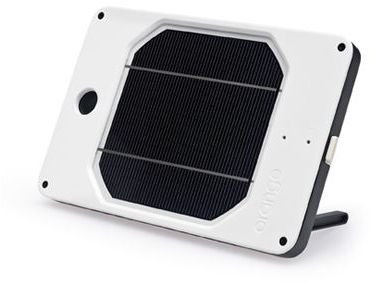 When outdoors and your device is out of batteries, try a solar charger:
Joos Orange – Portable Solar Power that works even in dark-ish light rain. Suntan-mirrors help increase its receptivity. Water-proof, weather-proof, drop-proof, charging at "1 hour in the direct sun = 2 hours 3G talk time" with a 5,400mAh replaceable battery pack. Outdoors backpack-friendly 1.5 lb, 8.58" x 5.77" x 0.79" form factor that you can take camping, swimming, or even in the bathroom – where you can drop it in the toilet, and it'd still charge!
Price $139.95.
Check out our round up of iPhone solar chargers.
HyperMac - External batteries that can power a MacBook - and everything in between!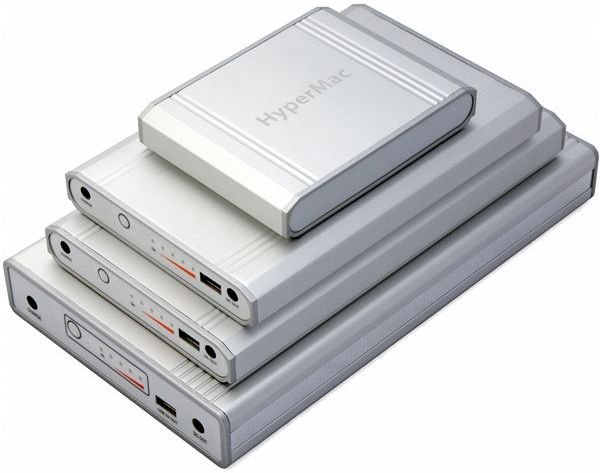 For use any time, anywhere – a portable battery in a cool-to-the-touch case:
HyperJuice (HyperMac) – A range of portable external battery sizes that can power your iPod, iPhone, or any USB device, all the way to your MacBook. From the Micro 3600 mAh (18Wh) to the Mini 7200 mAh (36Wh) to the big ones at 222Wh that plug into a 12~15V airline adapter to power your 17" MacBook Pro for up to 30 hours. The larger ones can power the smaller ones, several times over. Available in all the colors of the rainbow and more.
Price ($69.95 Sale) $99.95 to $449.95.
An iPhone case that's also a portable battery…
For the best of both worlds, how about a case that comes equipped with a portable battery: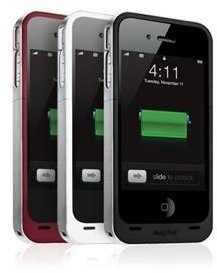 mophie – USB charger-cases available for iPod Touch and all iPhone's. The larger edition is available in Cyan, Magenta, Yellow, and Black, while Air (shown) is available in Red, White, or Black. Fitted volume and mute buttons on the iPhone 4. Smallest form factor is the "juice pack air" at 5.07" by 2.51" by 0.68" at 2.5 oz, capable of 1500 mAH. Price ($59.95 Sale) $79.95.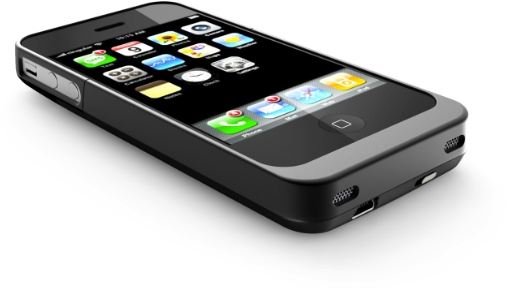 Boost Case – USB charger-cases available for the iPhone 3/3GS, 4, the iPad, and iPod Touch. Four blue LED indicators show battery and charge level. Like the Ford Model T, it's available in all the colors of matte black. The Boost Case for iPhone 4 is 5" by 2.4" by 0.69" at 2.24 oz, capable of 1700 mAh. The Boost Case's open fit for the side volume and mute buttons mean that it will fit the new Verizon iPhone 4, whose mute switch is shifted ever so slightly. Price $59.95.
A folio iPad case that's also a portable battery!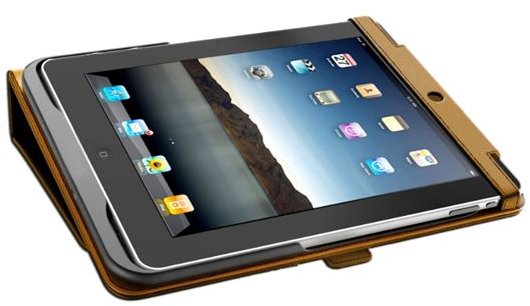 Boost Case for the iPad – While the iPad's magical 10-hour battery life may be enough for a single workday on-the-go, having a folio case with a portable battery means you can pull that all-nighter without being tied to a plug.
Fits the iPad like a thick folio case (under 2 oz), that you can open and prop up the device with. 5400 mAh. Price $129.95.