Best iPhone Docking Station for Movies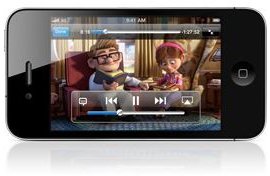 iPhone Docking Station for Movies
The capabilities of the iPhone are vast, and one great feature to take advantage of is the superior screen quality, the iPhone 4 has the highest resolution of any current mobile phone, which makes watching movies on the iPhone a real pleasure.
That said, there are literally hundreds of iPhone docking stations but surprisingly few are capable of horizonal viewing. To save you the hours of research we've done the legwork for you and here we have the top iPhone docking stations for movie viewing for a range of budgets and requirements.
H1 - Touch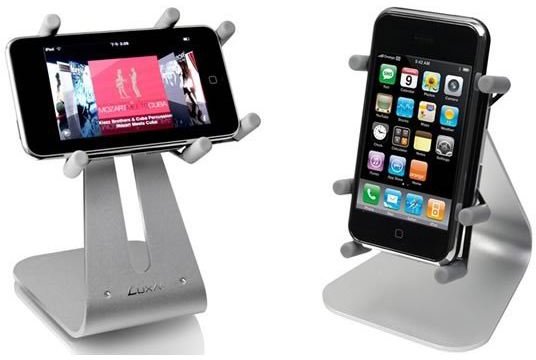 If you're looking for a dock to station your iPhone as a media stand but without the fancy speakers and bulkiness of most, the H1 - Touch is ideal. Made of durable aluminium and crystalized Swarovski elements it is extremely flexible and sturdy. It is also unlike most of the similarly styled docks which can be top heavy and easily knocked over when using the touchscreen. It is held in place by the rubber docks and if you have your iPhone in a case you shouldn't need to remove it to dock. With the way it's held you're also able to use headphones or connect to an amplifier while watching movies and you can have it connected to a charger as well.
You can purchase this for $32.99 from Amazon.
iHome iP41 Rotating Alarm Clock Speaker Dock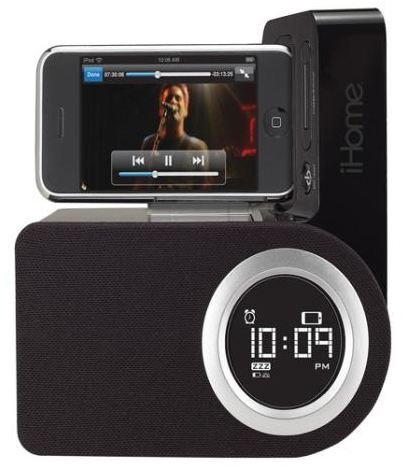 Suitable for iPhone 3G, 3GS, 4 and iPod, the iHome IP41 is definitely an innovative design, allowing the iPhone screen to be viewed vertically or horizontally, the dock itself rotates for this feature with the compact design allowing for easy docking and viewing.
The sound uses Reson8 speaker technology and EXB sound circuitry for extra bass power and, although not cinematic, serves its purpose well with a good quality and range of volume. If you want an all round docking station which can take advantage of various features, including movie viewing, at a reasonable price this is the one for you.
The additional features include optional remote control, line-in jack to listen to other audio devices and the clock feature to be done with the annoying iPhone default sounds and wake to your choice of music or video which can fade in and out for sleep/wake times.
You can purchase this for $89.95 from Apple Website.
Intempo Phono Docking Station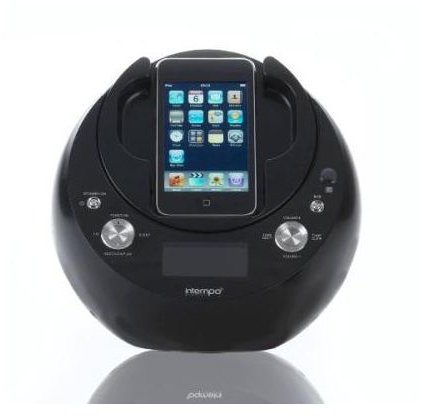 In its ball shaped glory in a choice of black or white, the Intempo Phono was one of the first of its kind, setting the bar for horizontal viewing of the iPhone. Whilst from such a small, affordable device the sound quality is never going to be the best, it is also far from the worst and features great clear and crisp acoustics with its built-in speakers and subwoofer as well as power output of 20W and digital EQ for altering treble and bass settings manually. While it is playing, if your phone rings, it will stop the movie or music and answer the call, cutting out TDMA static noise.
The boxed in remote control allows 90 degree adjustment for the iPhone screen to be viewed vertically and horizontally for optimised movie viewing.
Other features include iPod compatibility, built-in FM radio with 20 presets and alarm functionality.
You can purchase this for $150.00 from Intempo stockists.
Logic3 iStation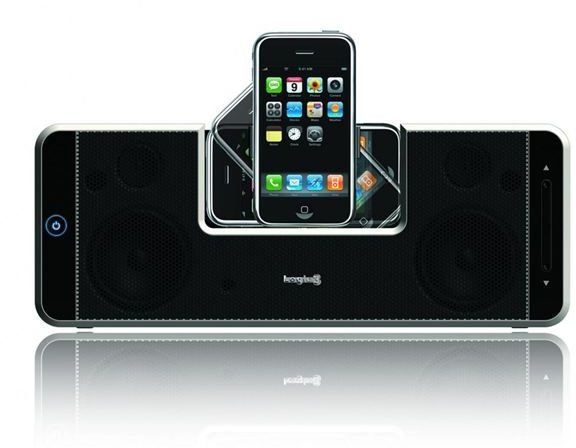 With its sleek, stylish and compact design the Logic3 iStation, for iPhone or iPod, is capable of both vertical and horizontal viewing and operates using an AC Adaptor or 4 x AA Batteries. Unlike most docks of its kind, the iStation features a composite-video output, meaning you can connect the system to your television and listen via the dock's speakers which are 10W audio output with a 1x50mm Mid range driver and 1x22mm tweeter driver for each channel with a good range of adjustable volume using TDMA noise suppression technology. The included remote control also allows you to navigate through your iPhone's menus which is a great handy addition.
Other features include power saving sleep mode, 3.5mm stereo Llne-in for playing other audio devices including iPod shuffle, MP3, or CD players.
You can purchase this for $99.99 from Amazon.
JVC XSSR3 Personal Surround Sound Dock

With such a unique look the first impressions of this iPhone dock were good, there are basic controls along the front of the base unit and it also features an infra red remote control. Using an AC adapter the dock itself accommodates vertical and horizonal viewing and sports Dolby virtual surround sound. This was a bit of a strange thing to market as there are only the two speakers along the front, but the reason is evident in the sound quality which is excellent. There are two types which you can flit between, clean, crisp sound great for music listening and when the surround sound is selected there is the illusion of a wider sound field, perfect for movie viewing. It is evident that JVC put a lot of research and thought behind this dock and the result is the best sound we've heard for movie viewing so far!
The dock itself is compatible with iPhones and iPods.
You can purchase this for $115.00 from Amazon.
We hope this has helped you in your search for an iPhone movie docking station, if you have any that you would recommend just leave a comment.