Top 5 iPhone 4 Gadgets That Are a Bit Different to the Norm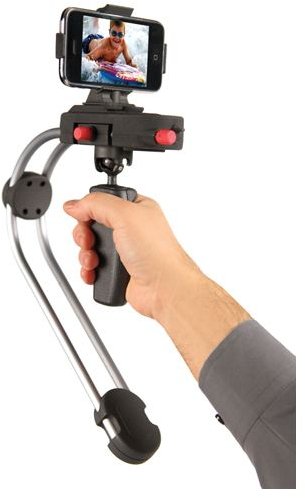 Steadicam Smoothee
Definitely not one of your regular iPhone 4 gadgets, the Steadicam Smoothee is for iPhone owners who want to create primo videos, with no shakiness included. Even walking downstairs or through crowds presents no challenges for this little guy. Although it is based on the same technology that Hollywood filmmakers use, this one is a fraction of the price, and produces excellent results to boot.
It is small and light, and extremely easy to operate. As well as the mini "rig", the Smoothee also features a quick release iPhone mount, so you can use direct handheld operation in an instant - this mount also acts as a stand for your iPhone 4, so you can show off the brilliant film you've made in style. Or, for the more camera-savvy iPhone users out there, it also gives the option of attaching the mount to a standard tripod.
At 200 dollars from Amazon, it certainly isn't an inexpensive gadget for your iPhone, but it definitely is one of the best.
12X Telescope with Hard Case

This is one gadget for iPhone 4 that as well as being useful for its intended purpose, is actually multipurpose too. After putting your iPhone into the hard case, you can then slide the telescope attachment easily in front of your iPhone camera, using the pre-installed brace that is attached to the case. The results are pretty amazing too, and of course, since it uses your camera, you can effectively use the telescope as a zoom lens too. The manufacturer recommends using it for matches, concerts, or taking photos of difficult to get close to objects, such as animals at the zoo. There is no mention of night-time viewing being a possibility, which I would say is the only downside to this otherwise fabulous product. The focus adjustment is manual, but easy to control, and this particular version comes with a stand, so you can get steady shots of your zoomed in subject too.
The 12x telescope is a highly reasonable 40 USD from USBfever, although there are cheaper options for lower spec telescopes.
IN YOUR FACE Viewbase Flexible Holder for iPhone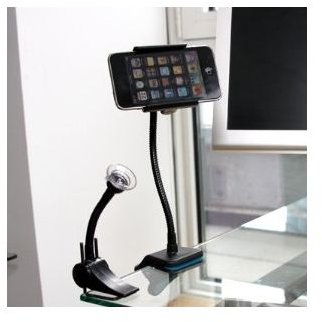 The iPhone is obviously not just a phone, it is a complete gadget in its own right, so iPhone 4 gadgets should complete the experience, without ruining the phone's looks or usability. A gadget unlike any other for the iPhone market is this IN YOUR FACE flexible holder. Not only does it hold your phone perfectly, it can be clamped onto almost any surface (up to 2 inches wide) and is super flexible. The flexible arm is much the same thing as you see on desk lamps, that can be bent around and moved to exactly where you need your phone the most, giving you 360° viewing. The top section that holds your phone is spring loaded, so you can retrieve your phone quickly when you need to, and it should even suit iPhones with a cover. Ideal for keeping in touch in the office, clamped to your night-stand, or taken on the road when traveling.
Available from Amazon.com for under 30 dollars.
Posimotion Helix Gaming Grip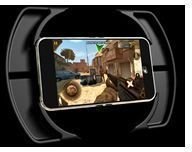 Being associated with the biggest App Store, the iPhone has a huge capacity for being a great gaming device, as well as its other fine features. With this in mind, gaming gadgets for iPhone 4 are relatively thin on the ground, and good ones even more so. Although the Posimotion Helix Gaming Grip looks a little stark and rigid, it actually offers a very comfortable gaming experience. The phone sits in the cradle comfortably, but is still easy to retrieve when your gaming session is over. The design makes it ideal for driving games, flight simulators, and action games, although as most iPhone games come with some form of movement control, I would suggest any game would be more easily played using this gadget. The big advantage that the Posimotion Helix has over other similar products is the ability to hold your iPhone 4 in either landscape or portrait mode, so it will definitely be ideal for any game you care to choose.
At 20 dollars from Amazon.com it's a very good buy for gaming iPhone users.
Thought Out PED3 - "Alien" iPhone Stand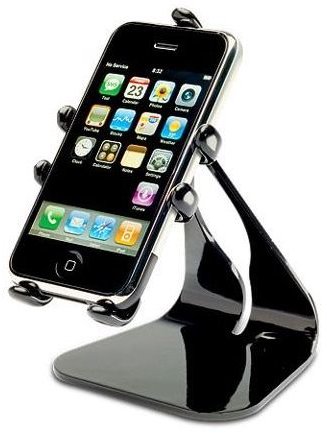 You don't get a much more futuristic looking gadget for your iPhone than the PED3 stand, that's for sure - this contraption wouldn't look out of place in a scene from any science fiction movie you care to mention. Its high-tech, alien looks aside though, the Thought Out Ped3 iPhone stand, is a great piece of kit, for when you want to give your phone a rest, and do it in style. Unlike most other stands, the PED3 comes with the added advantage of being able to move your phone to be held in either portrait or landscape mode. It is perfect used on your bedside as an alarm clock, and those alien arms contain a certain degree of flexibility that means you should be able to leave your iPhone case on at the same time as using the stand.
You can get your hands on this alien stand for a little over 30 USD from amazon.com.
While there are loads of great accessories for iPhone 4, not all of these will satisfy the gadget junkies amongst us. These gadgets for iPhone 4 offer something a little bit different, to keep even the hardened gadgeteer happy.