Pantech Laser Review
The Pantech Laser is a messaging-oriented device with its slide-out QWERTY keyboard and messaging and social networking apps. The Laser smartphone features a unique and attractive interface and body design and has incorporated a 3 megapixel camera, GPS, 3G network speeds, Bluetooth and even a music player.
Design (5 out of 5)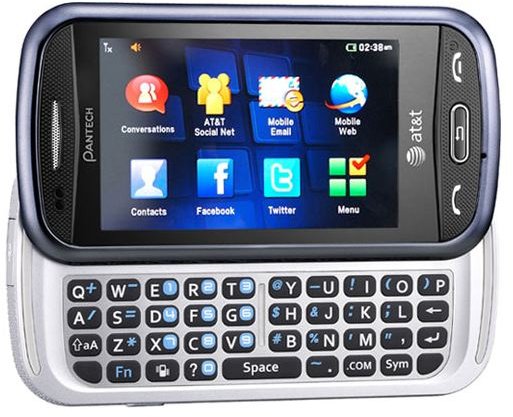 The Pantech Laser is as marketed, a very slim device measuring 4.45 by 2.28 by 0.4 inches long, wide and thick, respectively. It is comparably slimmer than other slider and candy bar devices and weights only 4.59 ounces. The Laser has a very sleek and lightweight design with rounded corners, a textured surface and stippled aluminum band around its circumference for a strong grip.
The Pantech Laser features a bright 3.1 inch AMOLED resistive display which supports 262K colors and has a resolution of 480 by 800 pixels. Slight pressure needs to be applied to resistive screens but the Pantech Laser transitions smoothly from one menu to another without much lag. In addition, the Laser features a touch calibration option, sound feedback and vibration for customizing how quickly the display reacts and registers touch, which improves user accuracy quite a bit.
The Laser also features a virtual keyboard with Graffiti-like handwriting recognition technology for quick typing and shortcuts to recently dialed and called numbers and speed dial numbers. The Graffiti-like handwriting recognition technology can also be used with a Drawing Commander application that allows users to launch applications by performing various finger movements across the screen. Drawing the letter 'a' will bring up the Address Book and 'm' brings up the Music Player.
Beneath the Pantech Laser's display are several hardware buttons: the Send/Answer, End/Power and Clear buttons. On the spine of the device is a screen lock key and volume rocker while on the top is a Micro-USB charging jack. The camera's lens is housed on the back. The QWERTY keyboard slides out from the left spine of the device and instantly changes the screen's orientation to landscape mode. This mode features eight messaging-oriented shortcuts such as Facebook, Twitter, the contact list, Web browser, text messages, Mobile e-mail, AT&T's Social Net and the main menu.
User Interface (5 out of 5)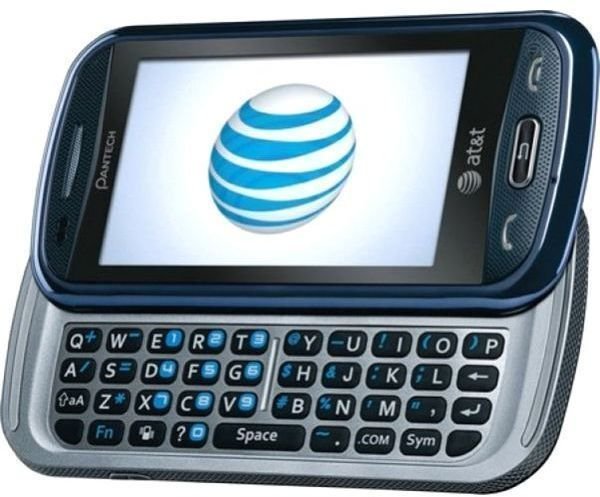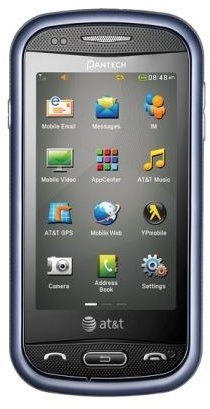 The Pantech Laser features 3 home screens which swipe from left and right of the main standby screen. There is the main welcome screen which houses the clock, date, service level and battery meter, another screen for favorite applications and the last for favorite contacts. The transition between the three screens is a smooth 3D swivel effect. Each additional screen can be customized by pressing an 'Add' button. On each home screen is a fixed shortcut bar which houses the phone dialer, contact list, messaging link and main menu icons. The menu interface is a detailed list of available applications spread across three screens.
Features (5 out of 5)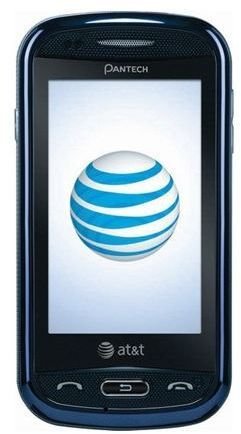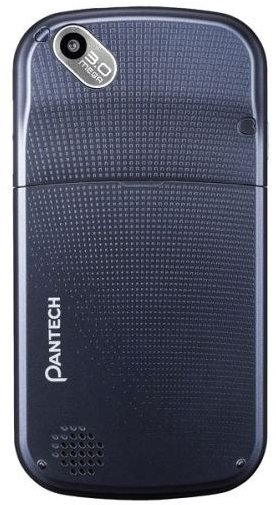 The Pantech Laser features a phone book which can hold up to 1,000 entries and has space for six numbers, six e-mails, IM username, three street addresses, company name, birth date and more for each contact. Each contact can also be assigned to a group, ringtone and photo. The device also features speakerphone, vibrate mode, calculator, world clock, sketch pad, stop watch and more.
The Pantech Laser is a messaging-oriented device and as a result features SMS and MMS messaging and threaded messaging support. IM applications such as Windows Live, AIM and Yahoo are also included as well as support for mobile e-mail. Users can choose to connect their Yahoo or Gmail account to AT&T's Mobile Email app and can also insert their own POP/IMAP settings. It also includes several social networking dedicated apps including Twitter and Facebook and an additional AT&T Social Net app which can be used to access these features as well.

The Laser supports AT&T's 3G network which supports access to a list of broadband services from AT&T such as their Mobile Video, Music and video streaming services. The AT&T Music application can be used to gain access to, purchase and download music directly from AT&T and can also be used as a radio as it gives users access to 40 commercial-free stations, songs and lyric match services and several unlimited personal radio stations. The music player has the usual shuffle and repeat options, playlist features and supports WMA, AAC and MP3 file formats.
Lastly, the Pantech Laser has a 3 megapixel camera which takes excellent photographs and features several options including: five resolutions, five white balance toggles, four color effects and several quality options. In addition, the camera has a self timer, smile detection software, self portrait and panorama modes and 8 times zoom.
Performance (4 out of 5)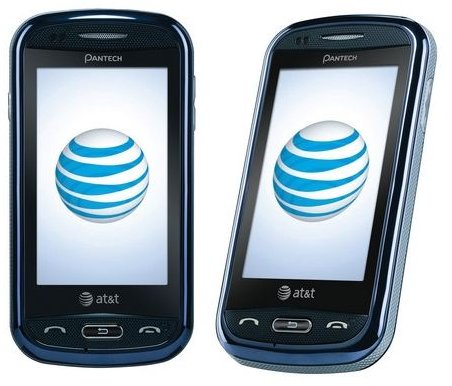 The Pantech Laser has an exceptional call quality with noise reduction technology and minimal static and dropped calls, thanks to the vast AT&T network. The battery life of the Laser will last each user up to 14 days on standby and 5 hours of talk time.
Verdict (5 out of 5)
As a messaging device the Pantech Laser is ideal. Its slim and compact build, QWERTY keyboard and extensive messaging-oriented and entertainment applications push this device to the top of the budget smartphone list. For only $99.99 this phone can be purchased from wireless.att.com.