Kyocera Neo Review for the Prospective Buyer
Design (5 out of 5)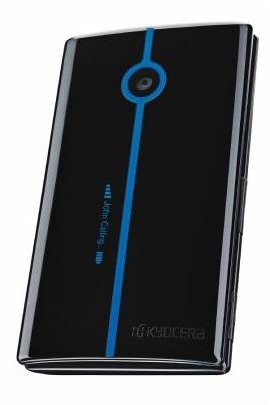 The Kyocera Neo is a slim device measuring 3.5 inches long, 2.0 inches wide and 0.7 inches in depth. It weighs approximately 3.2 ounces and features a shiny front panel with a mirror-like finish. It is slightly tinted and hides its thin exterior display well. It is a very stylish device. The Neo features an accent line of neon blue that lights up when the phone is opened, closed or charging and can be turned off in the settings menu. It is essentially a blue strip with a small circle at the top end of the phone for the camera's lens. This unique feature makes for a futuristic look.
The hidden 16x104 pixel OLED screen is found on the front of the device, vertically placed beside the blue light strip. It is hidden due to the tinted front display. It is an nice addition to the phone as it shows incoming calls but while on standby users will have to choose whether they want it to display the time and date or the battery meter and signal strength. This small hidden display cannot show both.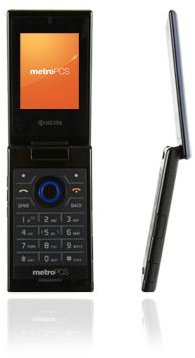 Around the edges of the device you'll find the camera shutter button, volume rocker, microUSB charger port and 2.5mm headphone jack. The device opens thanks to a reverse hinge. A reverse hinge simply folds the front flap behind the rear face when it is opened. This type of hinge promotes a greater level of usability. The internal display measures 2.2 inches and features a 240x320 pixel resolution which supports 262K colors. Underneath the display are the navigational buttons which consist of a circular toggle with an OK button in the center, two soft keys, Talk and End/power buttons, dedicated speakerphone button and a Back button. The buttons on the keypad and navigational array are all flat with raised ridges around each key's corner which still makes it possible to dial and text by feel on this Kyocera phone.
User Interface (4 out of 5)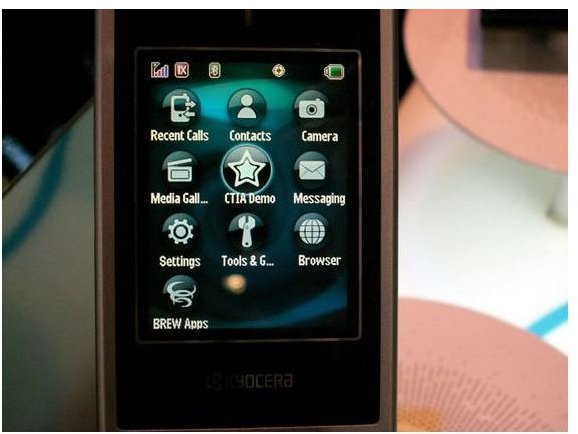 The main menu is in a grid pattern of nine colorful and vibrant icons. The standby screen shows the time, date, battery level and signal strength and two text options which correspond to the soft keys on the navigational array.
The wallpaper and screensaver can be customized and the icons within the main menu can be rearrange
Features (4 out of 5)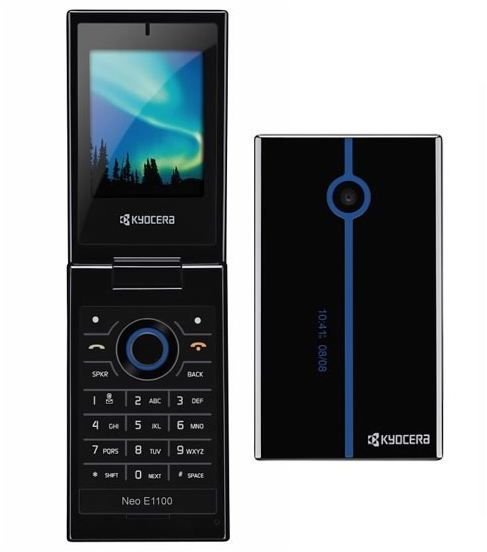 The Kyocera Neo holds many of the basic applications that are found on most other mobile phones. The contact book holds a maximum of 500 entries. Each entry can have up to 6 different telephone numbers, 2 email addresses, IM username, place of residence, and a note. Each caller can also be organized into groups and can be assigned a photo and ringtone.
The Neo has a few features based mainly on the essentials of communicating with others. It features both SMS and MMS messaging, instant messaging and an email service. The email service is only available through the Openwave Verizon 7.2.7 mobile browser. This browser will only load pages through its WAP service. Unfortunately, many HTML sites may not be able to be viewed.
The Kyocera Neo also features a few organizational applications such as a memo pad, alarm clock and scheduler. Other features include a tip calculator, stopwatch, timer, calculator and world clock. Bluetooth, voice command service and a voice memo recorder are also included.
Its 1.3 megapixel camera takes a decent array of photographs although pictures tend to be out of focus. Unfortunately, the Kyocera Neo does not offer a music player, camcorder or video player. There is a total of 21MB of internal storage but sadly, no microSD card slot.
Performance (4 out of 5)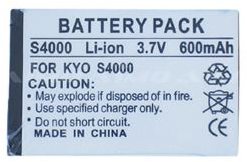 The Kyocera Neo is a dual band mobile phone under the MetroPCS service. Call quality is superb and offers great clarity in sound, audio and feedback. The Neo has a rated battery life of up to 4 hours of talk time and 8 days in standby.
The operating system on the Kyocera Neo is also pretty fast. Navigating the menu and options is a breeze. The camera speed versus the pressing of the dedicated camera button on the side of the device does experience some lag, however.
Verdict (4 out of 5)
If you are searching the market for a mobile device that offers both functionality and design then the Kyocera Neo is the perfect choice. It features an innovative design, simple interface and features which will help even the most basic mobile users enjoy an advanced cell phone. It is able to take pictures, keep you connected with family and friends via its SMS, MMS, IM and net browser and offer you great call quality, all packaged in a vibrant and unique phone design. The Kyocera Neo can be purchased at www.metropcs.com for $49.00.