Review of Pantech Jest from Verizon
Pantech Jest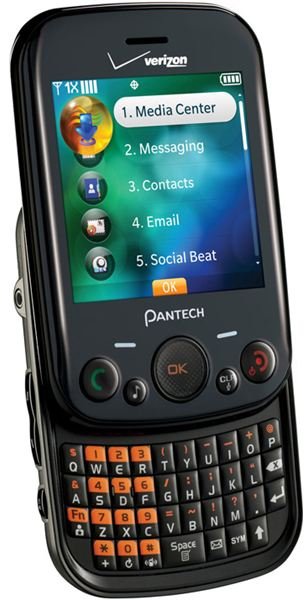 The Pantech Jest is a messaging friendly phone from Verizon Wireless. It features a full QWERTY keyboard, navigational controls and several messaging clients. There are many messaging phones on the market today but the Pantech Jest mixes old concepts with new ones creating a simple, stylish and capable device.
Design (4 out of 5)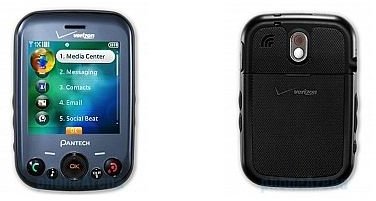 The Pantech Jest is a small device made mostly of plastic and colored black. It's a small, square shaped phone with slightly rounded corners and measures 3.7 inches by 2.5 inches by 0.6 inches in length, width and depth respectively. This compact design fits snugly in the palm of a hand and is lightweight at 4.1 ounces. The surface of the phone is glossy and has a reflective sheen while the back of the device is textured for a safe and firm grip.
The front of the Pantech Jest features a 2.6 inch display which provides a resolution of 320 x 320 pixels and supports 262K colors. The screen displays brilliantly. Its bright and sharp colors and animated wallpapers make for a trendy and vibrant interface design.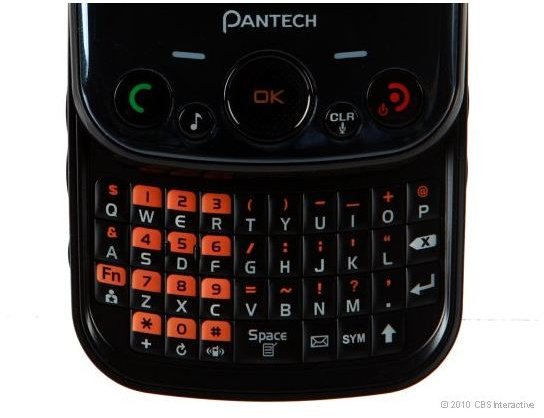 Underneath the Jest's display are the navigational controls which consist of soft keys, a circular D-pad, a Send and End/Power key, a shortcut for the Music Player and a Clear key. The sides of the device house a 2.5mm headphone jack, speakerphone key, volume rocker, micro-USB port for charging and syncing as well as a dedicated camera key and a Task Bar key. The microSD card slot is located on the top of the device and the camera's lens is on the back.
The Pantech Jest slides open at the bottom to reveal a QWERTY keyboard. Because the Jest is a small device the QWERTY keyboard seems crowded as there is not much space between each key. On the other hand, the keys are raised just slightly, making it easy to dial or type by feel. The numbered keys are colored in a bright orange while the other keys are not. The keyboard also features shortcut buttons for accessing a new text message, the favourites list and the notepad.
User Interface (5 out of 5)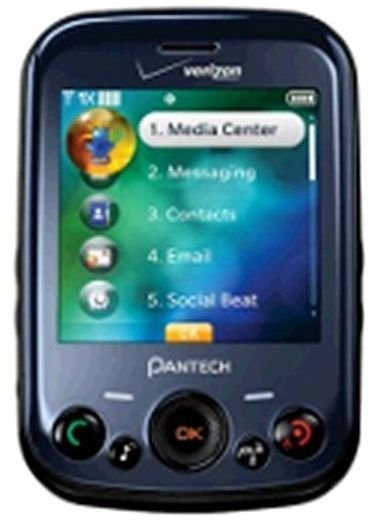 The Jest's interface is very easy to use. While on standby the D-pad can be swiped to the right and will reveal a Shortcuts list which can be customized as per a users' preference. This pop up list can then be accessed and selected using the directional buttons on the D-Pad. The Pantech Jest also features an animated wallpaper which can be adjusted. The standby screen shows the time, date, battery level and service meter.
On the side of the device is a Task Bar key, which, when pressed, reveals a bottom dock on the display. The bottom dock holds the dialing app, call history, favourites list, messaging, music player, contact list and tools shortcuts.
Features (5 out of 5)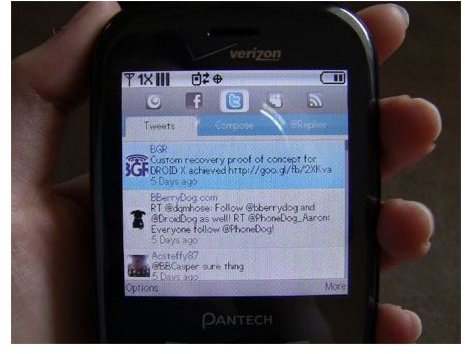 The Pantech Jest is predominately a messaging phone and as a result has several useful messaging options. The phone includes instant messaging, text and multimedia messaging with the option of threading conversations together, and an email function. Email is available in two different modes, Mobile e-mail and Mobile Web-email. Mobile Web E-mail is an application that allows users to interact with friends and family from several e-mail providers such as Gmail, AOL, Hotmail and Yahoo! mail. Users can also enter their IMAP and POP3 information for mail on the go. The Jest's mobile email software costs $5 a month while mobile web e-mail is free, although it redirects users to a browser interface which heavily relies on Internet connectivity.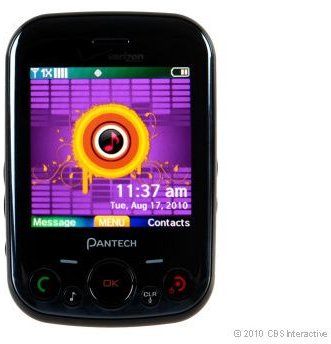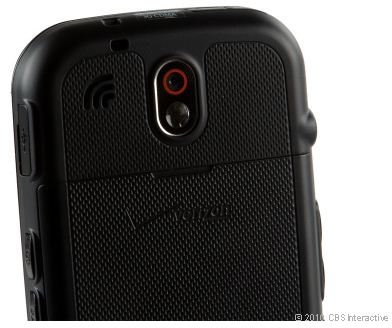 The Pantech Jest also comes with a basic music player. This application allows user to shuffle or repeat music tracks and also features an equalizer. The player can also be customized with a theme or skin of any color. The Jest's music player supports both MP3 and WMA format and can play music from an external source such as a microSD card.
The Jest also features a 2.0 megapixel camera which take photos in five different resolutions: 160x120, 320x240, 640x480, 1280x900 and 1600x1200. The camera can record videos for as long as 15 seconds for MMS messages or for at least an hour for storage in the phone's memory. Photographs develop very well, look vibrant and sharp and are better when taken outdoors.
Some of the Jest's more basic features include, an alarm clock, calculator, notepad, voice memo recorder, speakerphone and also an e-diary.
Performance (4 out of 5)
The Pantech Jest messaging smartphone has a great signal reliability due to Verizon's Wireless network. Call quality is decent with few disturbances. The speakerphone is also better when a Bluetooth headset is in use. The Pantech Jest's battery life lasts for approximately 5 hours of talk time and up to 15 hours on standby. In comparison to other messaging smartphones this may be one of the Jest's major faults.
Verdict (4 out of 5)
Overall, the design of the Pantech Jest and its messaging features make for an interesting and capable device for people who are looking for a well rounded mobile phone. The Pantech Jest is free with a 2 yr contract and $119.99 without at shop.verizonwireless.com.